What can you do with a psychology degree? Outside of becoming a counselor or therapist, careers in psychology can feel a bit like a mystery. It's one of those degrees that most of us don't know much about.
So whether you've got a psychology degree or you're getting one, here are 7 amazing psychology degree jobs to spark your imagination.
This post may contain links to affiliate products, which–if you choose to purchase–pay us a commission at no extra cost to you. This helps to support our work. We only promote products we've used and love. All salary data is from ZipRecruiter.
What jobs can you get with a psychology degree?
1. Recruiter
2. Market Research Analyst
3. Life Coach
4. Psychometrist
5. User Experience Specialist
6. Substance Abuse Counselor
7. Psychiatric Technician
1. Recruiter
Do you want to be someone that gets people hired and gets paid well to do it? Becoming a recruiter might be your path. The recruitment industry is HUGE. In 2019, it was a $150 Billion industry in the U.S.
Recruiters find the right talent for a job. They specialize in human capital, and save companies the time and work of digging through resumes and candidates to find the right person.
There are three main ways recruiters work.
Company Recruiters: These are recruiters who work in-house for an organization. They often work in or with HR, and collect a salary (sometimes with bonuses for recruiting). They fill positions at that company. It's usually big companies that have in-house recruiters.
Recruitment Firms: These are companies that recruit on behalf of organizations. They might recruit for a single position or multiple positions at a time, and often there are firms specializing in different industries or levels—ie. The executive headhunting firm.
Freelance Recruiters: These recruiters build networks into companies and are called on to fill roles, collecting an average of 15-20% of the yearly salary of the employee they find as commission. If you're recruiting for $100k/year jobs, you don't need to place many candidates to earn a pretty sweet salary.
Recruiting is a fun but high-intensity job, you need to move fast and build strong relationships. (Related post– How to reach out to a recruiter on LinkedIn.)
How to become a recruiter
After your degree, you could work another role that relates to recruiting—like sales or HR to grow your knowledge of an industry. You might also consider a recruiter certification program like AIRS or LinkedIn Certified Professional—Recruiter.
You could apply for a job in a recruitment firm or try to get into in-house recruitment. (If you work for a company, they'll probably even pay for training.)
And, as always, network with everyone you can in the recruitment field and see what you can learn.
How much do recruiters make?
NB- Salary data does not reflect freelance recruiters well.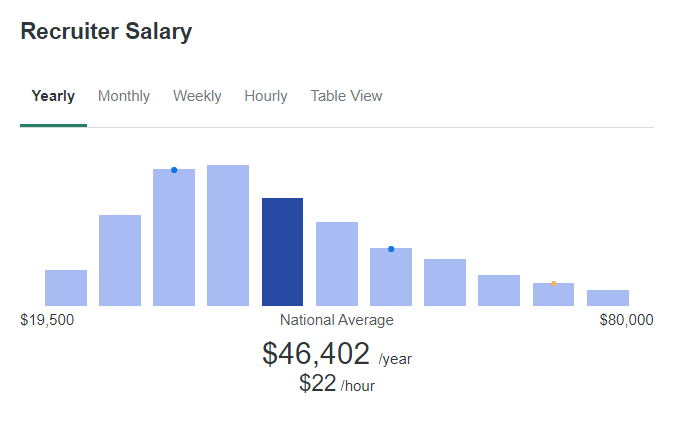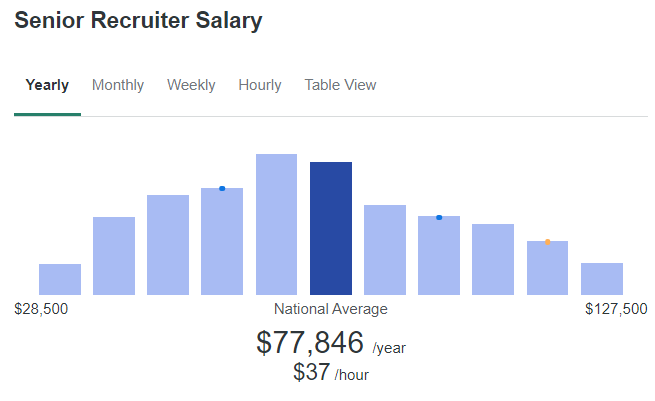 2. Market Research Analyst
Market research analysts is a career that the U.S. Bureau of labor statistics estimates will grow 18% in the next 10 years. That's a huge jump!
So, what do market research analysts do? Well, they help companies figure out what the market is for their product or service. This could include looking at big, economic trends and consumer buying habits. But it could also involve directly collecting information from customers through qualitative and quantitative methods. You might use stats skills to evaluate consumer data, or you might be designing surveys or interviewing potential customers.
Either way, you'll probably work on a team developing new products to figure out the right way to bring them to the world!
How to become a market research analyst
A psychology degree is a fantastic foundation for a marketing career—marketing is also about understanding how people think. While you're in your degree, you might consider taking a course in consumer psychology or consumer behavior.
The next step will be to gain some practical experience. If your school or degree has a placement program or internship exchange, awesome. Try to find one in market research. If that's not a possibility, network with people who work in marketing already. You'll learn about the industry and, as you make friends, might find some openings. You can also apply for jobs and internships.
How much does a market research analyst make?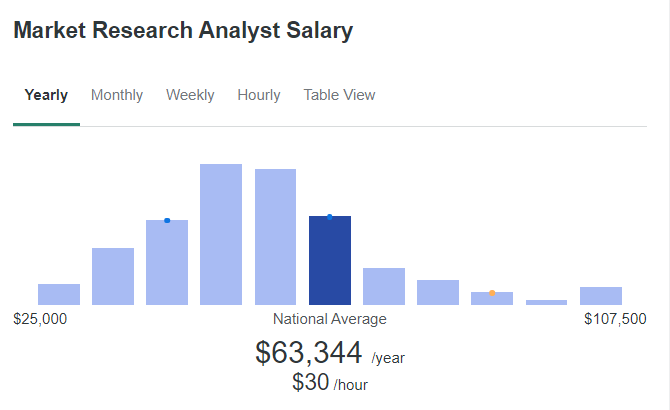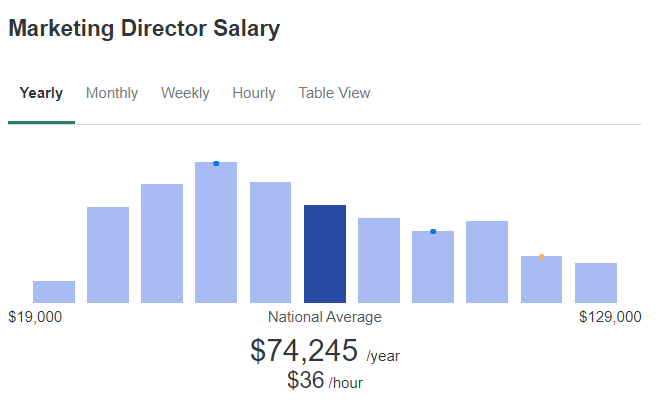 3. Life Coach
Look, I get that psychologists are sometimes trained to think less of "life coaches." I felt that too for a long time.
But then I met with a life coach when I was stuck. She was fantastic and helped me a lot. If you can get your head around it, life coaching can actually be a really great avenue for people with psych degrees. They work closely with clients to help them get clarity and achieve goals in some area.
Life coaches aren't therapists. They don't help you deal with trauma. They help you to excel in your life.
How to become a life coach
Many life coaches start out by choosing a niche, and there are a lot to pick from. You could be a life coach who helps CEOs of Fortune 500 companies or you could be a life coach who helps people grow their ability to find love.
There's a whole range of them. In my field, career coaches are common; they help students move from degree to careers. With the level of underemployment among degree holders, this will probably remain in demand for years to come.
You can consider certification. Different bodies offer training and certification for life coaches, such as the Certified Coaches Federation. There are also a lot of organizations who hire and train coaches to work with them, such as Brian Tracy's business coaching or John Maxwell.
Finally, if you want to be a successful and well-paid life coach, prioritize building a personal brand. There's a lot of competition for life coaches, and building a personal brand—usually online—is one of the best ways to have clients come to you. I have some ideas about doing that here.
How much do life coaches make?
There's a HUGE variety in life coach salaries. If you're going into this field, it's not easy money and you'll have to work hard to be the best—both great at what you do and well-branded.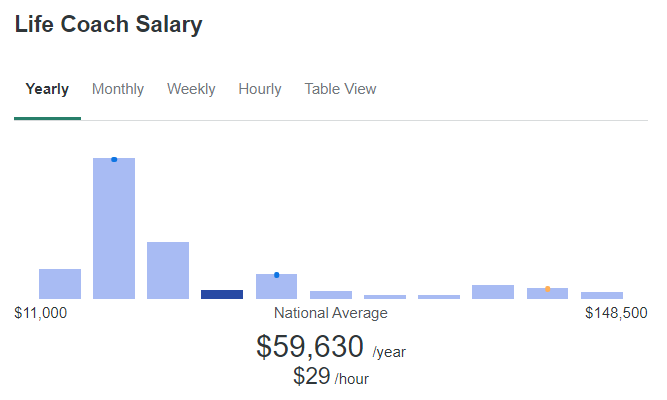 4. Psychometrist
When psychometric testing first started in the late 1900s, it was an attempt to implement mathematical and scientific approaches into psychology. John Venn, famous for his ability to draw overlapping circles, was one of the first to try the techniques such as head-measuring, hand grip, and other intellectual characteristics on the students at Cambridge—he concluded that social class did not seem to make any difference in his subjects.
The role of psychometrists has evolved, and they are now skilled at giving standardize tests to evaluate aptitude or behavior, often working with a psychologist. In a health care setting, they work in hospitals, medical clinics, and private practice to administer these tests for things like learning abilities or personality development—perhaps the most famous of these are IQ tests. You can read about the medical setting here.
But there's a new, sexy role for psychometrists is in the business world. Corporations are using more and more psychometric tests both in their hiring processes and throughout an employee's life cycle to determine where they shine. If you've ever done a Myers Briggs test or a DISC assessment, you've done a psychometric test. More and more, businesses are recognizing the promise of psychometrics.
Finally, one way to make bank in psychometrics, especially if you have an advanced degree, is to move toward the test-development side. There are lots of companies developing psychometric solutions for education, business, and health care, and they usually pay well.
How to become a psychometrist
To be a psychometrist, you need a bachelor's degree in psychology and often a master's, and you can pursue certification. Some math and statistics is required, of course, plus the ability to draw observations from testing.
But most importantly, if you're working as a psychometrist—you need people skills! Psychometrists have to communicate findings and build relationships, especially with patients. This is a people job, whether you work for a hospital or in HR. So, if you love working with people, it might be a great fit!
How much do psychometrists make?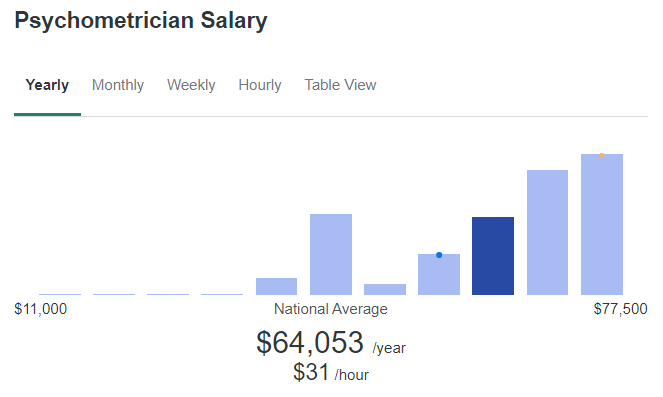 Other Titles:
People Research Scientist
Research/Sr Research Scientist
Read More
https://careersinpsychology.org/employment-outlook-psychometricians/
https://study.com/articles/How_to_Become_a_Psychometrician_Education_and_Career_Roadmap.html
https://explorehealthcareers.org/career/mental-health/psychometrist/
5. User Experience (UX)
I've looked at a lot of these lists of careers in psychology, and for some reason User Experience designer, AKA UX, doesn't appear often. Which is a damned shame. Because UX is a great career for people who have done a psych major.
User Experience consists of studying how people interact with a product or service. It's big in the tech world, where millions of dollars invested into a new launch means that people need to EXPERIENCE it the right way.
UX professionals study this experience through interviews—both qualitative and quantitative—and attempt to understand what the user is feeling. After this comes the exciting part—especially if you're creative. You'll need to work to design a better experience for the user! UX is a highly creative field, and there's a reason it's called "design."
A big part of UX is it's interaction with tech—understanding how someone uses a website or app, for example. Do they have trouble finding the right link and leave the page? But UX is appearing in more and more places. When I worked for the government, I was part of a UX process to design how immigrant support services interacted with the federal government.
If you're a creative soul who also loves to work with people, you're probably golden.
What you'll need
There's no one degree required for UX, and it's frequently not needed. However, if you're already in a psych degree, it's a great background. It trained you to work with people, listen actively, and ask critical questions. There are also some online courses that you can take to improve your UX chops and learn the field (some good suggestions here).
If you happen to have a SkillShare membership, which I keep handy, there are also some great UX courses on there like Intro to UX: Fundamentals of Usability or User Experience Design Essentials – Adobe XD UI UX Design.
Like the other examples here, you'll need to be great with people. You'll likely work on a team and interact with test users—you'll need to empathize and gather insights. You might also need some technical skills, depending on the type of UX, and these can be developed.
Salaries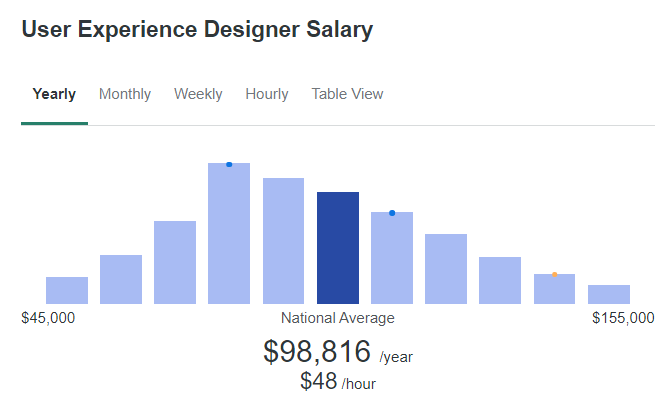 6. Substance Abuse Counselor
If you have a passion for helping people overcome addictions to be the best they can be, you might enjoy being a substance abuse counselor. It's not for the faint of heart, staring into human heartbreak can do a number on you. But occasionally, you can see lives transformed by your work and individuals and families healed.
You'll either work one-on-one or in groups to treat people with addictions to drugs or alcohol, walking clients through a journey to understand their addictions and—hopefully—how to overcome them. You might occasionally appear in court to give updates on clients' progress or meet with the families of a client. Above all, you'll need to show up every day ready to serve your clients.
What you'll need
Each state or province has individual licensing requirements. But a master's degree is a common requirement—usually, a master's in counseling. A Ph.D. in Counselling Psychology can also apply to addiction counseling and, although not necessary, can increase competence and earnings. It can also lead to a career in research into addictions if you prefer to go that route.
Above all, you'll need to be good with people and a good listener, able to build trust and relationships over a long period of time. You'll need the patience to work with heavy issues and thick skin to deal with the failures. And you'll need sharp critical thinking skills, the ability to react quickly "on your feet" to what you hear patients saying, and help them work through their addictions.
Read More:
https://www.psychologyschoolguide.net/guides/requirements-for-addiction-counselor-certification/
https://www.psychologyschoolguide.net/guides/requirements-for-addiction-counselor-certification/
7. Psychiatric Technician
A psychiatric technician is the person who gives direct care to people with mental illness or developmental delays. They work in places like psychiatric hospitals, residential facilities, and research clinics, often working alongside patients.
Their specific duties might vary, depending on the institution, but will probably include monitoring health and behavior, leading educational and therapeutic activities, and direct care activities like grooming and bathing.
They work closely with doctors, nurses, and other mental health professionals to ensure patients get proper care.
How to become a psychiatric technician
There are a wide varieties of requirements across regions, but generally speaking the barrier to entry is low. You can read more at the American Association of Psychiatric Technicians website.
Conclusion
There are a ton of possible careers in psychology. Your search for a job with a psychology degree might take you into counseling, or it might take you in a totally different direction—into the tech or corporate world. But rest assured, either way, there are lots of cool and well-paying jobs you can get with a psychology degree. So what are you waiting for?