By Adam Ross Nelson
Whether you are seeking a new job, entering the workforce after an absence, or simply want a competitive advantage when it comes to negotiating your next raise, one piece of information is critical: What should you be paid?
This article will help job candidates answer that important question related to establishing a salary expectation. I'll talk about why many people skip over salary research and show the returns on investment associated with salary research. Then, I'll show you 4 strategies specifically for mid- and late-career professionals that will improve your ability to discern a meaningful and rewarding salary expectation.
Why you need to do salary research
While job candidates regularly research company history, social media profiles of prospective bosses (or coworkers), plus job qualifications and expectations, salary research remains a black hole.
For example, how many hours have you spent studying for a technical interview? How many blogs or books have you read on the topic of technical interviews? Compare for a moment the time you've spent on other job search activity but not on researching salary.
According to one recent survey, better than a full third, 35 percent, of job candidates, admit to conducting no salary research at all. One in three job candidates rarely research and compare salaries, and less than one in 10 job candidates "always" research salary comparisons.
These findings regarding salary research are as startling as they are shocking. Salary plays an important role in any job-related decision. When evaluating a job offer or deciding to remain with a company — salary is at least as important as job expectations, perks, office relationships.
Figuring out how to negotiate salary is hard. Everything about this topic is hard. For example, merely knowing where to start that salary negotiation is a major obstacle for many professionals. These difficulties are an important reason why more people are not researching salaries. There is another important reason too:
Most people just don't have the confidence to research salary on their own.In the same survey mentioned above, and as shown in the figure below, nearly two-thirds of those who responded said they had no, slight, or only moderate confidence in their ability to find useful salary comparisons. A small proportion of respondents, just 10 percent, said they were "extremely" confident in their ability to find useful data comparisons. Barely 20 percent said they were "very" confident.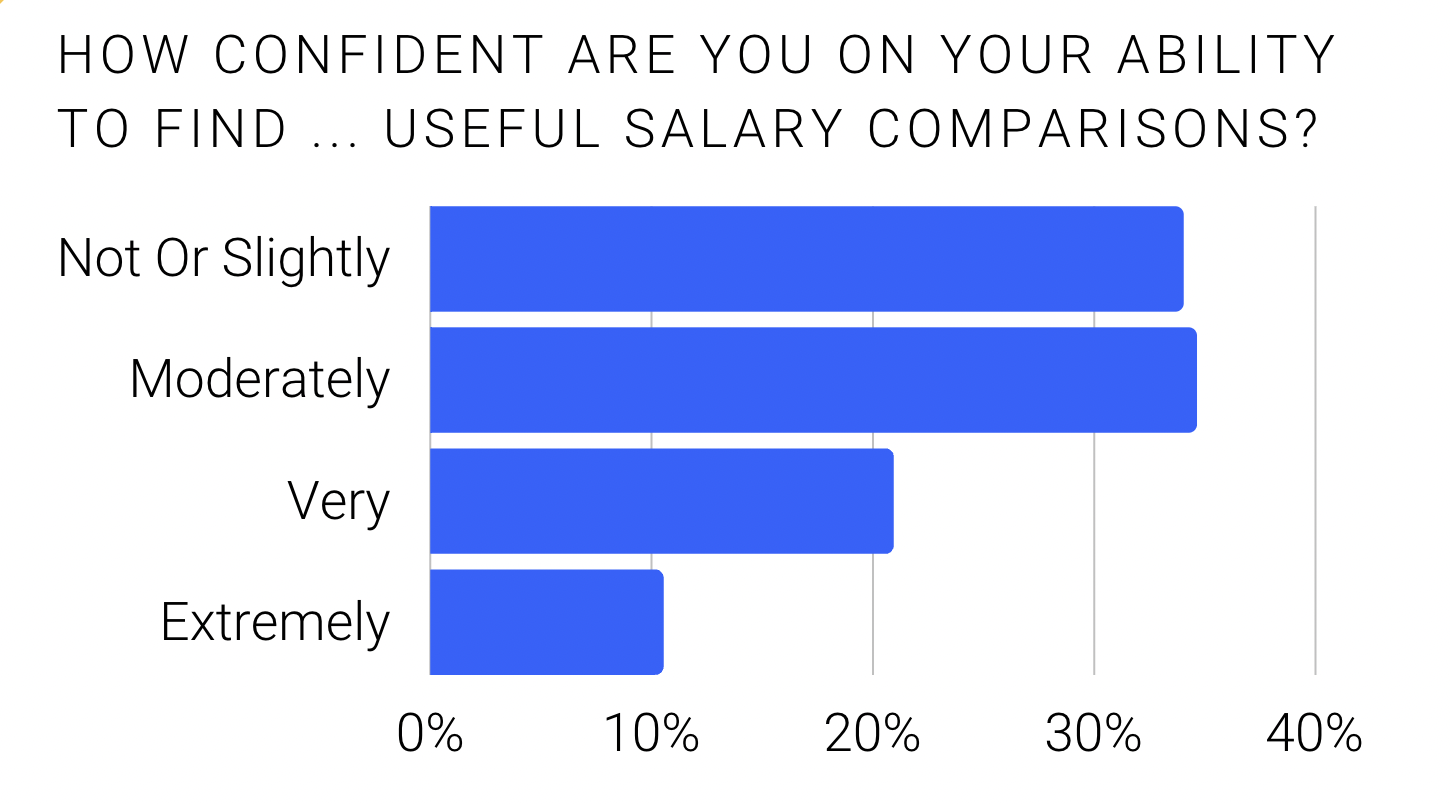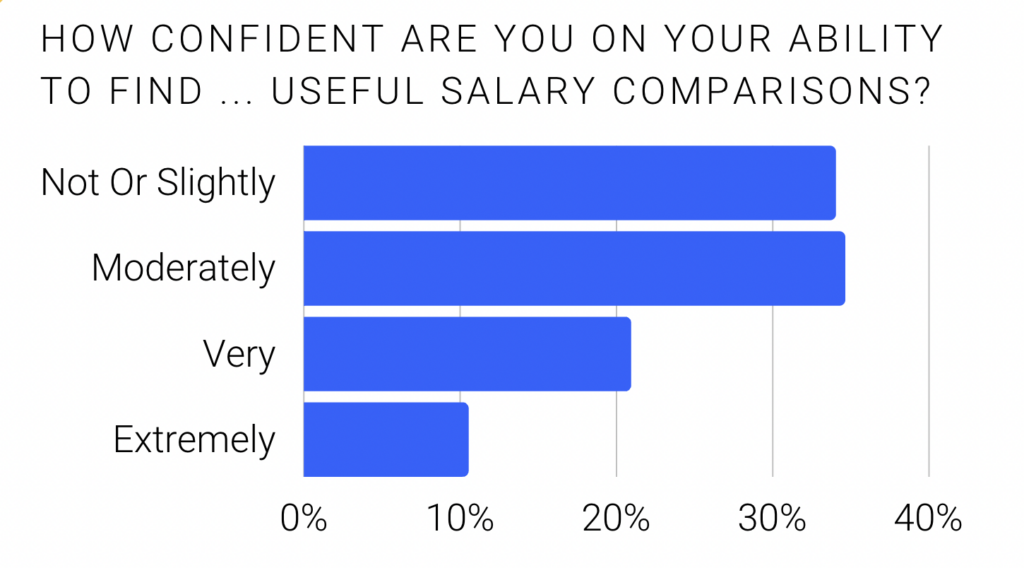 This lack of confidence is understandable for a number of reasons:
There are myriad factors and dimensions to consider. For example, differences in employment history and skills sets. The list of complex factors also includes geographic location.
In many emerging fields, such as data science, educational considerations are difficult to work through because there is no standard career path for the field.
There are also the roles of bonuses and job perks.
When relying on internet sources, it is difficult to know which sources may be trustworthy. Will you rely on chat rooms, social media, reddit, Facebook groups, or something else?
Returns On Investment
This lack of confidence is a problem that outside help, from a professional career coach, can solve. Career coaches can help pinpoint salary expectations and help guide you through a successful salary negotiation as well as other career transitions. There is a clear return on investment for those who take the time to properly conduct salary research.
Just what is that return on investment? The survey referenced above, shows:
Those who conduct salary research are more than three times likely to have six-figure incomes.
Those who use three or more strategies to research salaries may increase their odds of earning a six-figure salary by as much as 15 times.
Of those workers who already have a six-figure income, 90% reported using at least one salary research strategy.
If only one thing is clear from these statistics, it is this:
Those who engage in salary research earn more!
What's more, salary research is typically low cost, requires moderate effort, and takes relatively small amounts of time.
As you research salaries, keep in mind an important point: A single salary does not tell the whole story of salaries for your industry. Finding what one other person earns, or what another single organization pays for your role, is not a good indicator of what you should earn. You need more information.
Salary research, as you will see, is a holistic and multi-part process. At each part along the way through this process you'll discover many data points. While discovering each data point, each salary you find, simply gives a single data point. In the final analysis you should combine all the data points before arriving at a well-informed conclusion.
How to research salaries
Ready to get started? Here is more information on the four practices you can use to research salary.
1. Use your own personal network
Get ready to network! Those with advanced careers have likely developed an extensive network of co-workers, former associates, old bosses, favorite instructors, and mentors who are well-entrenched in their industry and have broad visibility and experience with salaries. Now is the time to put that network to work for you.
Your personal network may include people who are involved in interviewing, making job offers, and ultimately hiring employees with similar skill sets and job descriptions.
Of course, this brand of communication requires discretion. Going in cold and quizzing anyone about their compensation may feel invasive. It's generally taboo to talk about salary and money. The opportunity to discuss the subject of salary may not come about naturally.
Here are some ways to ask about salary without feeling like you're prying:
What salary ranges are they seeing?
How are those salaries growing (or not)?
What factors are impacting pay and compensation?
How have you noticed employers tend to respond on counter-offers?
2. Pick up the phone and call human resources professionals
Human resource professionals — recruiters, hiring managers, and others who are in the business of hiring data professionals — are typically well positioned to understand what the salary landscape looks like.
Those in human resources are often broadly familiar with salary expectations, and for good reasons. They often play (or may have previously played) a direct role in making job offers, monitoring merit increases, and assessing pay based on salary audits. These professionals know how salary is sometimes also based on feedback from employees, C-suite executives, and legal counsel.
Recruiters, hiring managers, and others who are in the business of hiring professionals can be a valuable source of pay rate intelligence.
What is the best way to ask HR professionals about salaries?
Often direct to the point is best. Simply get a human resource professional on the phone. A logical place to start would be those with whom you already have a connection from within your own personal network. Look for human resource professionals who can tell you about the salaries they are offering.
You can also ask for referrals from your own network. Ask members of your network something like "Hey, I'm doing some salary research and I want to speak with human resource professionals. Can you help me connect with a trusted human resource professional who might help me out?"
It is also okay to make new contacts with recruiters, hiring managers, and human resources professionals to ask and see if they are willing to share with you information about salaries they have recently offered. This form of outreach (cold calling) could also be the start of building a mutually beneficial and long-term relationship on which you might both rely down the road.
You can also reach out to any recruiter who may have contacted you in the past. Most mid and late-career professionals in a data-related field have received at least a few contacts from recruiters. Check your email history and your message history on LinkedIn for recruiters who may have reached out to you at any point through your entire career. It may have been years since they contacted you. However, they reached out to you at least once. At least at one point in your career, they were interested in speaking with you. Their contact with you was likely highly transactional (they were looking to sell you as a candidate to their client). It is never too late to respond to such recruiters with your own, admittedly transactional, request.
A happy relationship with a well-respected recruiter can be a professional asset. This form of outreach (warm) could also lead to a mutually beneficial and long-term relationship.
3. Use state and federal databases that collect salary figures
State and federal agencies are valuable sources of income information. The federal government maintains numerous sites where you can research salaries by job, location, and more. Many state agencies make salary research surprisingly easy.
Keep in mind that many states and agencies will publish salary information on third-party sites, such as newspapers and industry publications, and many of these resources make the data freely accessible.
States themselves and many state government watchdogs make salary data readily available, and in most cases, you can search salaries for specific people. The Texas Tribune, for example, maintains an extensive and up-to-date list of state employees, their titles, their departments, and their salaries, meaning you can search by position, department, or name.
In California, Transparent California makes it convenient to search salaries by name, job title, and employer, and details both regular pay in addition to total pay with benefits included.
Aggregate sites like govsalaries.com publish similar information, though in many cases the data are a year or two old. Because the data are sometimes dated, it is sometimes important to adjust based on estimated rates of pay increases over time.
For the federal government, there are similar salary research tools. Examples include federalpay.org, and fedsdatacenter.com. As with some of the state pay aggregators, these pay data may be two or more years old.
4. Search the U.S. Bureau of Labor Statistics
The U.S. Bureau of Labor Statistics is a unit of the United States Department of Labor and is the primary fact-finding agency for the government in the field of labor statistics. The agency states that it publishes regular updates on the U.S. Consumer Price Index, the Producer Price Index, and U.S. Import and Export Price Indices, and provides household data, unemployment statistics, labor productivity, occupational employment projection, layoff statistics, and more.
Of most interest to those conducting a salary search are data related to salaries and salary statistics. According to sites like Investopedia and results from scholarly studies, data from the U.S. Bureau of Labor Statistics are considered highly accurate, objective, relative, and timely.
The BLS provides salary information in many forms. You can find national compensation data, employee benefits, wages by occupation and areas, earnings by demographics, earnings by industry.
A word of warning: While the Bureau of Labor Statistics provides an enormous amount of information regarding pay, the site can be complex and appear hard to use. Therefore it is useful to look for user guides, and YouTube tutorials showing how to extract the information you need from the site. There is also a detailed help and tutorials page.
Final Thoughts
Whether you are embarking on a new journey in your career or simply want to come to a negotiation table armed with very good reasons for a pay raise, knowing how your salary ranks against others in your company, city, state, or industry is key. Understanding how others in your field are paid will keep you abreast of industry trends and lead to better decision-making. Obtaining a baseline for salary negotiations should include:
How many years of experience you have
The industry you work in
Your available perks, including health insurance
Your educational qualifications and any relevant certifications
The sort of employment contract you'll have
Conclusion
Before you go into any salary negotiation, you must objectively determine how much someone in your position should earn. This article provided an overview of the reasons some candidates sometimes forgo conducting salary research. After also discussing the returns on investment associated with conducting salary research, this article also provided specific resources and strategies that can improve your ability to conduct salary research on your own.
Salaries range widely based on industry, seniority, and geography. Your compensation research should include not just your take-home pay but also factor in benefits such as retirement plan matching, health savings account deposits, transportation, meal allowances, training, and more. It should also include factors related to how in-demand your skill set is — if you find your industry is currently awash with unemployed workers, you may have a harder time negotiating a favorable salary.
Salary is not the only measure of a job's worth. According to one informal survey, as many as half of all workers may consider other factors more important than salary.
For example, as you review the results of your research, realize that salary alone may not tell a complete story. Some may accept lower pay to live in a more attractive city. Others may forgo higher salaries in exchange for access to training and promotion opportunities (or other non-monetary benefits) that are not available elsewhere.
As others may well know, salary at almost any level cannot make up for a dysfunctional workplace, an awful boss, and your overall happiness. Is the work intellectually engaging, enjoyable, and meaningful? Despite the importance of other factors, salary is often the first point of discussion between candidates and employers in the job offer process.
Yes — salary research is complicated. When done correctly, salary research may not require as much effort and time as you would otherwise think. For those looking to maximize their compensation, understanding what their peers are earning is a valuable first step. Research into salaries can yield critical data that you can use when it comes time to negotiate a compensation package or start looking for a new employer. Because there are a bevy of resources easily available, knowing which figures to take into account, which to weigh heavily, and which to discount entirely can be a challenge. Do not be afraid to ask for help!
Dr. Adam Ross Nelson performs one-on-one career coaching and has a weekly email list that helps candidates as well as a bevy of courses to take. Find me online Twitter @adamrossnelson. I'm also on Facebook and LinkedIn. For further reading, Websites That Help Data Scientists Prepare For Salary Negotiations.
Adam Ross Nelson, JD PhD
Since 2020, Adam is a career coach and a data science consultant. As a career coach he helps others enter and level up in data related professionals. As a data science consultant he provides research, data science, machine learning, and data governance services. Previously, he was the inaugural data scientist at The Common Application which provides undergraduate college application platforms for institutions around the world. He holds a PhD from The University of Wisconsin – Madison in Educational Leadership & Policy Analysis. Adam is also formerly an attorney with a history of working in higher education, teaching all ages, and working as an educational administrator. Adam sees it as important for him to focus time, energy, and attention on projects that may promote access, equity, and integrity in education. This means he strives to find ways for his work to challenge system oppression, injustice, and inequity. He is passionate about connecting with other data professionals in person and online. Click here to learn more about Adam's work
Read More: