Updated, Aug 08, 2023
You've been hanging around on LinkedIn for a while, and you know somehow that you need to use it to maximize your job search. Or, you hear people tell you that you need to be some sort of LinkedIn influencer.
I guarantee you that somewhere along the way you have being pitched LinkedIn premium. And you are wondering if it's worth the money.
The short answer, it can be! This article will show you how to take advantage of LinkedIn premium to make it totally worth your investment, even if for a short time.
So roll up your sleeves and get ready to hack your career with this powerful tool.
What we'll show you:
how to use job postings to optimize your profile so that recruiters come to you!
How to see who has viewed your profile tip build your network.
How to use LinkedIn learning to learn super in-demand skills.
And more!
Here's what you can use LinkedIn Premium for, and whether we think it's worth it! And since 77% of recruiters use LinkedIn, and there are over 14 million jobs there, you should definitely be there! So, without further ado, here are the LinkedIn Premium benefits ranked.
Is LinkedIn Premium Worth it?
If you're actively seeking a job, LinkedIn Premium has some benefits. You can reach out to recruiters, get competitive intelligence about job postings, and get advanced recommendations. If you're not actively job searching, and you don't need one of the other LinkedIn features like LinkedIn Learning or the Business plan, it's probably not worth paying for it.
How much does LinkedIn Premium cost?
Here's how much LinkedIn Premium costs, depending on your plan:
– LinkedIn Premium for Career-building: $39
– LinkedIn Premium for Business: $59.99/mo
What is LinkedIn Premium?
LinkedIn Premium is a paid subscription service that gives you bonus features for networking, finding jobs, and improving your online presence. LinkedIn Premium gives you more features than the free plans have.
LinkedIn Premium Advantages
Direct Messaging Power: LinkedIn Premium allows you to send direct messages to anyone on the platform, even if they aren't in your network. It's ideal for job seekers connecting with recruiters or hiring managers.
Profile Views Insight: Premium members can see who's viewed their profile, providing valuable insights into potential interest from employers or collaborators.
Enhanced Data and Analytics: LinkedIn Premium offers in-depth data about profile views, post performance, and audience insights. This helps you improve your content strategy.
Advanced Search Capabilities: Premium users enjoy refined search filters for people, jobs, and companies.
Networking Edge with InMail: The InMail messaging feature in LinkedIn Premium lets you send private messages to anyone on the platform, even if you're not connected. Good for reaching recruiters!
Extended Profile Viewing History: With Premium, you can access up to 90 days of profile views compared to the limited views available to free users.
LinkedIn Learning Access: Premium membership includes access to LinkedIn Learning, an extensive library of courses taught by industry experts.
Insights and Trends: Premium members gain insights into their profile viewers, industry comparisons, job postings, and company hiring trends.
Salary Insights: LinkedIn Premium provides salary information for specific job titles and locations, empowering job seekers to negotiate fair compensation and make informed career decisions.
Tailored Job Seeker's Premium: Premium offers job seekers advanced search filters, InMail credits for direct outreach, insights into competition, and even resume insights.
Sales Navigator: LinkedIn Premium's Sales Navigator equips sales professionals with advanced search filters, lead recommendations, and real-time insights for effective prospecting and relationship building.
Business Insights: With LinkedIn Premium, you gain access to key business metrics and analytics, helping you understand your target audience and competitors better for strategic decision-making.
Is LinkedIn Premium worth it? (Features Ranked)
1. To See If You're a Good Fit for the Job
High Value 
One of the neatest features of LinkedIn Premium is that the algorithm will crunch your profile of any given job posting and tell you the likelihood of getting that job. This is a fantastic tool for job seekers. You can see how many applicants there are, what skills they have, and there's a little green check that shows you whether you have those skills or not.
This is data science, but it's not perfect data science. Jobs aren't given out based on the algorithm alone. A lot might depend on your profile, how you present yourself, your connections, and more!
But it's a great baseline to give you an idea. And if you have the relevant skills that aren't listed on your profile, add them!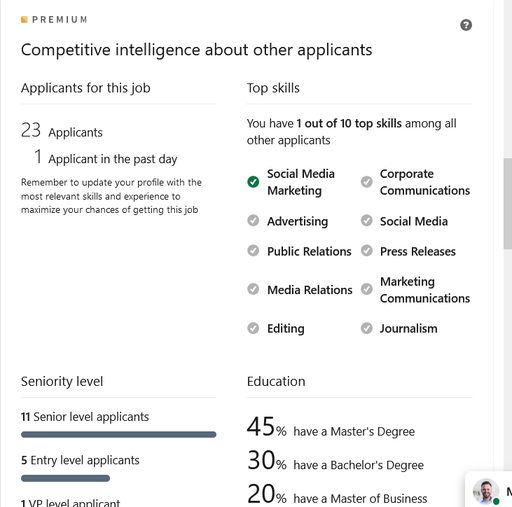 Note- This nifty little tool can also show you when to walk away. If you're applying for a senior-level job without being senior level yourself, and it's got 75 other senior applicants, it might be time to walk away.
Why it's high value
There are very few other services in the job-search world that will give you some insight of where you stand, what your chances are, and how stiff the competition is. I think this is one of the coolest things about LinkedIn Premium for job seekers.
2. Knowing Your Chances
High Value
One of the coolest features of LinkedIn Premium is that it will tell you where you stand in relation to the other applicants. It does this through giving you a percentile (note that a certain amount of people have to apply before it will work).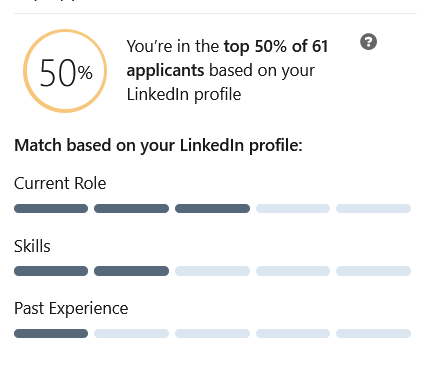 Take this number with a grain of salt. As I said above, you're a lot more than your keyword matches in your algorithm. But where I do think this is SUPER valuable is in showing you how well aligned your profile is with a keyword match—after all, potential employers often run your profile through recruiter software.
Why it's High Value
This tool is really cool and valuable, not as a perfect indicator of whether you'll get the job, but to give you a sense of what your chances are.
3. To Tailor your Profile for Recruiters
Medium Value
The same tool above, that shows you how you rank in a job search, also gives you some competitive insights about certain job fields. If you can find some job postings that are interesting, you can tailor your LinkedIn profile to be a match for that industry.
For example, let's say I wanted to be a Director of Communications. I can search for ideal roles in the field, even ones that are beyond my current level.
Then, I could begin to customize my profile, both by adding these skills, but also by demonstrating competence in them. For example, if I wanted to show my abilities in advertising, I might learn Facebook or LinkedIn advertising with a course (more on that below), and find a way to show it in my profile.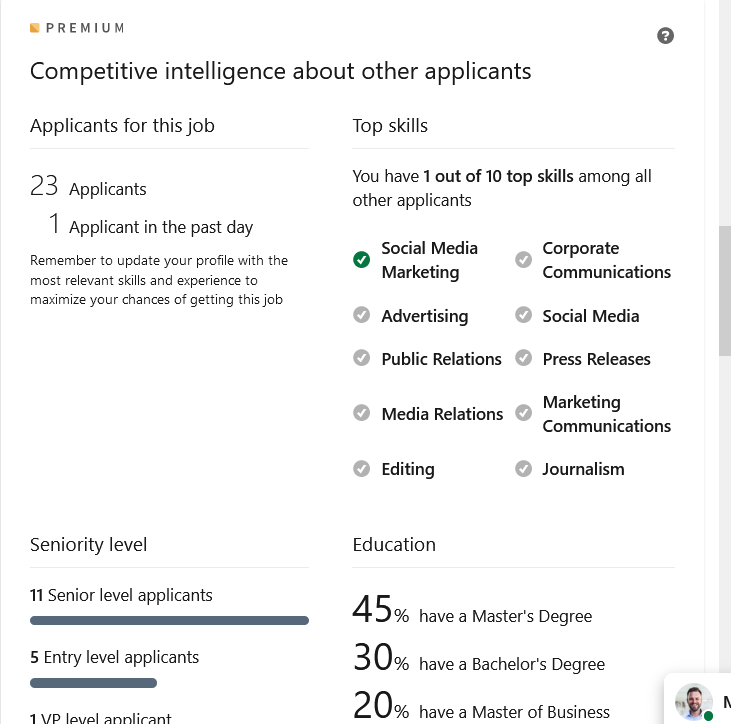 Why it's Medium Value
When you can start to take notice of the types of profiles that apply for certain jobs, you can quickly adapt your profile to include skills you have. But you don't need LinkedIn Premium to do this. If you take ten job postings in your chosen field and highlight keywords, you're going to get the same result.
4. To Identify Your Learning Goals
Medium Value
Okay, so let's say you read that job posting above and saw that most of your competition has the skill of corporate communications, and you don't. Even without experience in this area, you can take a course to beef up your abilities here.
And the good news is, your LinkedIn Premium comes with access to LinkedIn Learning! And that's where we're going next.
Why it's Medium Value
Like the point above, this is medium value because you can get the same information from job postings. If you look at ten job postings and they all require corporate communications, you can figure out that that's something you might want to learn.
5. For LinkedIn Learning
Medium Value
One of the cool features of LinkedIn Premium is that you get access to LinkedIn Learning, which can be great—especially if you're trying to start or advance your career. So—sticking with our last example—let's say a certain job requires corporate communications, and it's a skill I don't have.
Well, the LinkedIn Premium package comes with access to LinkedIn Learning, which has thousands of courses on it. So if you're missing a skill, there's a good chance you can get it in the same place.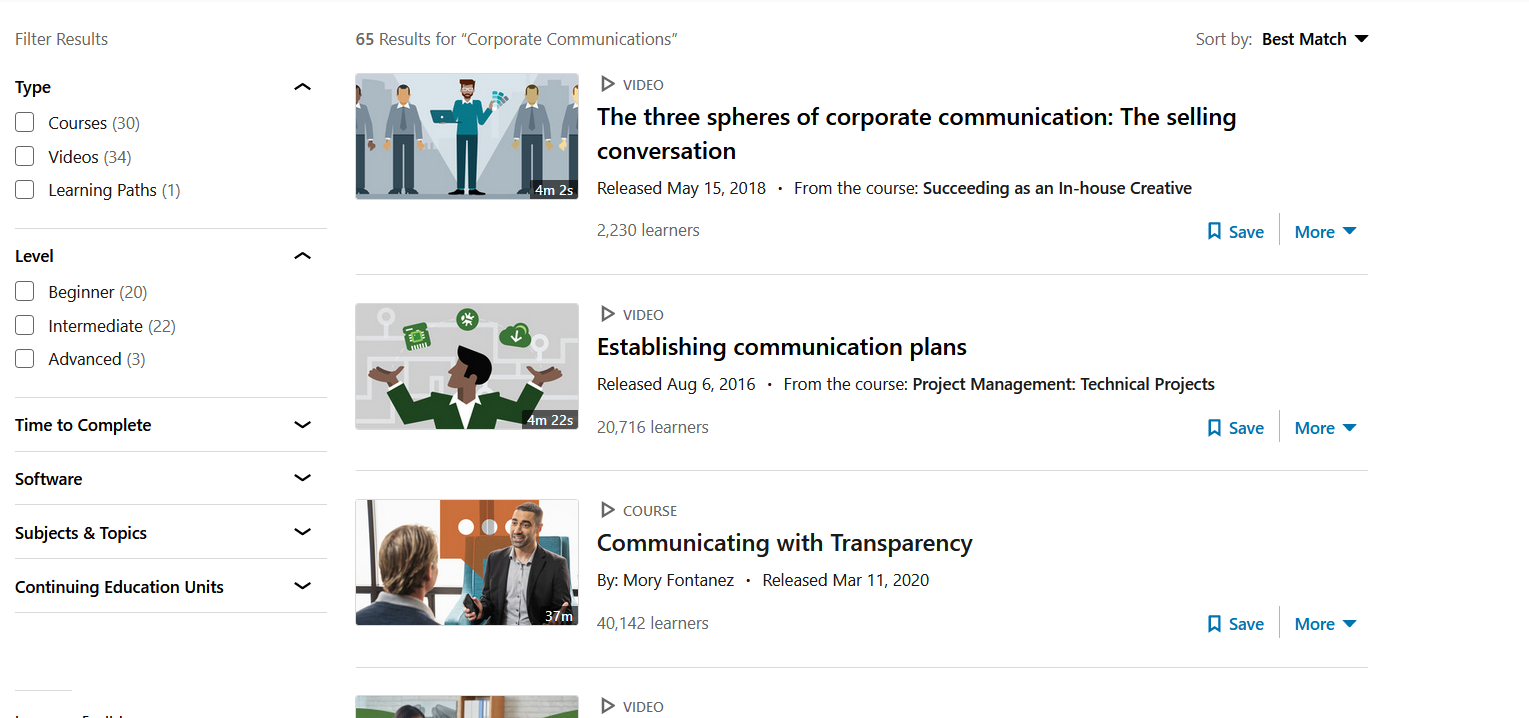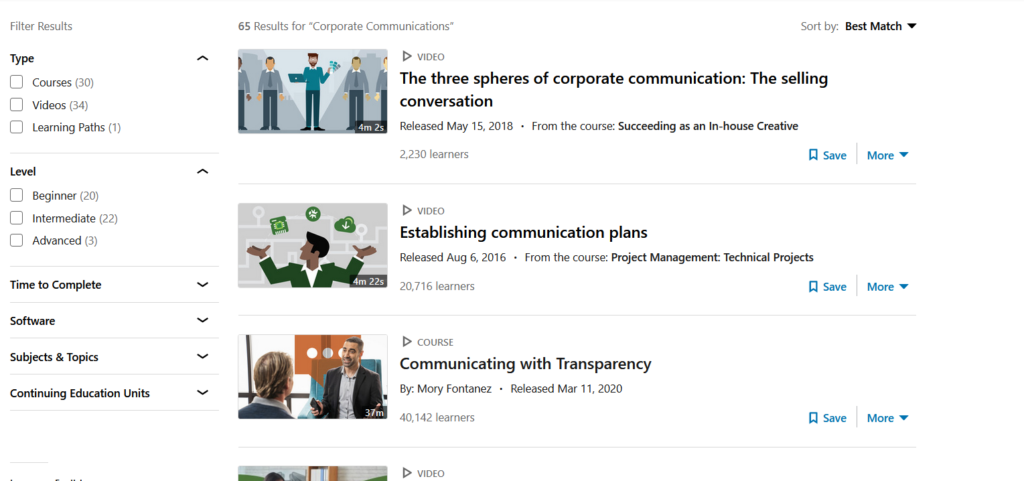 Some of the courses come with badges, etc. to certify that you completed it. I honestly don't think anyone cares about these, but you can add them to your profile if you want. The main question is whether you've got the skill.
Why it's Medium Value
There's no question that LinkedIn Learning is a FANTASTIC resource! The problem is that we live in an age of great online learning platforms. There are virtually a dozen other platforms for learning things, from Coursera to SkillShare.
If you want the convenience of a one-stop shop for courses and career, then it's a great investment. But you might choose a different learning platform, depending on what you're looking for.
If you don't have LinkedIn Learning yet, you can get it here.
6. To In-Mail Potential Employers
Medium Value
*Gasp* Can it be that I'm ranking the ever-popular LinkedIn InMail as medium value?
This will be the most contentious thing on this list, so you make your choice. People will swear by the value of dropping a message into a potential employer or potential recruiter's inbox.
And if it's done well, it really can make a difference. I've heard of people sending slick intro messages and getting their resumes to the top of the pile.
I mean, nobody I know. But I've heard of it.
Why it's Medium Value
The thing is, I meet a lot of job seekers who would A. never have the guts to InMail an employer or B. would butcher it if they tried.
Add this to the fact that InMails sort of feel like spam (since that's what I most often get there), and I'm questioning whether this is something worth paying for.
Two better alternatives:
Send a connection request with a note (which is free), essentially explaining why you want to connect. If it's for a job, you could give a quick elevator pitch.
Go to the company page and get the employer or recruiter's email. In my opinion, this is a way better way to pitch yourself and you know that emails get read.
Now I know this will be hotly contested, but I'm calling it like I see it.
7. To See Who Viewed My Profile
Medium Value
Any free LinkedIn account comes with a button on their dashboard called "Who viewed your profile." With a free account you can see a selection of the people, with others blacked out.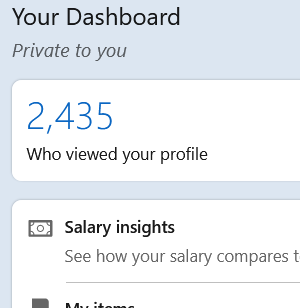 When you click on the button, you'll see a list of people who viewed your profile. In a perfect world, you could see EVERYONE who has ever looked at your profile.
The logic is, then, that you can add them, message them, and generally catch them before they get away. If this is recruiters or employers who viewed your profile, this makes total sense. You can absolutely send a connection request to recruiters who find you.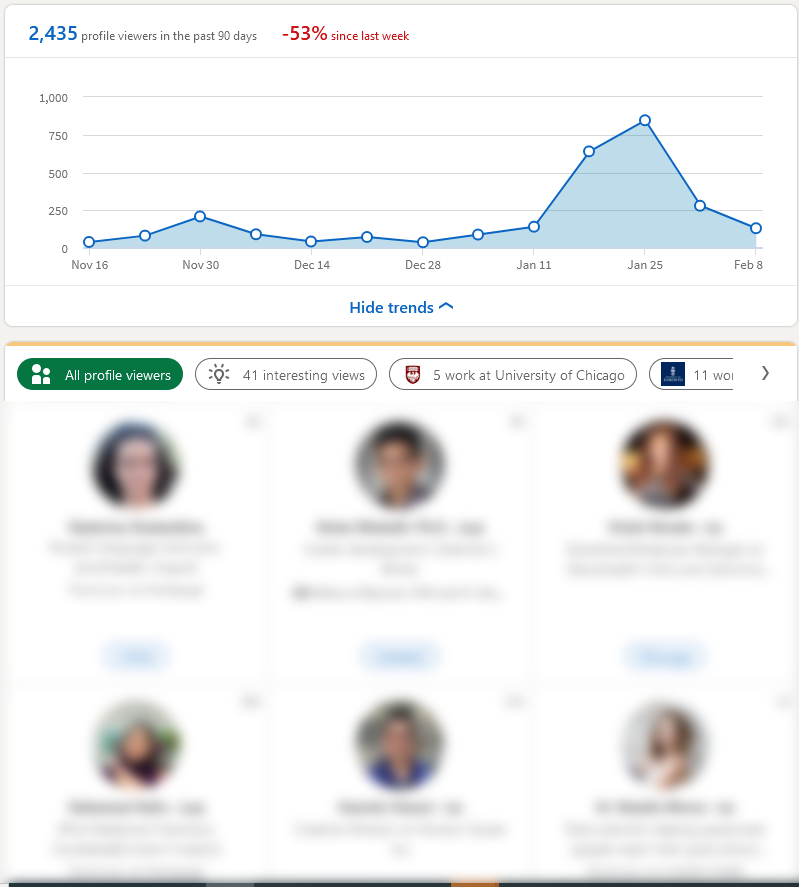 Why it's Medium Value
I think this is a neat feature, but there's one catch. When you browse on LinkedIn, you have the option of selecting how private you want to be. You know what this means? It means that lots of your most interesting views will show up as a generic badge, like this.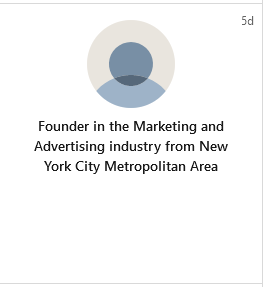 In my experience, these are often the managers, directors, recruiters, and leaders who browse invisibly. And it can be discouraging to know that a recruiter viewed your profile, but not having any idea who they are or how to contact them.
8. To Get Salary Data
Low Value
LinkedIn Premium as this little feature that helps you do salary exploration. You can plug your desired job title and location into the search bar and find out what you might make in that title and place.

So, for example, if I do a salary search for a Marketing Manager in Chicago, I get a list of salaries and companies, as well as an overview that looks like this: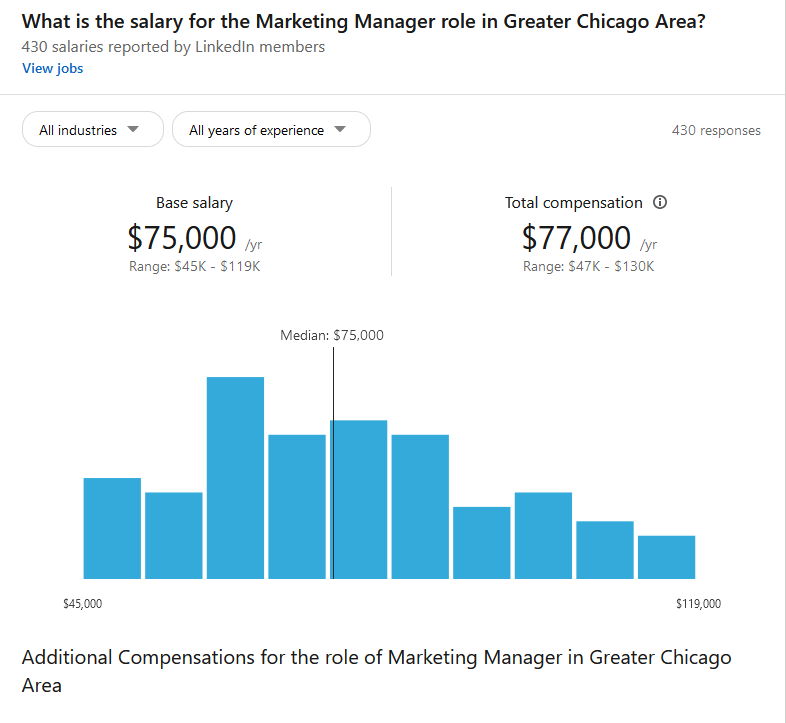 Why it's Low Value
LinkedIn is a huge platform, with virtually every job seeker and most people with jobs using it. So it's bonkers to me that for a whole bunch of positions, the salary data search is almost USELESS! There are huge gaps in reporting, and unless you live in a major center and are looking for a really common job title, you might have trouble finding the information.
Then there's the fact that you can get virtually the same information on Glassdoor, ZipRecruiter, and a whole bunch of other platforms that will tell you for free. Taken with all of the other features, salary data might be nice to have. But there is no way LinkedIn Premium would be worth the price for this alone.
Conclusion
In short, LinkedIn Premium features can be pretty great. I've paid for it when job-searching, and it's given me some good insights on the competition and help me craft my profile.
I can't tell you whether LinkedIn Premium is worth it for you, but weigh these things and judge for yourself! And if you want to know how to make the most of LinkedIn, check out these related posts!