Updated November 2, 2022
If there's anything we took away from the 2020s, it's the fact that working from home is the future. Not to mention EVERYTHING is online, including entrepreneurship.
Online business is booming. So if you've always dreamed of making the leap into online entrepreneurship, this post will tell you how to start a business online, plus give you 16 online business ideas. Guaranteed there's something for any type of business owner here.
There has never been a better time. Honestly, online business is super accessible. Businesses that would cost thousands of dollars to start-up in the past, can now be started with very little money. So even if you want to know how to start a business online with no money, this post will help.
So get ready, and let's make 2022 the year that you start a profitable web business and work for yourself!
This post may contain links to affiliate products, which–if you choose to purchase–pay us a commission at no extra cost to you. This helps to support our work. We only promote products we've used and love.

How to start a business online: A step by step guide
1. Find an audience
People will disagree on the order these steps should be in, but I believe that every online business starts with an audience. An audience is potential customers, after all.
You might find an existing audience where people are talking about stuff and joining the conversation. You might jump on a platform with an existing "audience" of customers looking to buy stuff, like Amazon. Whatever way you choose to go, there need to be people who come to your virtual store, whether it's a clothing company or a coaching business.
If you're building an audience around some sort of content: sharing your ideas, images, videos, etc., you may just choose to join an existing conversation and start contributing. You might also choose to build your own platform or to work for thousands of followers on social media. These will all depend on what your online business goals are.
In any case, it never hurts to figure out what people are looking for. You can use a tool like Answer The Public or a keyword search to do this. For example, my favorite keyword tool is ahrefs, and you can use to to see what people are searching for on Google, Amazon, or YouTube.
2. Learn about monetization
How are you going how to make money online? This is an important question in online business because not the same as traditional business. If you want to know how to start a business online, you need to learn the basics of how things make money online.
You can absolutely choose to sell products or services, but you don't necessarily have to. You can make money through advertising or affiliates, and increasingly models like these are becoming possible. This blog makes money through affiliate marketing, which I love because I get to provide a ton of value to readers for free and still get paid! I wrote about making money blogging in this post.
There are a ton of ways to monetize an online business, and the more you learn the more flexibility you'll have in creating your living online.
Read More: If You Want to Pursue Your Passions, Master Monetization
3. Figure out what to provide
If you are selling physical products or services, this might be pretty straightforward. You need people to select your product in a store and checkout. OR you need people to buy a service package, like coaching.
If you are monetizing with advertising or affiliates, you'll need to get eyes on your stuff, either through some sort of content, images, video, advertising, or a mixture of all of these.
So basically you need to figure out a business model that's going to work. This might be a combination of several monetization strategies, which is often the case for online businesses.
4. Set up your business
Doing business online is more complicated than just throwing up a few advertisements. Learning how to start an online business requires some basic business knowledge.
You need to figure out your basic business requirements for your country, registration, insurance, or anything else you might need. This can actually be more complicated than in person (for example, I do business in multiple countries and currencies). You'll need to set up your platforms and profiles, maybe upload your products and get ready to ship.
If you are using content marketing, you will need to write or pay someone to write, create a website or landing pages, and just generally get everything in order.
(I have some relevant info in this post: 7 Easy Steps To Launch Your Consulting Business This Week)
5. Sell
Once you're ready for business, you can start to sell. This will probably mean promoting, advertising, or if you are selling physical products, fulfilling orders, and handling refunds or returns.
6. Learn & Adapt
For all the people who get to Stage 5, very few people continue to be actually successful online business owners. A truly successful online business requires measuring, evolution, learning what works and what doesn't, and how to double down on what works.
It's very easy to get discouraged and give up when only a few people buy your products, invest in your services, or click on your links or ads. People who are truly successful online business owners will learn from their mistakes, and keep iterating.
16 Online Business Ideas
1. Selling creations on Etsy
Etsy is still a great place to sell your stuff.
If you are at all creative and you love to make stuff, this might be a good online business for you. Whether you want to sell your homemade hand towels or beautiful paintings, Etsy is a good place with a built-in audience looking for stuff to buy.
Pros– easy to set up, pre-existing audience
Cons– it takes work to make your products, it's probably not scalable
2. Online local retail
As local bricks-and-mortar business struggles against online giants, there is a huge opportunity for people who want to create local, online businesses.
Ideally, you would either have no in-person presence, or a very small, cheap one.
What do you do instead of renting a storefront?
Create a robust online presence with a website, Facebook page, etc.! You could use Squarespace to design a simple website that shows you're local, tells your story, and sells your products. Easy peasy!
For example, your business could be called Boise Lotus Yoga (here named for Boise, Idaho). You would create a small inventory of products, using a site like Alibaba to find them wholesale. You then offer free delivery in your area, and bring the products right to people's front door!
Pro tip: if you can create an online point of sale, allowing people to pre-order something, you can probably avoid spending a ton of money upfront on inventory.
3. Teaching
Teaching what you know can be a great online business, and thanks to the magic of digital courses, you could probably make a living off of one really good course. Yup one.
That's the good news.
The bad news?
It probably won't be easy. There are a lot of people trying to sell courses. Your best bet is probably to find a really specific niche that you know about and create the best possible course for it.
You could use a platform like Udemy or Skillshare to sell your course if you want a marketplace. Or, if you have your own WordPress website, you can do what I do and use a learning management system plug-in. I used Learndash.
If you're creating a self-hosted course, Mighty Networks is probably the best option.

4. Building a membership community
We are wired to seek community. It's in our nature. And starting online communities is a huge growth area right now. Essentially, you can set up a paid membership community, providing some sort of value (whether content, interviews, conversations, or check-ins).
There are so many opportunities, and you'll find communities around everything from postpartum depression to small business owners to lego collectors. You can use a platform like Mighty Networks, which is all set up for you, looks professional, and works really great. It even allows you to take payments through Stripe for membership.
Pro Tip: There is a huge opportunity right now for local communities! Instead of starting a small business owners' community globally, what about a local small business owners' community online. This gives you the added bonus of having in-person meetings if you choose.
5. Consulting
Consulting is becoming big business, and it's easy to do it online! If you have something you are really good at, whether it's digital marketing, adult education, or scientific processes, there's a good chance you can make a living online doing it! The pandemic has just accelerated the move to online consulting.
You can build an audience on LinkedIn, or advertise your skills on Upwork. Then, hang out a shingle, and get started!
Related Post: What My $40,000 Client Taught Me About Starting a Consulting Business (Video)
6. Amazon reselling
One of the better-known online business ideas is reselling things on Amazon. In this case, you buy things at yard sales, Walmart, or anywhere really, and resell them on Amazon. It takes a lot of work to get the right products and pricing to make it worthwhile, but I've read case studies of people who have done very well.
7. Blogging
Blogging is an online business, even in 2021. This blog still makes me money and has LOTS of readers. There are a lot of ways to turn a blog into an online business, using anything from affiliate or advertising revenue to coaching or consulting to a mixture of these. It's not as simple as throwing a few posts up and making money, you need to be devoted to learning the craft, but it's a lot of fun!
Related Post: How to Make Money Blogging
I'm a proud affiliate partner for Bluehost, which is what I used to start Roostervane. If you want to start a blog, I totally recommend them! Click here to check your domain name and get started for $2.95/mo!
8. Becoming an Influencer
I can hear someone chuckling somewhere, "You're really calling being an influencer an online business idea?"
Yup. It is.
It's not easy. A zillion people want to do it, and most of them will make little to no money. But I wouldn't be completely answering how to start a business online if I didn't mention it.
If you want to be an influencer as an online business, you've got to treat it like a business. And there's no better model of this than the online business master Kylie Jenner. No, I'm not kidding.
Kylie Jenner has turned influencer into a billion-dollar business with almost 300 million followers. She built a cosmetic business on the back of that fame. She ain't no dummy.
You can build a following online and monetize it, even if you don't get to Kylie-level. Actually, more and more businesses are targeting relationships with micro-influencers, who have only thousands or even hundreds of followers.
Learn about affiliates and sponsors, and work hard on building your following, choosing one platform to excel at. You can use tools like Publer (the social media scheduler I use) to keep posts consistent.
Related Post: 7 Lessons for Building an Audience in a Noisy World
9. Flipping on Facebook Marketplace
This is another one of those online/local hybrids. Can you find things to sell on a resale site like Facebook Marketplace or Craigslist?
For example, flipping furniture has become a popular side hustle: there's a great guide over at The Modest Wallet.
10. Becoming a YouTuber
I'm not saying it's easy to be a YouTuber either, but it is an online business that works for some people. There are still "riches in niches" on YouTube.
I've experimented a bit with creating the Roostervane YouTube channel. And, while I haven't been as devoted to it as I could be, at least one of the videos has racked up a couple of thousand views. This is a video I made in 12 minutes before work–dedicated to telling the story of why I left academia after my PhD.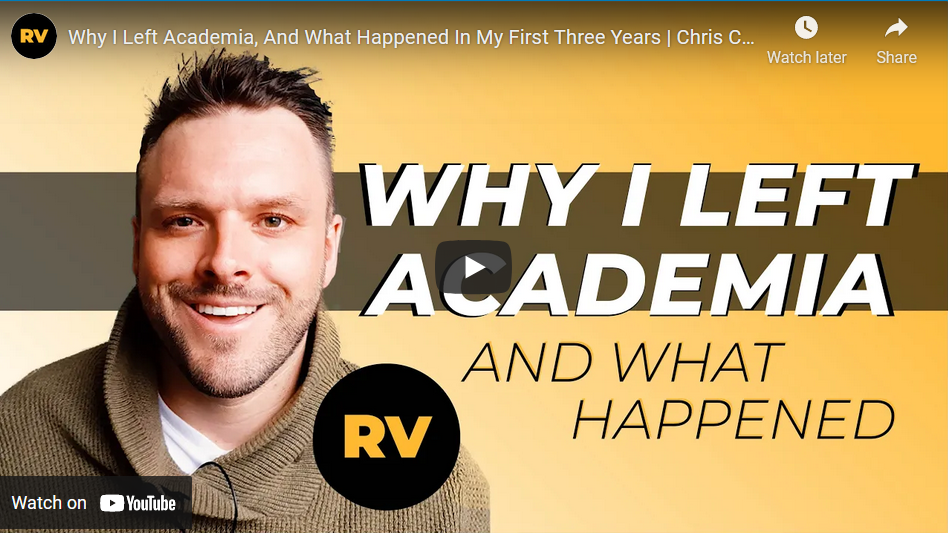 If you want to get started on YouTube, I'd recommend TubeBuddy, which I use for keyword research and optimization. I got this tip from one of my favorite YouTubers- Sunny Lenarduzzi.
The best thing about YouTube? It works on search engines… meaning that people will find you for YEARS after you create a video. It takes work and consistency, but it is possible to make money off of YouTube.
11. Write a Book
There are so many people who want to write a book. And while trying to get a book traditionally published is a challenge (some might say almost impossible), there is a huge market for self-publishing. The brilliance of self-publishing is that you get to keep the majority of your earnings, meaning you don't have to sell millions to make a decent living off of it.
That's why I believe no post on how to start a business online would be complete without including WRITING! Some self-published authors have even become millionaires off of it.
There are a lot of good resources on Reedsy, including free, professional typesetting software. Whether you want to write a novel or an instructional manual, self-publishing can be a viable online business for those who are devoted to it.
Try this Skillshare course to learn the game!
The Adventure of Self Publishing : How to Write Your Story and Self Publish
12. Other Writing Services
There are lots of other ways to make a living writing online. This could include editing, ghostwriting, or content writing for other people. Any of these can be businesses you start on Upwork, which is a good place to begin!
But I'd once again mention Reedsy, which is a marketplace devoted specifically to writing with a TON of great opportunities there if you can get listed.
13. Coaching
Coaching is big business, worth an estimated $15 billion worldwide, and it's not going anywhere. You'll find coaches in every niche, from business to personal development to handstand coaches. Whatever you're good at, there's a good chance you can find a coaching market for it. You'll need to pick a niche (again, the more specific the better) and find people willing to pay for your services. But if there's a problem you've solved yourself, you might be able to make a living helping others solve it.
14. Health care
If you're a trained and certified health care professional of some sort, there are more and more opportunities for online businesses in this space. From the nurses who work as contractors to screen workplace injury claims for big companies (done remotely) to the counselors helping people on Better Help, online business in the health care space is becoming more and more of a possibility.
15. Dropshipping
Dropshipping is basically an online store without the fulfillment. You use a third-party company that takes care of ordering and shipping, and your only role is building an audience and selling the stuff.
It's a pretty sweet gig, if you can make it work. There's a great guide on the Shopify site.
14. Build Apps and/or Websites
If you know how to code, or even if you don't, you can build apps and websites for cash. There are lots of non-technical people (like me) who hire out specialists.
Honestly, it's getting easier all the time to do this work. If you've got a knack for designing web pages, you might be able to start a side hustle as a web designer. Plus, with tools like Elementor, you really can make great-looking and mobile-friendly websites relatively easily. Heck, even using something like Squarespace, you can set up professional websites. (Here's a breakdown of Bluehost vs Squarespace)
And there are ENORMOUS markets of people, especially businesses, who desperately need a better online presence.
15. Digital Marketing Consultant
If you know digital marketing, if you can get eyes on people's online work, you could create a business as a digital marketing consultant. Ideally, you'd have some strong skills in paid advertising or SEO or content marketing or some combination of these.
You can get started by posting your services on Upwork.
16. Virtual Assistant
Virtual assistants can be hired for just about anything, from clerical work to organizing meetings and managing email. I've hired virtual assistants in the past to edit and put posts up on Roostervane and also to keep our social media feeds going.
This is another one where I think Upwork is the best place to start.
Conclusion
If you're trying to figure out how to start a business online with no money, or even with a small investment, these online business ideas should get you started. So what are you waiting for? Go build your amazing online business, and share it with the world!
Now Read: 14 Viable Passive Income Ideas for 2023