We live in an age of personal branding.
And honestly, having a great personal brand changed my life.
But when I tell people that they need a personal brand, most people assume that it is a full-time job to create one. And since a lot of the people with the most visible personal brand do work on this full-time, or even have teams that work on their personal brand, it can seem really intimidating for the average person.
I've discovered that self branding doesn't have to be complicated. The advent of tools and services that bring personal branding online means that we all have access to roughly the same tools a pro marketing team has, and this is fantastic!
In this post, I'll give you some personal branding tips to put your brand on autopilot. With only an hour or so a week, you can build a killer personal brand.
And for most people, having a good LinkedIn profile will be enough. I have directions on how to do that here. But what if you want a little bit more? What if you are an entrepreneur, thought leader, or someone who wants some attention on your ideas?
Having a great personal brand doesn't have to be a full-time job. These strategies will help you get the most amount of impact for the least amount of time.
This post may contain links to affiliate products, which–if you choose to purchase–pay us a commission at no extra cost to you. This helps to support our work. We only promote products we've used and love.
1. Build an attention engine
What if you could create an engine that would keep bringing you attention, followers, clients, leads, or whatever it is you want out of your personal brand. That's exactly what I did.
And the secret to building an attention engine is not constantly posting on LinkedIn, or hanging out on Twitter all day. You need to harness search engines.
In case you didn't notice, people search for things all day every day on the internet. If you want to build an attention engine, put your ideas at the other end of their search.
How do you do this? Let's talk 3 things.
a. You need a platform that works on a search engine:
Not all platforms are created equally. In fact, there are only a few that work on search engines:
Websites (personal blog, Medium, creating content for other sites)
YouTube
Quora
Pinterest
My two favorites are my blog and my YouTube channel. Traffic for both of these come from Google (it owns YouTube too).
Unlike most social media platforms, where ideas disappear after a while, the YouTube and Google algorithms keep pulling up information that has been there for years. In fact, older information is often considered better (within reason).
My blog brings in hundreds and sometimes thousands of readers a day, and this is one of the reason I'm doubling down on my YouTube channel.
If you create a blog and put 1 post a week on it, your brand will grow with time.
Read More
How to Start a Blog People Can't Stop Reading – A Step by Step Guide.
I Show You How to Make YouTube Videos on Your Phone (Video) | My Method
b. You need focused, relevant keywords
Search engines work on keywords, so your attention engine will need to use them too.
You will need to be specific. There is no way Google is ever going to rank you for "science" or "marketing."
The flip side, you need to find keywords that enough people are searching for to justify creating content for them. This is what we call a niche.
My first high-traffic keyword for Roostervane was "leaving academia." Then Chris Caterine wrote a book with the same title and now it holds the #1 spot. I'm not bitter 🙂 (honestly, Chris is a friend. I even interviewed him here).
To be successful, you don't need a huge amount of readers. You just need the right readers.
If your business is what comes up when people search for "D & I educator in [your town]", you will probably get the call.
Even if only 10 people a month make that search.
So what are people searching for? You don't need to guess. You can use tools that will help you. I use a tool called ahrefs that's AMAZING!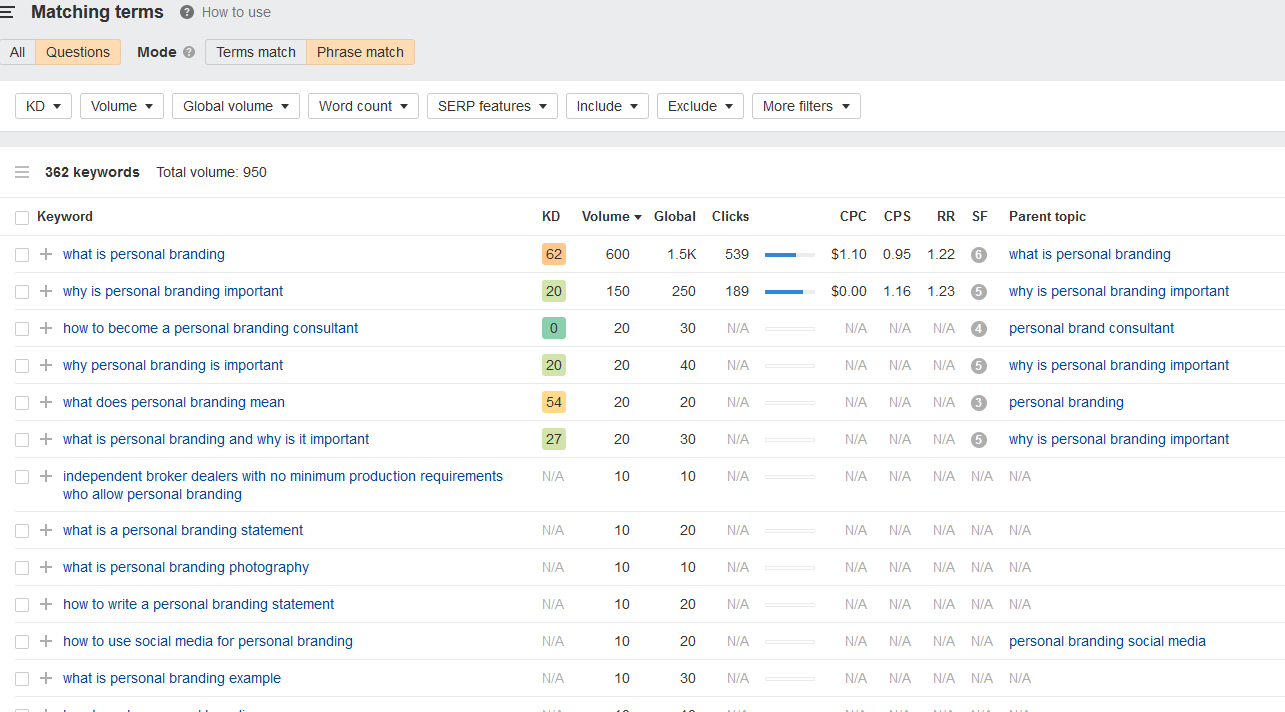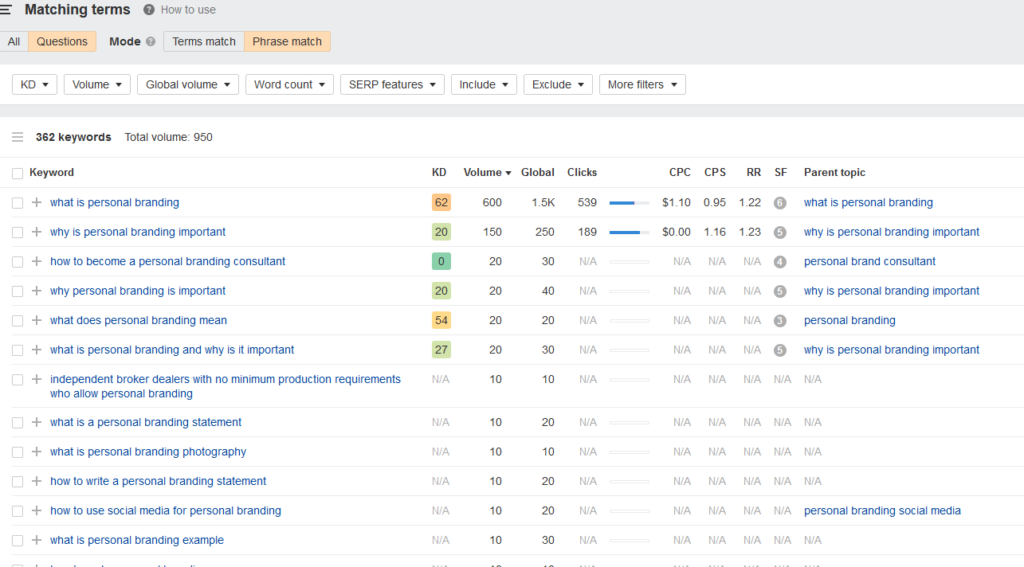 I have also used Ubersuggest and Moz, which both have (limited) free options you can use (totally enough to get started– don't pay for a keyword tool).

c. You need good content
Don't just serve up any old crap. Just because you know what people are searching for doesn't mean you can dominate their searches. You need to create high-value, interesting content that meets their search intent.
2. Focus on what works
I do use social media in addition to my search engine channels. But here's something about social media.
You don't need to be on every single social media platform. That is a colossal waste of time, and they are not all created the same.
You need to make an educated guess about where you want to spend your time, and where your audience hangs out.
Ideally, this happens organically. I've almost stopped posting on Instagram, because it's a waste of time for my brand. I mostly share ideas, not images, and there is no way to click through to a post without paying for advertising.
Twitter and Linkedin have both been good for me. Twitter was best to start, the first place I had 10,000 followers. But LinkedIn is getting better and better, with people who are hungry to build their careers and grow themselves. I love the audience there, and the format of longer posts–it can be hard to provide that much value on Twitter.
3. Make a big move
I really enjoy building blogs and channels. I love social media.
But with all the people diving into the weeds every week slugging it out for attention, we risk missing something. So here's one of the most important personal brand tips.
What if there were huge brands, ready-made, with millions of readers, who are searching for great content?
There are.
While not exactly auto-pilot, if your time is limited, stop playing these games and spend all your time getting into Forbes, or HBR, or Enrepreneur, or onto some platform where they're going to do all the work for you. Pitch a TED talk.
While you don't own them, getting on these platforms will pay dividends for a long time to come, and that sounds like autopilot to me.
4. Schedule your social
One of the things that is necessary for a brand on autopilot is consistency. One of the best personal branding tips I know to get consistency is to schedule.
Otherwise, life gets in the way.
If you can set aside half an hour or an hour once a week to schedule your posts, you can put this on autopilot.
How do you do it?
Well you need a scheduler, and that depends on your platform. Twitter has a great native scheduler called Tweetdeck. Facebook and Instagram likewise have schedulers, I like to use Facebook creator studio (which does both).
LinkedIn doesn't have a scheduler right now, so you need to use a third party app.
I'm going to give a plug here for Publer, which is my favorite at the moment. I've tried a few different ones, and it's by far the cheapest and easiest. You can also recycle posts and–my personal favorite–upload Excel sheets of posts that it sets automatically.
5. Build your network
I've long a been a fan of networking above all else.
Most people need to do more of it, myself included.
And while you network for jobs and for opportunities, you also network for your brand. The more people who know you, the more you can give them a CLEAR picture of what you do and why, the more your word of mouth will spread.
And that's personal branding on autopilot.
I don't know how many people come to me and say, "X told me I need to talk to you about students who can't get jobs." And that, my friends, means my brand is working even when I'm not. That's autopilot.
Conclusion
These personal brand tips will help you create your brand even when you're sleeping, which is pretty cool! I hope they help you take your game to the next level, but ALSO, I hope they show you that personal branding can be effective and powerful without being a full-time job.
Now Read
Read More: