Updated Jan. 10, 2023
I started this site on a Sunday afternoon, on a whim. People ask me where I came up with the name Roostervane — and here's the answer. I have no FREAKING idea. I was wildly typing domain names into Bluehost and this one was open.
My first posts were a bit like yelling into a dark room. I didn't know if anyone would ever hear me.
To my surprise, people did. This blog has reached millions. I ain't the best blogger out there. And I wish I earned as much as some of the top bloggers — although I do make money blogging. But this blog has also led to a lucrative business as a freelance writer and consulting on SEO. And best of all? I really love it.
It's pretty hard to deny that this has changed my life.
So maybe you want to start a blog — yes, people still blog. But in a world of millions of blogs that don't see traffic, and an avalanche of online advice, how can you cut through the noise?
And how can you create a blog people actually want to read?
This post will walk you through the most important parts. Here's what I wish I'd known about starting a blog, and why I'm all in on blogging in 2023. YES, YOU READ THAT RIGHT! Someone's going to be all like, "Really? Blogging? Does anyone do that anymore?"
The answer is: I do motha fucka. And you should too!
So here we go. Basically, I'm going to teach you how to build a blog from scratch.
This post may contain links to affiliate products, which–if you choose to purchase–pay us a commission at no extra cost to you. This helps to support our work. We only promote products we've used and love.
I'm a proud affiliate partner for Bluehost, which is what I used to start Roostervane. If you want to start a blog, I totally recommend them! Click here to check your domain name and get started for $2.95/mo!
How to Start a Blog That Makes People Pee Their Pants With Happiness
1. Find your niche with keyword research
There are a few blogs that are personality-based, in which somebody shares their random thoughts. And yeah, you can get away with it if you're Seth Godin or if you just want your mom to read it.
But the vast majority of successful blogs today have a niche. They're authority sites, that talk about something specific.
As you may have guessed, Roostervane's niche is giving career advice. Over time, it's morphed — I talk about online business, life skills, college, and just general stuff that interests me. So I'm not totally following my own advice here.
But the core of everything is career-related.
You can, of course, follow your passion and start whatever you want. But it's worth checking out what some of your competitors would be and whether there's a demand for your subject.
You can use these tools to search for some keywords–AKA what people type into search engines.
Each of these have free options you can explore to start. DON'T PAY FOR A KEYWORD SEARCH TOOL YET. These are super expensive and not necessary for a beginner.
However, I will say that one of the best keyword tools — Ahrefs — does have a $7 trial for 7 days which I've used, and lets you explore YouTube and Amazon keywords.
These are simple tools that will tell you how many people search keywords a month in google (for example, ahrefs says that 22k people a month in the U.S. search for "How to start a blog."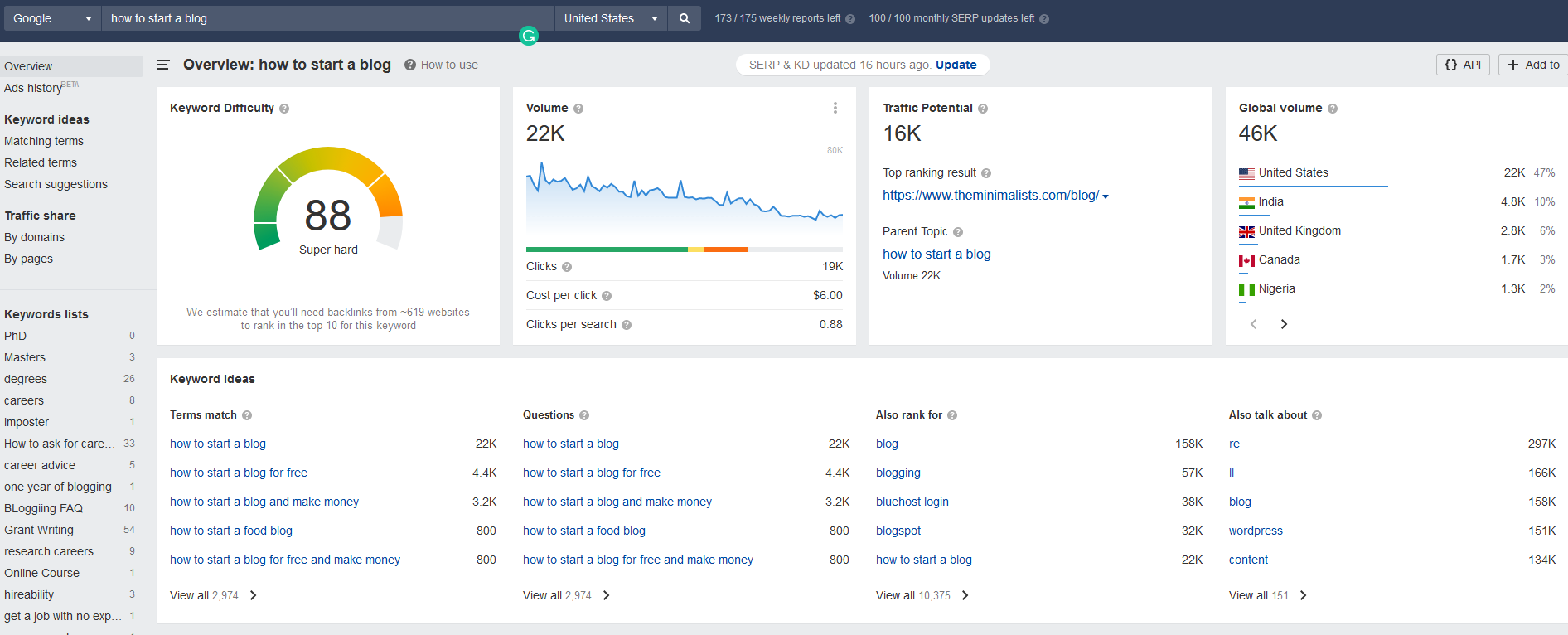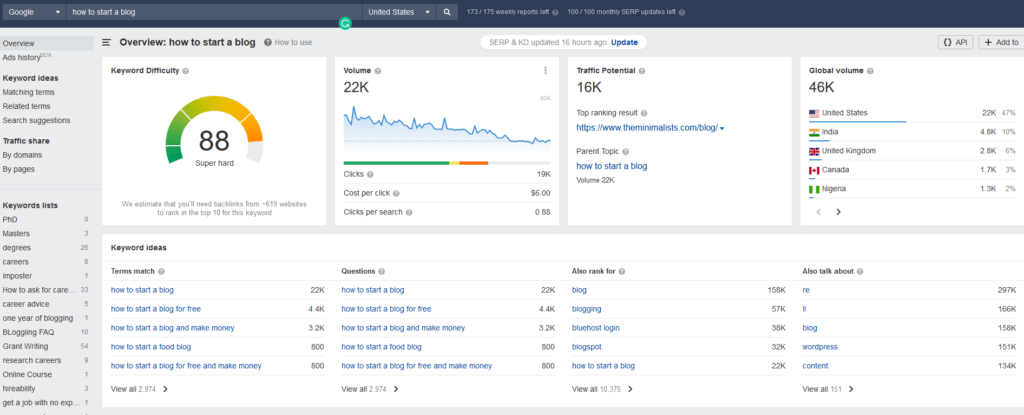 They also tell you the demographics of the searchers, link to some top posts, and give you alternate keywords to try.
So get into one of these tools and start clicking around. Can you find a good niche? Write a list of 20 posts you could write about something, and see if there is search engine traffic to back it up. There's more than one way to get traffic to your blog. But trust me on this one. Search engine traffic is amazing, and gives you the foundation to build a passive income business.
Pro Tip — Be specific in your blogging. Focusing on the 880 people a month who search "Physics for kids" is better than the 135,000 who search for "Physics." Your niche should be focused, it should be something people want to read about. If you can find a community around it—even better.
2. Identify your audience & their needs
This is vital, and connected to that keyword searching you did above.
At the other end of your blog is a person who might take a few minutes to read what you have to say. Or, they might click on your blog and bounce away within 1 second.
Take their time seriously and try to appreciate why they're going to read.
Why do people read blogs?
a. To Solve A Problem
Why are you reading this post?
My guess is you have something to say but don't know how to do it, you're curious about building a presence or even making money online, and you don't know where to start.
The age-old question in business is: "What problem does your customer have that you can solve?" In blogging, the same rule can apply. "What problem do your readers have that they need to solve?"
Some problems you might be able to solve are:
How do I run online learning?
What does good course design look like?
My kids suck at math–how can I help them?
How do you use a preposition correctly?
Blogs that solve a problem do well. For example, from this list, the blog Grammar Girl was started by Mignon Fogarty who turned her grammar tips into a big-money online and podcast empire.
Who's the audience for Roostervane? People trying to build a career, earn a living, or just figure out their path. That's basically it.
b. To Learn About Something That Interests Them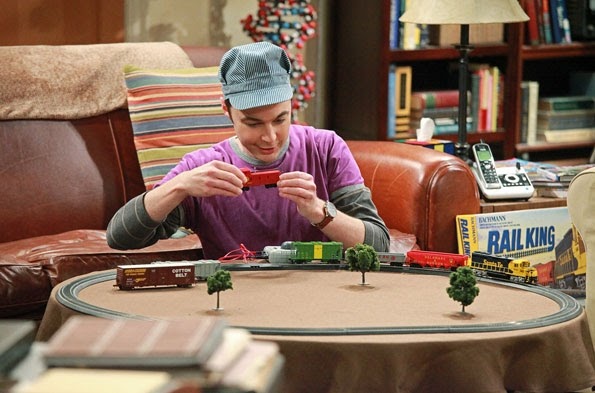 When I was a kid, I remember hanging out on a lot of blogs that talked about model railroading.
Yes I was super cool… No, I did not have a girlfriend.
Why do you ask?
Hobbies are amazing and lots of people spend their time exploring, and there are blogs devoted to everything from succulents to manga.
Or, some blogs are just entertaining, writing about things like the civil war or the future of space travel. People love learning, and blogs are a big part of that.
c. To Get Informed
Maybe you want to give people your take on what's going on in the world or your town. You might start a news blog. Or maybe you love the latest celebrity gossip and you want to be the next Perez Hilton.
These types of information blogs are fast-moving and not for the faint of heart. After all, things move quickly in the world of news, or celebrity gossip. Always needing to be up to date and keep your blog up to date is a big job.
But someone's gotta do it.
Just ask Ariana Huffington, whose news blog — HuffPost — is now worth $1 Billion according to recent evaluations. That's not bad in an industry that's otherwise collapsing.
3. Decide what to blog about
I got tired of writing one blog I started after a few posts. And it fizzled. It's now long gone.
Can I tell you a secret? That's what happens to most blogs that start.
So decide what you ACTUALLY want to write about all the time. I don't care what you're good at doing or know a lot about. If you're an engineer, but your passion is travel, write about travel — not engineering. It will make this journey much easier.
Pick a topic you have a lot to say about and could see yourself writing about for a while. See if you can come up with 20 titles for posts you could write.
Blogging shouldn't feel like a chore or you won't stick with it long enough to see the benefits.
How do you decide what to blog about?
I think the answer is pretty simple. Do the keyword research first and find a few viable audiences. Pick the thing you love to write about, that you could talk about nonstop for the next 5 years. Because that's what it takes to start a successful blog.
You can use a keyword tool like SEM Rush to do your planning & track your blog SEO.
Forget about what others think! So you're a respected policy expert, and you think that you should blog about foreign policy. But really, all you ever think about at work is gardening. But what will my friends think if I have a gardening blog? Will they think I'm a joke? I'm a serious professional. This isn't therapy, but let me say that you don't need that validation. Throw your fears to the side and write about what moves you. Spirituality. Gardening. Rock Climbing. Parenting. Your call.
4. Bring Your Personality
A blog should have some of the personality of its author in it. Tell stories about your life. Give your opinion. Don't be afraid to share your perspective! And believe it or not, you don't need footnotes if you don't want them.
Toto, you ain't in Kansas anymore. Your blog is not a paper or a research project. It's your digital voice projected into the world, and you don't need to apologize for it.
5. Choose your hosting
This guide will use Bluehost as a template in showing how to start a blog. It's my favorite hosting site, and I've used it a lot. But I'll mention a few others.
The cheapest way to start a blog is to use a free platform. Some of the well-known options like Wix and Blogger still let you get started for free (see our comparison of Bluehost vs Wix). Medium is a beautiful platform as well. Each of these options takes care of hosting for you, but you don't own your own blog—it's at their mercy. Your domain name will be yourdomain.wordpress.com or something like that.
I've always preferred to pay for blog hosting–"hosting" just means the place your blog lives online. I own this site because I pay for it, and nobody can take it from me.
There are several advantages to paying for blog hosting, but here are a few of my favorites:
a custom domain (ie. www.yourname.com) people remember
customizable sites (ranging from your own layouts to premium designs)
the option to make money online and monetize your site through ads, selling products, etc. (your monetization options are limited if you don't own it)
complete ownership of your site
ability to build your following with email lists
basic hosting is fairly inexpensive–usually a few dollars per month.
you are creating an ASSET! Did you know you can sell blogs?
6. Register and set up your site
Once you choose which hosting you'd like, the next step is to register your site and set it up. If you've done the work above, start by checking your domain name with Bluehost to see if it's available.


Pro Tip #1 — Make sure you google what similar websites look like. Find out what people will see if they stumble to the .com site instead of your .org one.
Once you get an available domain, Bluehost will automatically take you to the registration page. Fill out your personal details under Account Information.
This is straightforward. Select your Package Basics. I usually choose 36 months—it's cheaper in the long run and I have good intentions of keeping blogs going for a long time 😊
I do want to say something about the Recommended For You section you'll see next on the page. You don't need to pay for any of the extra things—unless you want to. HOWEVER, I do think that the "Privacy + Protection" is worth paying for. It anonymizes your site and protects your registration information.
Then, Fill out your credit card information and submit.
CONGRATULATIONS! You now own a website! Woot Woot
Once you're through, Bluehost will automatically prompt you to install WordPress, choose a theme (just pick a free one for now), and several other things. Then you can Log Into WordPress and make it live for the world to see!
7. Design it
So, you should now be in WordPress–looking at the powerful system that will run your blog. Isn't is beautiful? ahhh
WordPress is both powerful and simple–you can get your blog up and running pretty easily, but it also runs on some of the biggest sites in the world.
This is where you get to build your blog.
You might choose to do some site design by clicking on Appearance > Customize.
You can change your free theme by clicking Appearance > Theme—there are lots of great ones. If you'd like, you can pay for a Premium WordPress theme, but there's no hurry on this. (I happen to use a premium plugin called Elementor for Roostervane. It creates a beautiful drag-and-drop design and is excellent for beginners.)
8. Launch it
You can do this in any order, but at some point you'll have to make your blog live by clicking the button on your dashboard. You can post first then go live if you'd like.
9. Publish!
From the WordPress dashboard, you can click on the Posts > Add New button to create a new post. Get writing and publish something! You may choose to add pages like ABOUT or CONTACT ME by clicking on the Pages > Add New button.
Can I tell you something I've learned, as someone who has agonized over the "Publish" button often? Your imposter syndrome will hit you, you'll feel like you need to add a footnote. You'll be embarrassed for people to see it.
I've gone through all of that.
At the end of the day, done is better than perfect. Or, the perfect is the enemy of the good. Get it up and share it with the world. The beautiful thing is, you can always edit as time goes on. Unlike a published paper, you'll never need to print a retraction! If you find a typo next week–fix it!
As Zig Ziglar says, "You don't have to be great to get started, but you have to get started to be great."
That's it! Your blog is live!
So that's it, my guide on how to start a blog! I hope it's helpful, and I hope to see your blogs online soon! Let me know when it's up and I'd be honored to be one of your first readers! Email me, chris@roostervane.com.
More Articles on Building Influence Online
The 10 Best Blogging Tools I Use Everyday
When You Become a Thought Leader, Opportunities Come to You. Here Are 7 Steps for Getting There.