Updated January 26, 2023
I started blogging five years ago. Ahh I remember it. The internet was a quieter and happier place. We weren't stressed about ai writing stealing our jobs, TikTok didn't exist, and I'd never heard of stupid terms like "quiet quitting" or "the great resignation."
Those were the days. I still remember one of my happiest moments. I was living in Greece, and I sat in a coffee shop all morning writing. I thought to myself, hey dummy… you could do that for a living.
So as I've run this blog (and — let's be honest — ignored it at times), I've sort of developed some processes that I use. Some of them I've come up with through trial and error. And some I've learned by working as a consultant for tech companies and watching other marketers.
Today, I want to talk to you about blogging tools. It can be hard when you're just getting started to figure out which blogging tools are vital and which ones are crappy gimmicks.
I've been overwhelmed too, and I see a lot of people diving into this world.
So here are my must-have best blogging tools that I use everyday.
This post may contain links to affiliate products, which–if you choose to purchase–pay us a commission at no extra cost to you. This helps to support our work. We only promote products we've used and love.
I'm a proud affiliate partner for Bluehost, which is what I used to start Roostervane. If you want to start a blog, I totally recommend them! Click here to check your domain name and get started for $2.95/mo!
1. Evernote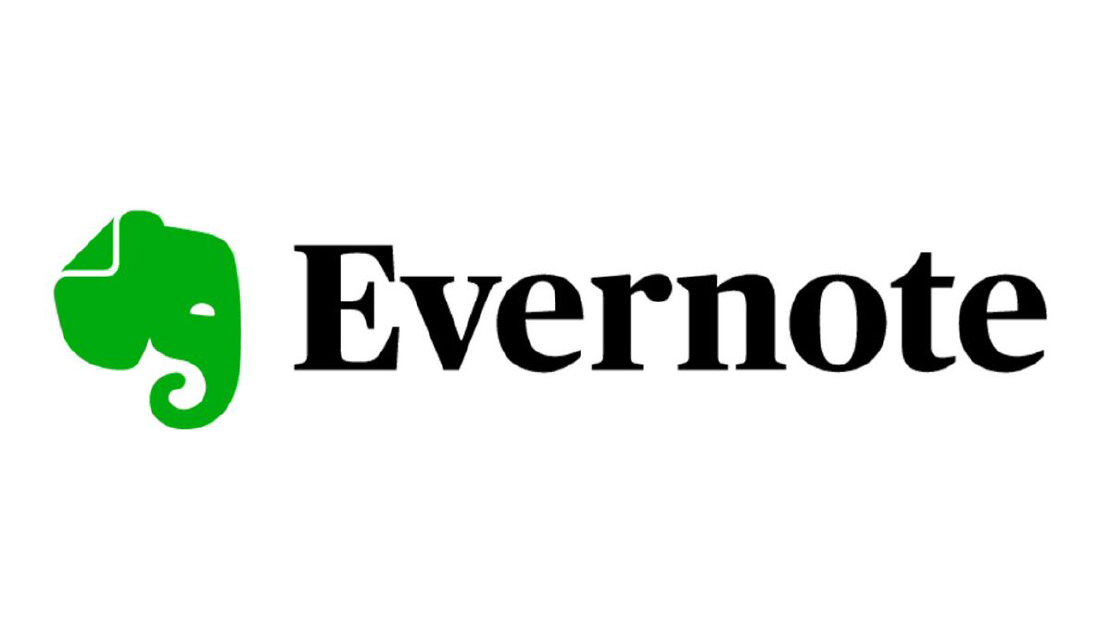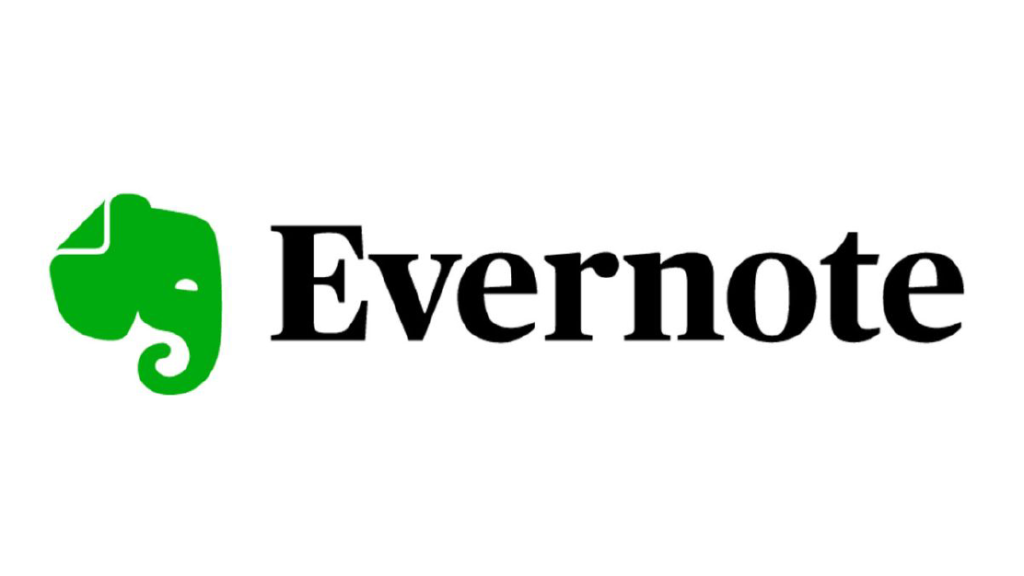 I have loved Evernote for years now. My thoughts are categorized into a beautiful, searchable database.
I initially started with my PhD. Every book I ever read. Written up in Evernote with the title. I now have a digital library of thousands of books that I used.
But now, I use Evernote on my phone. I create posts with it. Usually, it's while my kids are at the park, playing on the swings or the slide. And I'm composing blog posts, talking into my phone like a secret agent.
You could use OneNote or something else, it's just personal preference. But evernote is really cool!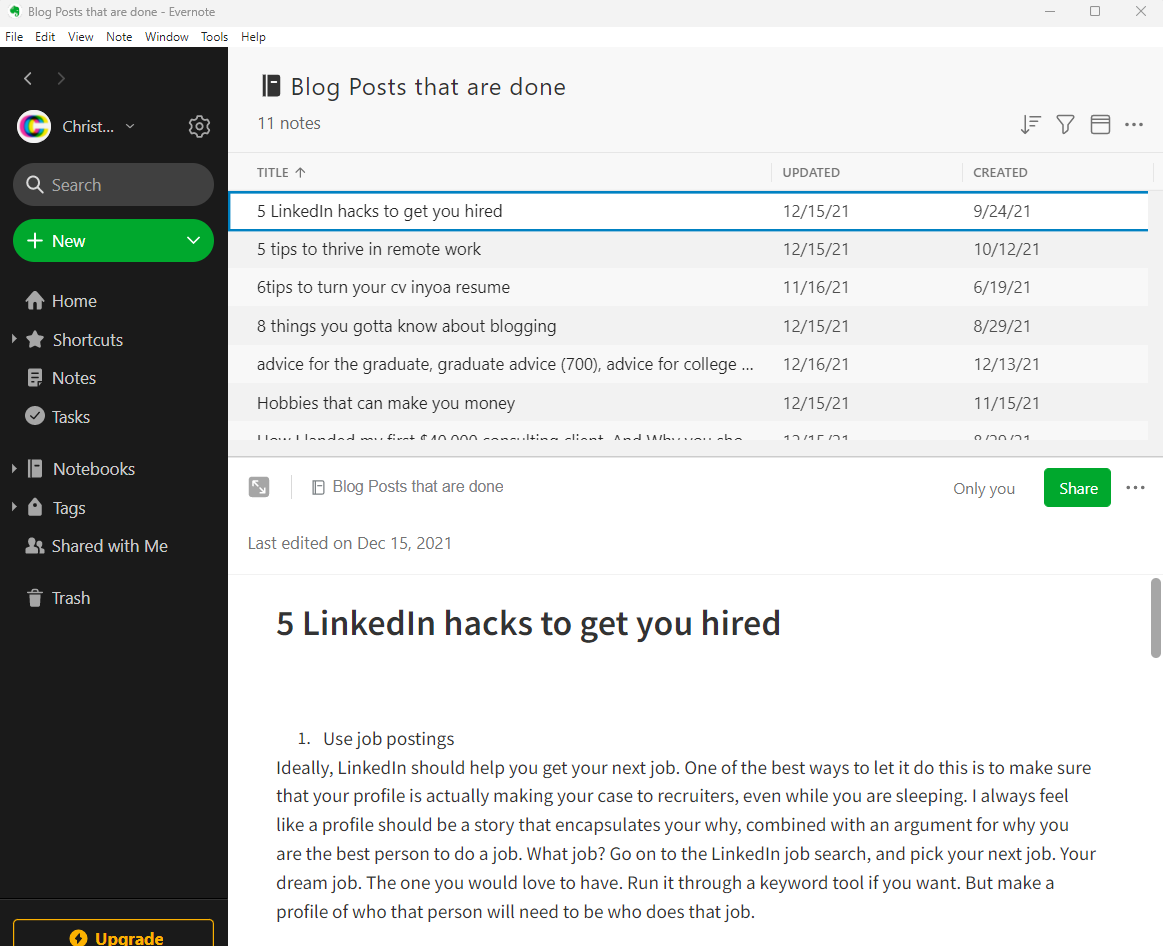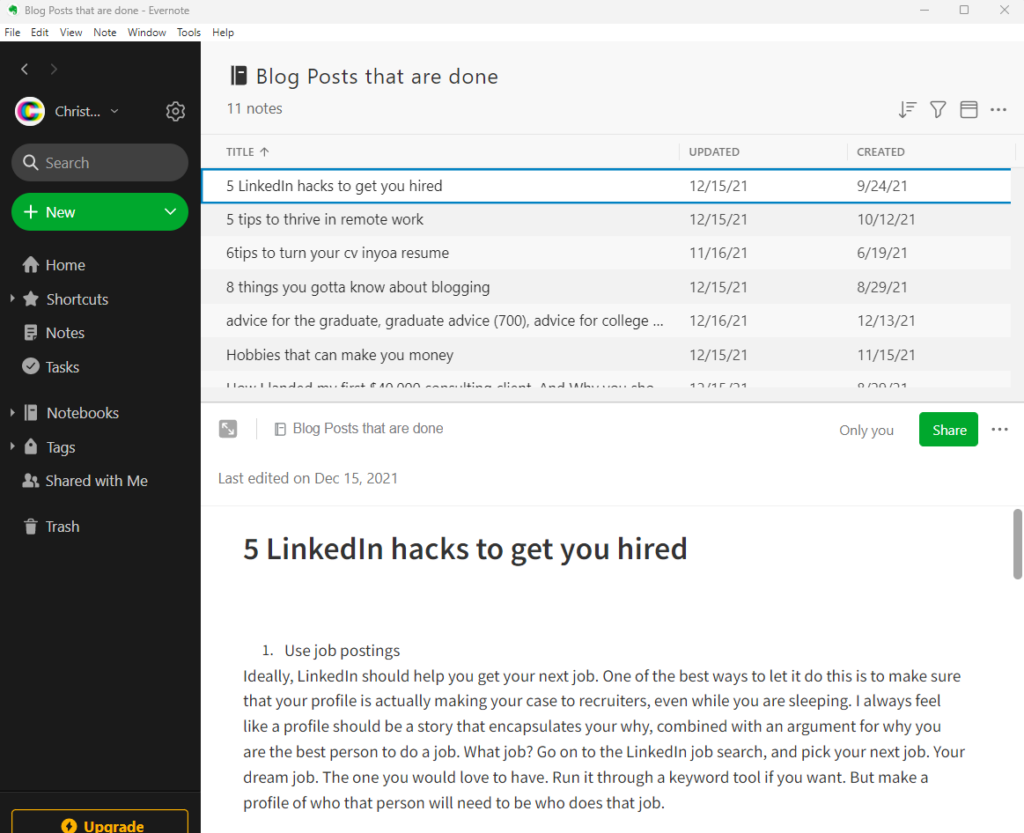 2. Monday
I owe my content strategy to an awesome SEO I worked with while consulting for a SAAS company. He was the first one to show me how to use the project management tool Monday to organize content. And now it's what I use!
Here's what it looks like.


To be honest, I think it was hard for me to appreciate the value of a content calendar when I was just starting out. But with time, it really is the only way to manage a blog or website that has a ton of posts. You can't see it in this image, but I usually create drafts in Google docs, then you can keep the links to drafts and the final page organized.
3. Zotero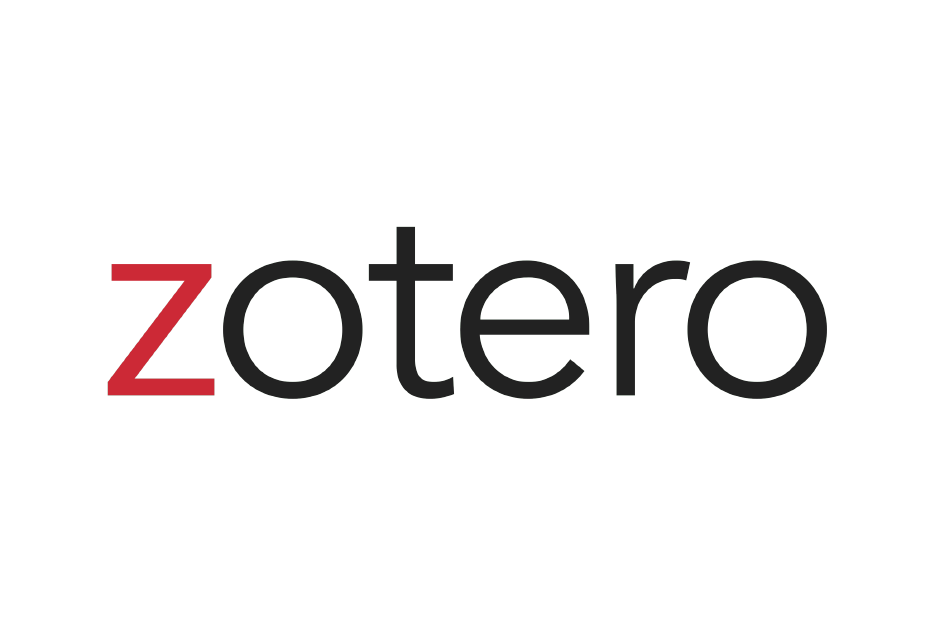 I discovered Zotero in my first year of grad school. An older student told me about it, and I smartly said, "It's fine. I don't mind typing them out. I have the formatting memorized."
She laughed and said, "If you want to waste all your time, it's your call."
She was right. I finally bit the bullet and tried it and it changed my life. 10 pages of thesis end notes, and I hit a key and my bibliography was generated in seconds.
I use it now when I cite stuff, which isn't actually all that much. But It's still easy to store sources and go back to it. What was that policy article on PhDs again?
Oh yeah. ctrl-alt-A.
There it is.
It's not for every blogger. But if you've got a blog that you want citations for, it's the best reference manager I've come across.
4. Publer
If you want to be a successful blogger, you'll need to drive traffic to your blog. There are basically 4 main ways to do this: organic (search engine traffic), social media, email, or paid advertising.
Do you spend all your time hanging out on social media? Are you trying to build authority or become a thought leader, but spending more time composing and sharing on social media than actually working on your craft–whatever it is?
Then maybe you need a social media scheduler.
There are a whole bunch of them. Twitter's native scheduler, TweetDeck, is great. Facebook also has a great scheduler too, you'll find it under "Publishing Tools" if you manage a page.
But sometimes, schedulers that post across multiple platforms are best.
And the one that I use is Publer (a former version of this post said Hootsuite–but I've happily switched. Publer is cheaper and better!).
It lets you publish across platforms with one click–Facebook, Twitter, LinkedIn, and more. It has saved me a ton of time and helped me build a following.
Click here to try Publer for free!
5. ConvertKit


If you've spent any time hanging out on podcasts or reading blogs about online business, you'll hear people talking about email lists. They're vital, or so they say.
And for a long time, I used MailChimp. Or, to put it more truthfully, I didn't use it. I collected emails, sort of, but I never sent any out. I found it tricky to use, and I never actually figured it out.
ConvertKit was a lifesaver. It really was.
It made collecting emails easy, but I could also really simply set automatons and schedules–you've probably gotten one of these if you're on the Roostervane mailing list.
Believe it or not, I don't hit send on 500 emails every day. The machine does it. Here's an automated sequence I built for my "How to start a blog course"- Which you can find here!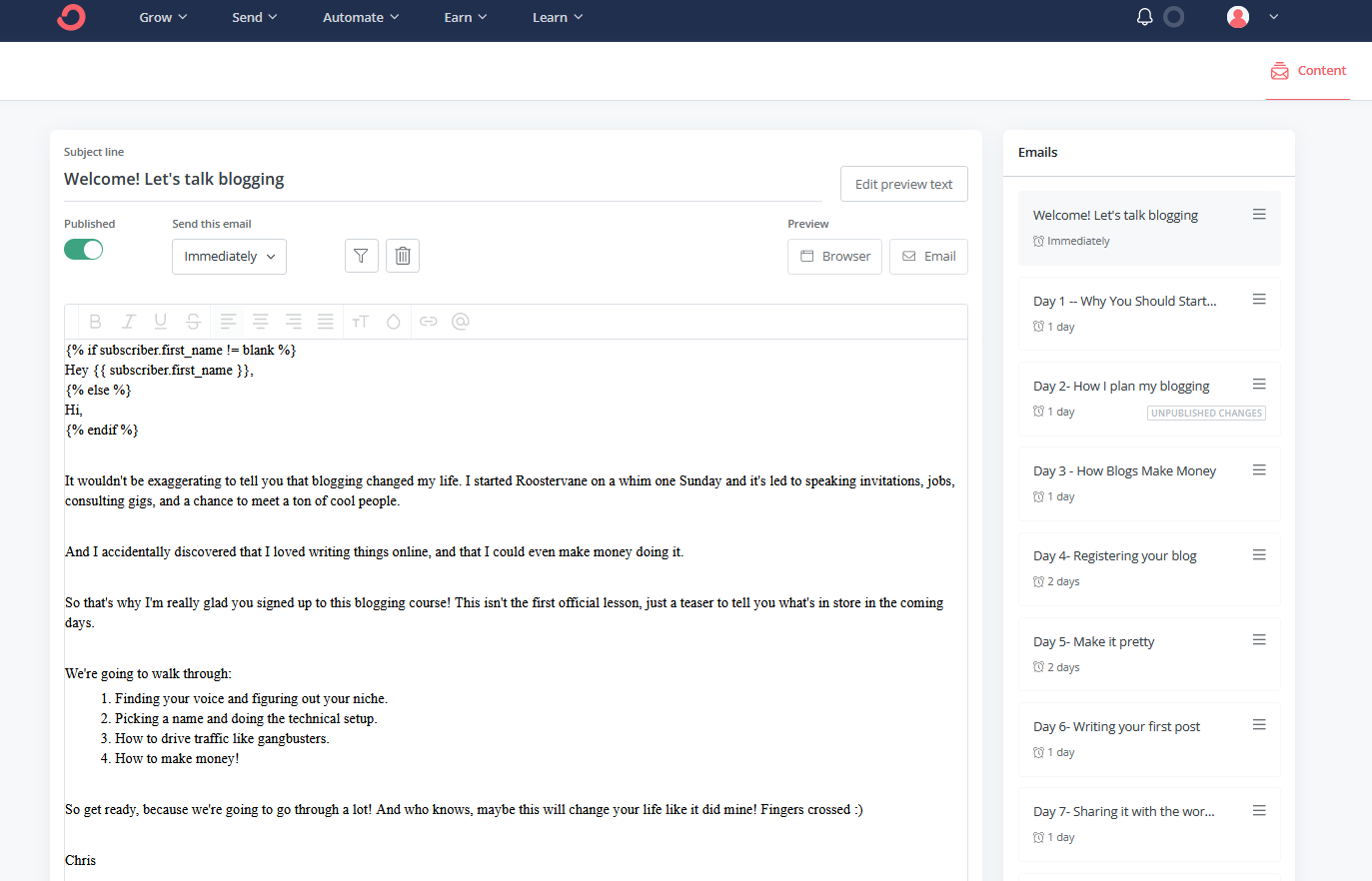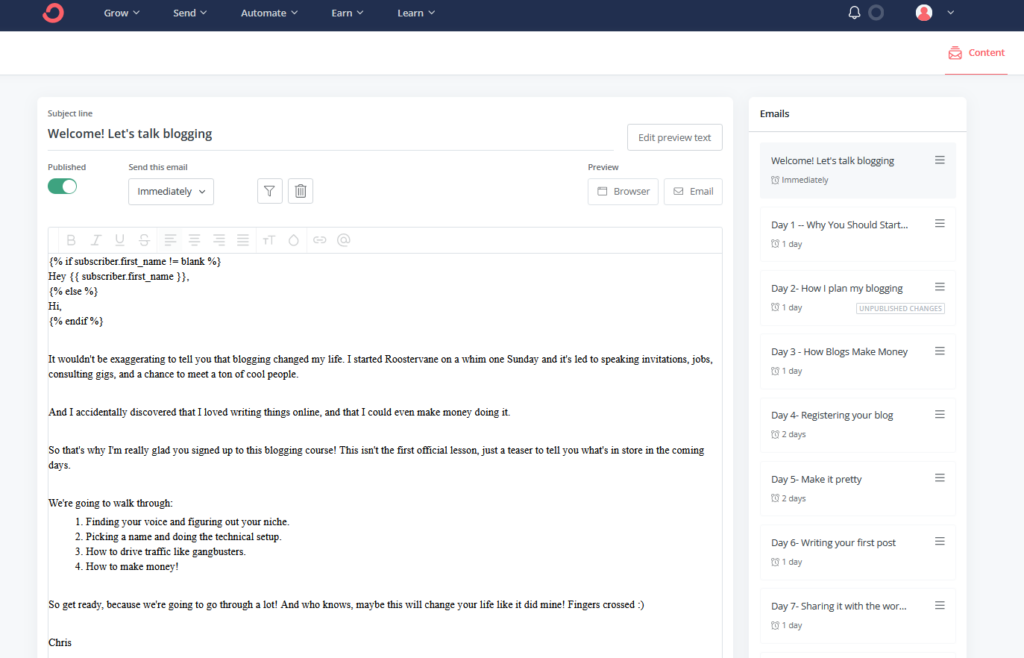 Of course, MailChimp does this too. Obviously. But ConvertKit did it better and easier and that's why they won me as a customer.
6. Bluehost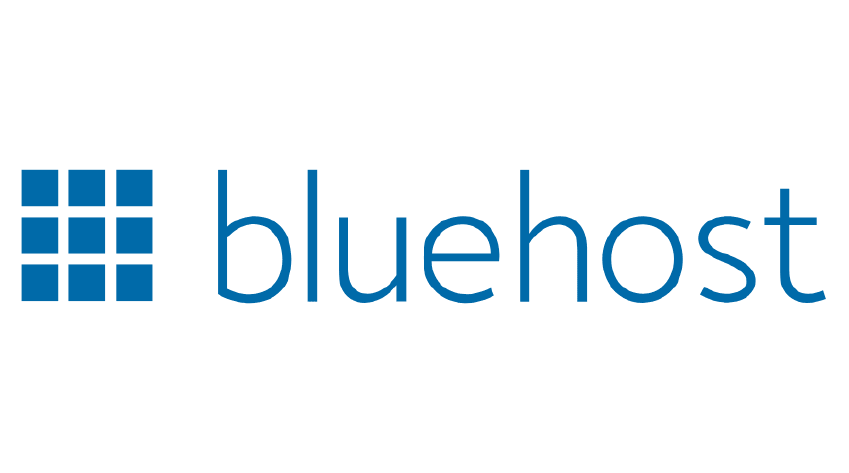 If you're starting a blog or website, you need hosting.
Of course, you can use a free blogging service that will give you a place to store your blog, but it will be yourname.blogspot.com or something like that.
Honestly, if you're going to do this I'd probably just go with Medium or LinkedIn. They look beautiful and they have audiences attached.
But if you want to build your blog or website into an asset that you own, and can even monetize someday, I'd recommend paying for hosting. It can cost as little as a few dollars a month.
I built Roostervane with Bluehost. They're an amazing host, and that's why I recommend them. Their customer service was always amazing, and so many times I jumped on the live chat an they helped me.
And I use the built in content management system, WordPress, for everything. It's a bit more complicated than some drag and drop platforms, but honestly, it's so amazing and customizable, and the majority of the world's websites run on it.
You can check if your domain name is available here:


My blog isn't hosted on Bluehost anymore, I switched to a host called Kinsta. It's faster and better, but also costs me $50 a month. If you're just starting out, that's an absurd amount to pay. Start with Bluehost.
If you want to start a blog, click here to get started with Bluehost. I started Roostervane here and I love working with them!
7. Elementor


Elementor is a page-builder tool for WordPress. WordPress comes with themes, and you can pick one when you install it in Bluehost.
It used to be that, if you wanted your blog to look a bit nicer, you'd pay for a premium WordPress theme. Now'days (okay grandpa) theme builders are the norm.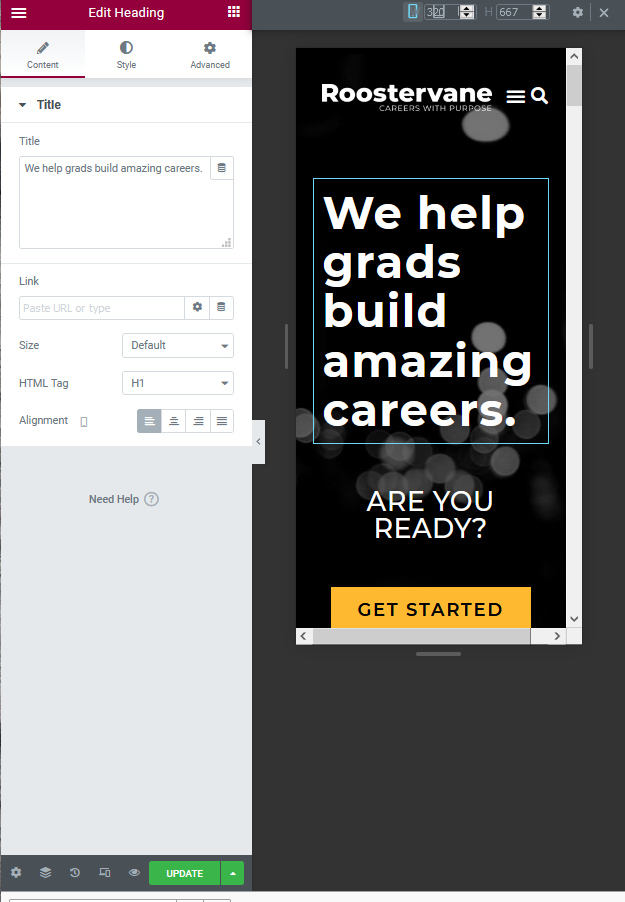 Instead of install a nice theme, Elementor makes your WordPress website customizable… you can build something from scratch or pick from templates.
It's easy enough to make anyone feel like a web designer. Even me 🙂
8. Mighty Networks
If you're interested in making money blogging and looking to add a digital product to your blog, the only platform I use is Mighty Networks. The first time I had a course on here, I used a plugin called LearnDash and paid my developers to code it in. It worked okay (and they are awesome). But it was a lot to maintain.
But honestly, Mighty Networks does courses, events, communities, gated content, etc. so well that you're better off just building on there. When I built my community, I just created a link for it that was community (dot) roostervane (dot) com, and it worked beautifully with my website.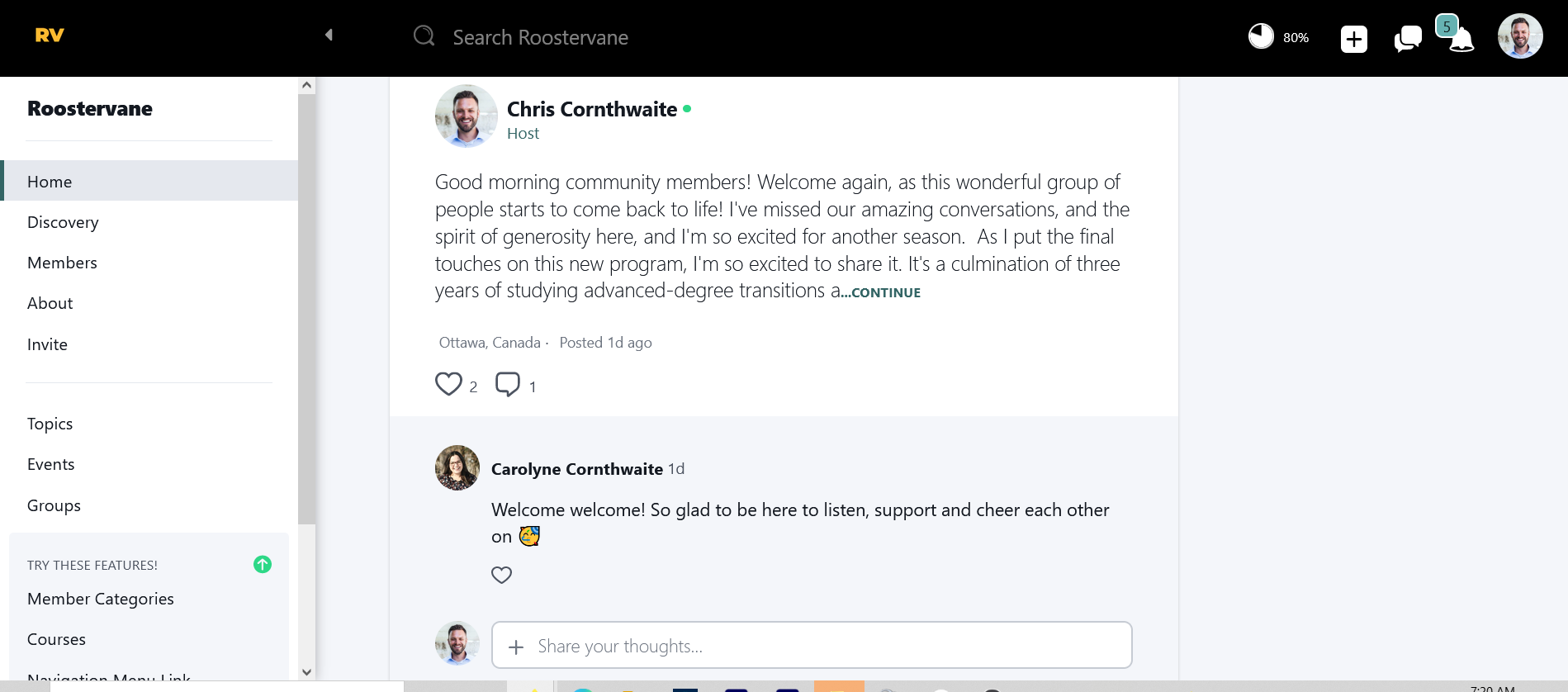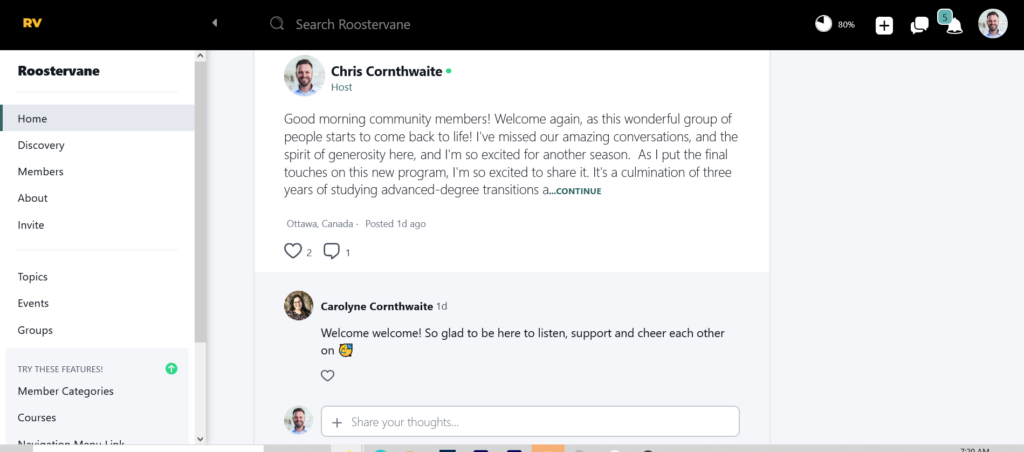 If you're looking to turn your blog into an online business, I'd recommend Mighty as the best tool for monetizing with digital products.
Try Mighty Networks free for 14 days

9. Google Analytics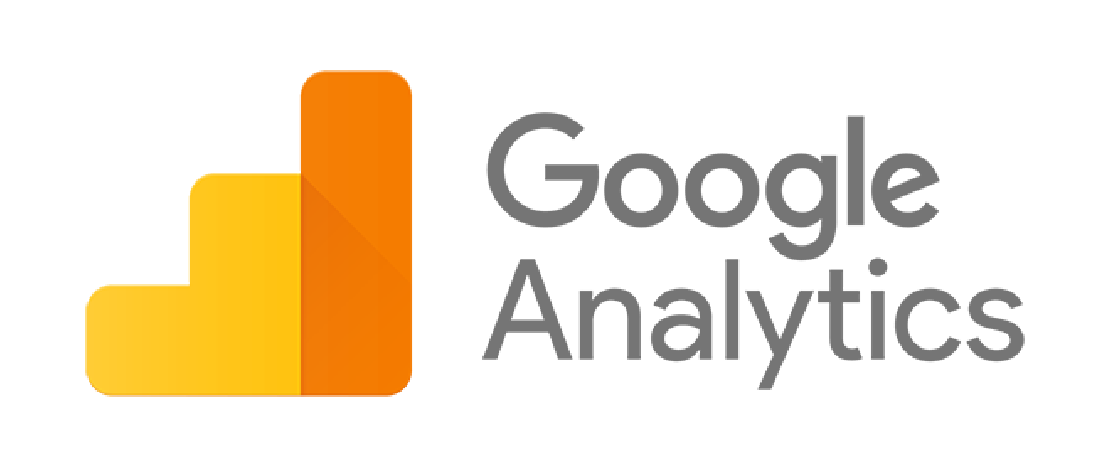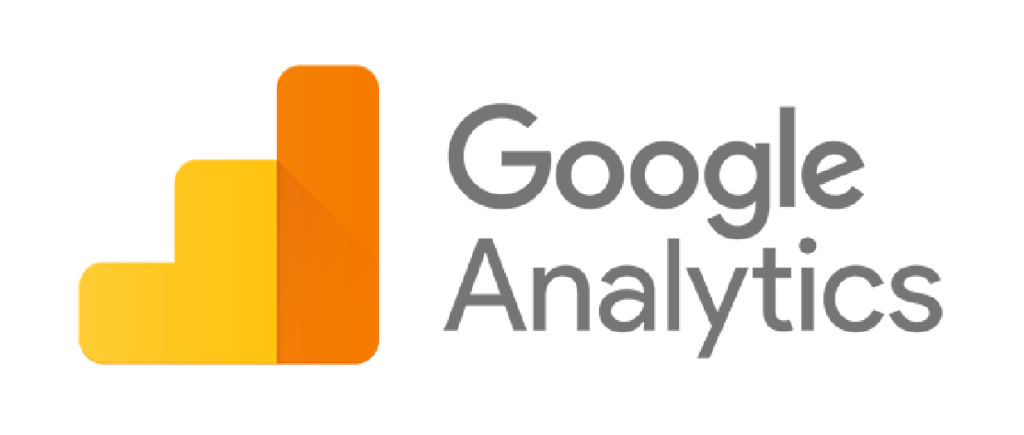 If you build it, they will come… probably. But how will you know if they actually came? This is where Google Analytics comes in handy. It's free. Basically what happens is that you install a piece of code on your site (you can do it with a free plugin like Monster Analytics if you're a beginner), and it will track users: where they come from, how long they stay, and where they go.
It's really important data for any website, and it's good to learn how to use Analytics now. Bonus, a lot of companies need website data so if you ever end up working in tech (or anywhere really), you'll have an awesome transferrable skill you bring to the table.
10. Google Search Console


Like its cousin Google Analytics, Google Search Console is a free and essential tool for bloggers. Its main purpose is to track your SEO–essentially telling you when your blog shows up in Google searches, how frequantly, and how much it gets clicked on.
11. ahrefs
When I'm doing SEO research, whether for Roostervane or a client, I use ahrefs to do it. Ahrefs does a TON of stuff, but — basic idea — it helps you figure out what people are searching for (keywords) and figure out if your blog is getting traffic from those keywords.
It's an indispensible tool. It's a bit pricey for beginners, around $200 a month. I didn't really buy it until I started making enough money off of content and could justify it. If you want a cheaper (and equally awesome) option, SEM Rush is really good too!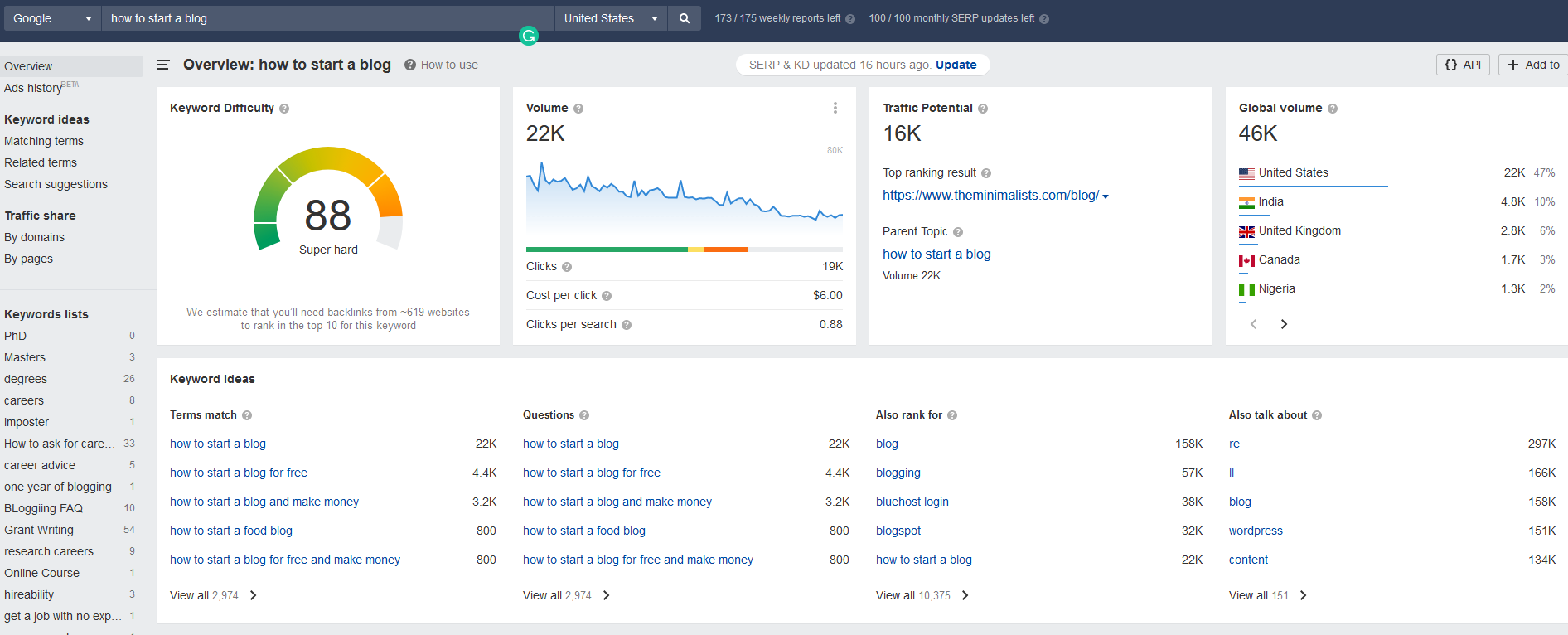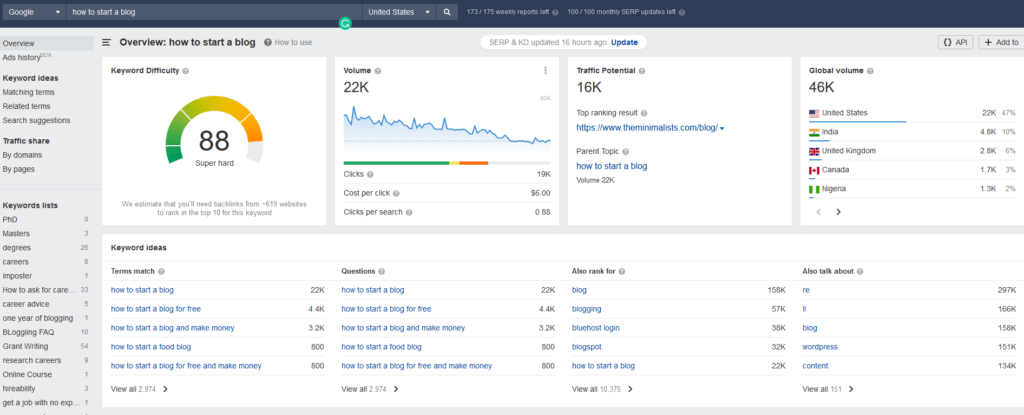 12. Adobe Express
Adobe Express is straight up amazing! If you are trying to create images for either a blog or social, it can help you get professional-looking images in seconds!
And, the best part, the basic version is free! I happen to be a lifetime Adobe subscriber, and with a spouse who's a graphic designer I don't think that's changing anytime soon. So I use the premium version. It's awesome for things like social media posts, blog covers, basically any design you would have once had to hire someone for (or stumble around with paint).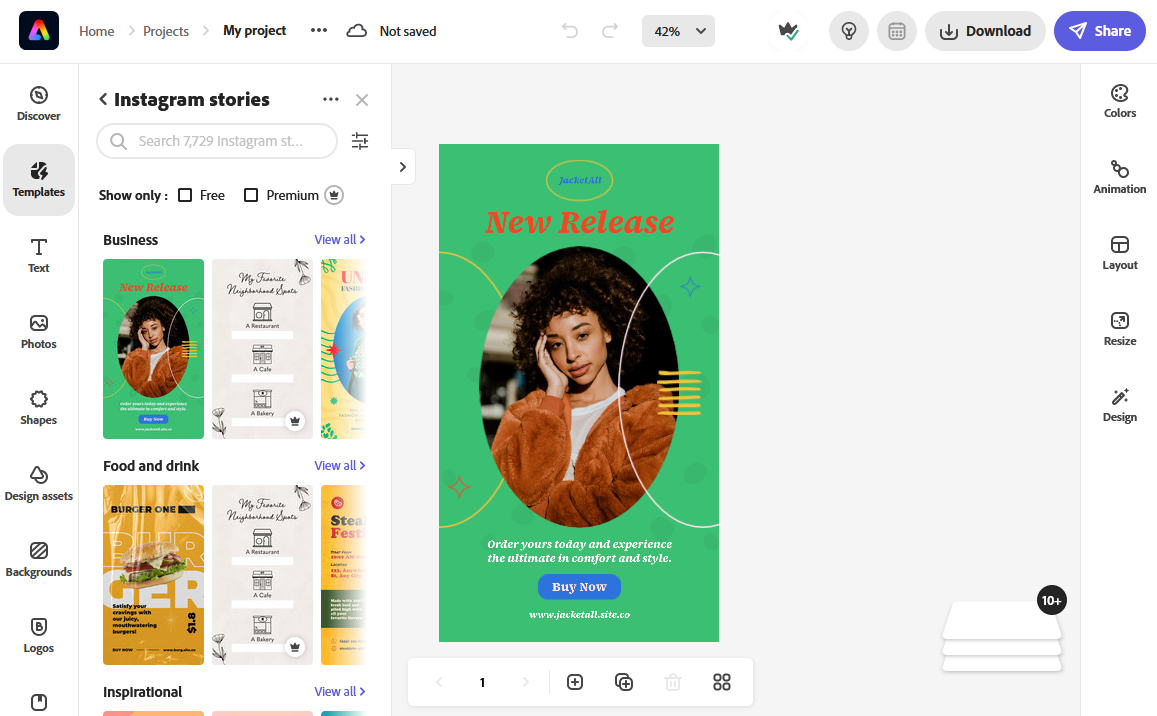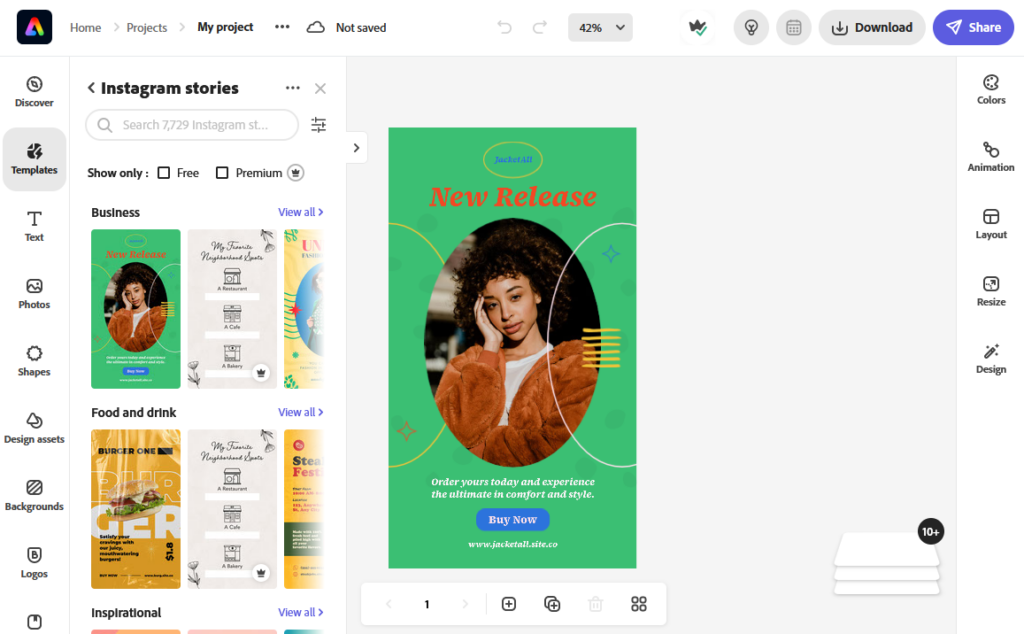 If you don't want to pay for Adobe, Canva is a fantastic alternative that does the same thing.
13. Grammarly
I use Grammarly for all my posts, and it catches a lot of spelling and grammatical mistakes (but not all!). The best way I've found is the Firefox add-on, that just automatically checks my work and offers suggestions. I really love it and recommend it!
Conclusion
These are my favorite online tools. They make my life so much easier, and I use them pretty much every day. So if you're looking for the best blogging tools, look no further. These are all fantastic! I hope my story helps you as you create your blog. Happy building!
Now Read…
Yes, People Still Blog. 8 Blogging Tips & FAQs