Updated Aug 03, 2023
Most people underestimate the power of LinkedIn for PhDs.
I was scrolling through my old LinkedIn messages today, and I came across the reach-out that got me my first non-academic job with my PhD.
This is what I wrote in the message:
---
Hi NAME. My name is Chris Cornthwaite. I'm just about to defend my PhD and new to Ottawa. I'm exploring where I want my career to go next. Although I'm a great researcher, I'm best with connecting to people. NAME recommended you to me, and I'm so glad he did. It seems that we have a similar skill set, and I would absolutely love to have a coffee with you to ask you some questions. Would you be interested in meeting, even for 20 minutes? I know this is a big ask, and I thank you for considering it either way. Sincerely, Chris
---
I don't think its particularly good, and I wouldn't write the same thing today. I'm not sure why I said the thing about "connecting to people." It wasn't perfect. But it didn't have to be. The response came back anyway. She asked for a resume.
That's it.
After a couple of interviews, I had my first job.
There's no perfect science to it. I sent similar and better messages to other people and they were ignored.
LinkedIn has served me well, but since the launch of Roostervane I've been even more curious about how it helps PhDs get jobs. I've even created a group on LinkedIn for PhDs.
I've now spent time looking at dozens and even hundreds of PhD LinkedIn profiles.
And I'm convinced of one thing.
The power of LinkedIn for PhDs is not that there are jobs posted there, and it's not that you can connect to people and build a network (both great things by the way).
The real power of LinkedIn is that you get to create yourself.
You get to take all the little parts of you that make up who you are: your talents, your skills, your history, and even your picture, and put forward the absolute best image of yourself to the world.
You get to create yourself.
That's powerful.
That alone should be enough to get you going on LinkedIn.
Just think, in a world where you're worried about being defined by your degree, your discipline, your supervisor, or your failure to get a tenure-track job (I get it, I didn't get one either), LinkedIn gives you the endless possibility to invent yourself.
So lets go…
Step 1: Use a professional picture of you smiling
Step 2: Pick a "Headline" that says what you do or what you want to do
Step 3: Write an easy-to-read career story in the "About" section
Step 4: Fill in the "Experience" section with your work history and great examples
Step 5: Add some projects and links
Step 6: Follow companies that interest you
Step 7: Post content
Step 8: Build your network
This post may contain links to affiliate products, which–if you choose to purchase–pay us a commission at no extra cost to you. This helps to support our work. We only promote products we've used and love.
You can read my story about leaving academia in Doctoring: Building a Life With a PhD–Available on Amazon.
LinkedIn also has a course platform, LinkedIn Learning, which has a ton of good resources for building your career! Check it out here…
1. Use a real, professional-looking picture of you smiling
I used to hang out on academia.edu, and I realized there seems to be a certain genre of profile pics that academics (or maybe just humanities grads) like. It's usually a picture of someone standing partially out of frame, looking off into the distance, and pretending to be way too busy meditating on discourse analysis to even be bothered to look at a camera.
Before you even think about uploading one of these pictures to LinkedIn, let me beg you… please use a good picture!
Professional head shots are great if you have them.
But it's not required.
Dress nice. Look nice. Go stand outside in front of a solid-color wall with some decent light on you and either take a selfie or have a friend take a close-up of you smiling into a camera.
Sometimes people complain to me about this advice.
"I want to get the job based on what I can do, not what I look like."
Okay… let's think this through. I hope that if you went on a job interview you would take the time to dress in clean clothes, shower, etc. The same principle applies to your LinkedIn picture.
Put your best self forward.
Or look at it this way.
This is a picture of me…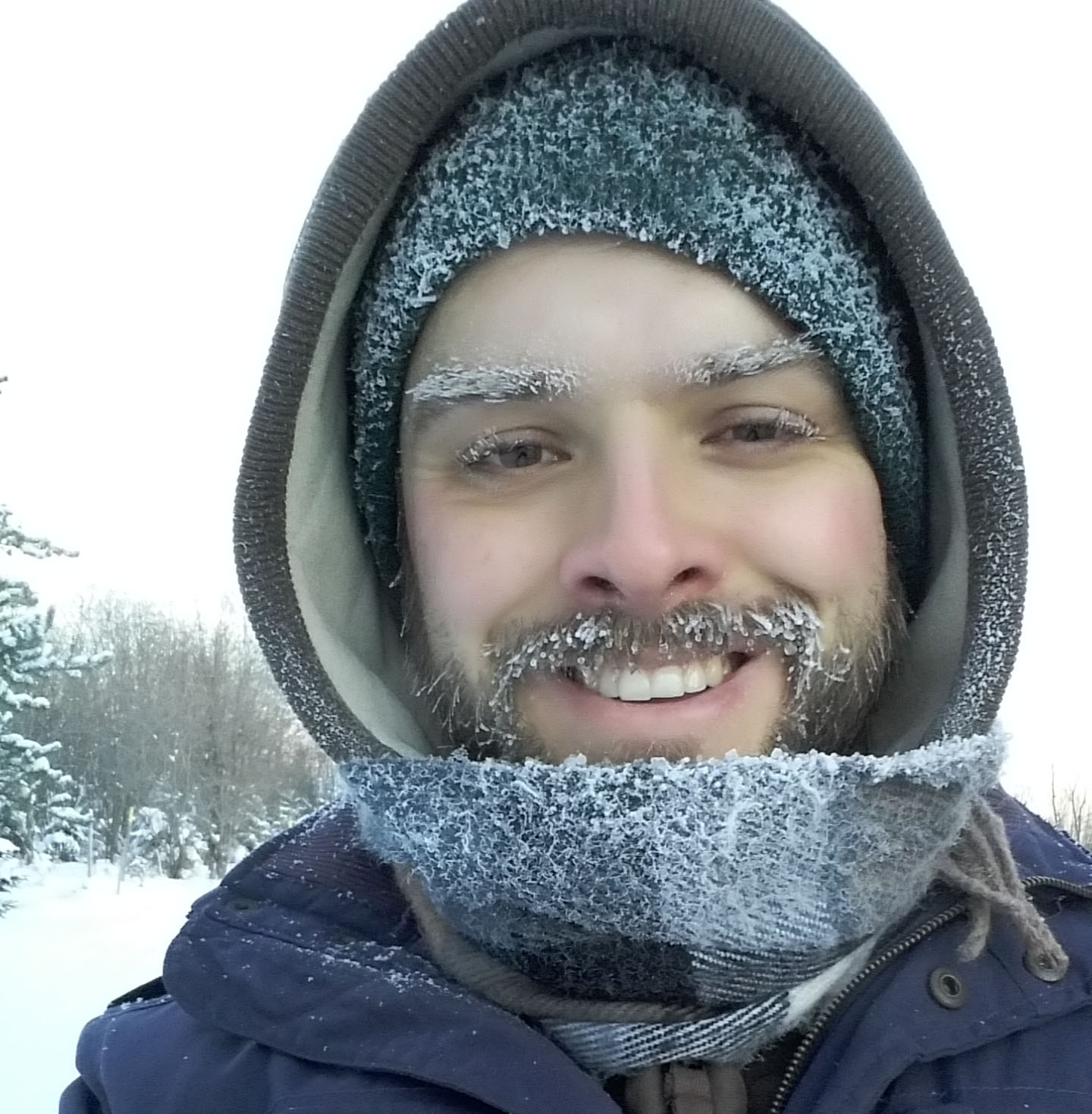 This is also a picture of me…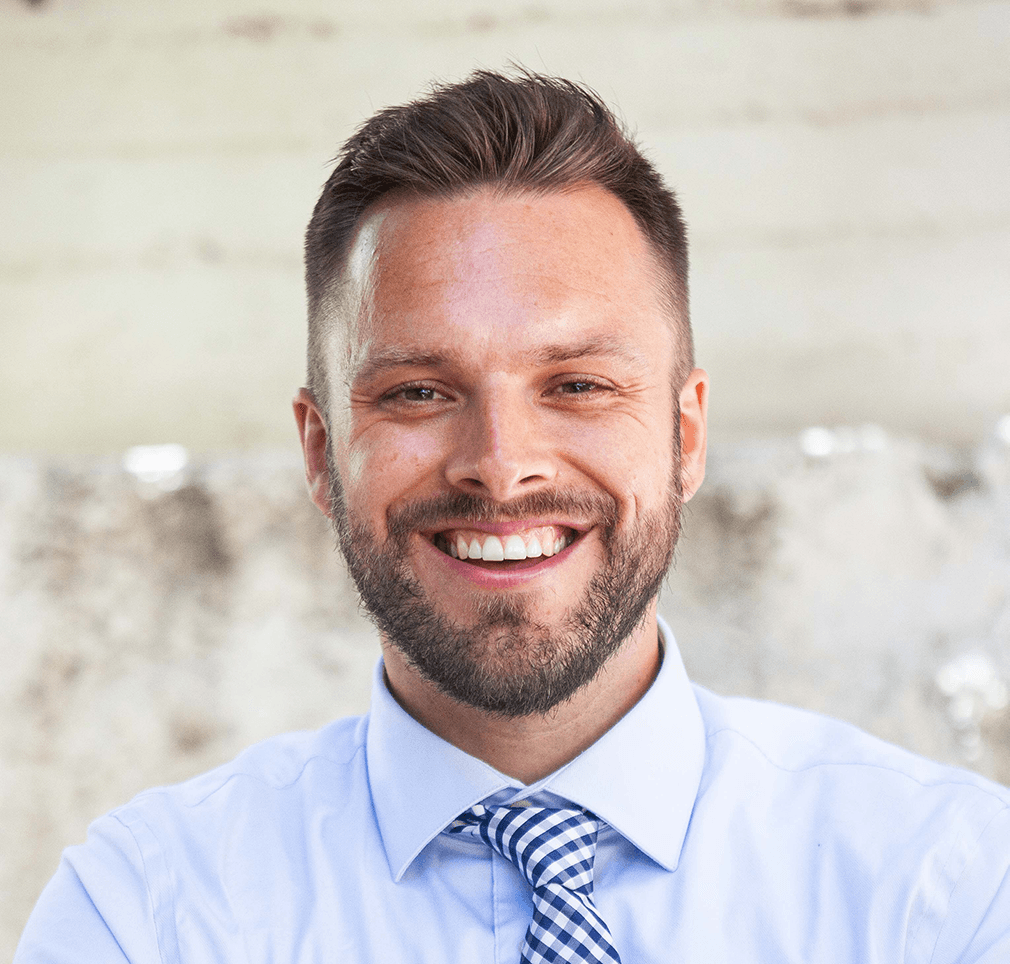 Which one do you think portrays the image I want to project to employers?
Apart from my tie being crooked, the second might as well be a different person.
And that's just it. Employers don't know you. And honestly, they don't care what you look like, and unless they're total assholes they won't care about the particulars of your identity.
But they do care that you present well. They care that you represent the company and that you'll be professional to work with.
And a good photo tells them that (whether it's true or not).
2. Pick a "Headline" that says either what you do or what you want to do
The "Headline" is the second most important part of your profile. It's the second thing employers see, after your picture.
Usually a Headline lists a bit about who you are, job titles you hold, or skills you have. And you get to decide what these are.
So give yourself a great LinkedIn PhD title.
This is a bit unclear right now. I get it. You don't really know what you want to do, so it's hard to make up a career-encompassing title for yourself that the world will see.
But try.
For a while, mine was: Storyteller | Freelance Researcher & Writer | PhD Candidate. It's not perfect, and it's even a bit too generic. But it says something besides just "PhD Candidate," which is good! Employers are not likely searching for "PhD Candidates" in their LinkedIn search bars, but they might look for the words "freelance," "researcher," or "writer."
As of this writing, my current title is: Policy Consultant | Speaker | Advocate for Better HigherEd | Creator of Roostervane.com
Be as specific as you can in your LinkedIn PhD title. So you're a PhD Candidate. That could be anything from a chemist or a medievalist. Try putting in some more specific modifiers about either skills you have or job titles you might want. Adding a bit of detail is a path to a great LinkedIn headline for graduate students.
This is a great place to put down a job title you hope to have one day–if you know it.
Don't worry about the fact that you may not have any experience in a field you want to go into. Feel free to use words like Copywriter, Web Editor, UX Researcher, Data Mapper, or Social Media Marketer–assuming you have the chops to move into these fields, nobody's going to fault you for it. (The exception is obviously if there's a qualification you need for that field that you don't have.)
Your headline can definitely reflect who you want to be and not just who you are right now.
Here's some more fantastic reading on how to create a great headline with real-world examples.
3. Write an easy-to-read career story, limiting your research-talk to a few sentences in non-jargon.
The temptation that I see for academics is to try to prove to people how smart they are.
After all, that's how academia works.
But in the real world, if you have or are about to have a PhD people are going to assume you're smart. Their biggest fear will be that you're not relatable.
Employers imagine that they're hiring an egghead who will talk about esoteric things and work slow, will look like a creature of the night that just emerged from the stacks, and won't be able to engage with people.
I've met very few PhDs like this, but it is the impression people have.
Forget about sounding smart.
Sound relatable.
Instead of saying "I study the reception of Aristotelian ethics into Islamic philosophy," try saying: "I study what makes people tick, trying to figure out what a good life looks like."
In their "About" sections, PhDs are often tempted to fill in all the details on their research as if they were applying for a life-changing grant. Don't do this.
Don't channel academic you.
Channel the trying-to-explain-what-I-do-to-my-relatives you.
Summarize your research in one easy to understand paragraph, and then write some other things about yourself and other roles you've held. Avoid academic language at all costs, and stay away from jargon unless you're, say, a medical researcher who wants to keep doing medical research. Try your best to tell a bit of a story, and absolutely say where you want to go if you know!
If you want to see some great examples, check this out.
4. Fill in the "Experience" section with your work history and great examples
No matter what you've done, I think you need to put some things in the "Experience" section of your LinkedIn. Jobs you've done while studying (Research Assistant, Teaching Assistant), old jobs from before you started studying, get something in there. But if you have a couple of good experiences, resist the urge to cram it with every job you've ever had. You don't need to include your life-guarding gig from high school.
You can have some fun with the experience section. I chose to write a brief little explanation of my projects and accomplishments in mine, rather than bullet points.
You have some freedom—but do fill it out.
Read More
9 Great Ways to Get Non-Academic Experience on Your Resume
New Grad? How to Get a Job With No Experience – 6 Tips (Video)
5. Add some projects and links
You can also include projects you've worked on. It's a great way to boost your profile strength, especially if you don't have a lot of practical experience.
You can create overviews of what the projects were and what they accomplished and link to the real thing if the project or a news story about it is online somewhere. It's a great way to add some depth to your profile as a PhD. A link to an amazing project you did might be just the ticket!
For more on how to maximize the use of projects, click here.
6. Follow companies that interest you (and engage with them!)
LinkedIn is a social network for the workplace. Companies and business desperately want to be seen on there.
Your potential employers are starving for likes, clicks, and especially comments that show that people are engaging with what they're doing. They're desperate for people to notice them and to join the conversation they're trying to start.
So be that person. Follow them. Share their material. Leave intelligent comments that show you've read their stuff and have ideas. I guarantee people will start to notice you. And bonus, companies often post jobs that they have available on LinkedIn, sometimes exclusively through sharing them in a feed. If you're following you'll have the leg up on these. They might even recognize your name when the application lands on their desk.
7. Post Content
One of the secrets of LinkedIn for PhDs, well for anyone really, is to post content. I'm pretty sure that 15 people read my last journal article, but I know that almost 2000 people read the last thing I posted on LinkedIn (it tells me 😊)—and it's still climbing.
Can you imagine a better opportunity to share your ideas? For those of you who want to go into some form of communications, can you think of a better place to start? You've got a ready-made audience of people interested in the same things as you. Give them things to read!
Now—let's get technical here. You have two main ways of creating content on LinkedIn.
You can create articles and posts on LinkedIn itself.
You can share things you've created that are hosted externally (articles on a website you own, Youtube videos, etc).
Both of these have pros and cons. The LinkedIn algorithm rewards people who create content on its site directly. (Read more about the algorithm here if you're interested.) Also, it's way easier to pop open the LinkedIn article tab and start writing something than it is to set up your own website or Youtube channel. But if you post your best stuff on LinkedIn you don't control the platform where it lives, and it's trickier to share across other platforms.
For that reason, I've chosen to host most of my ideas on an external website (which you're reading right now) and just share to LinkedIn periodically. I also share across platforms (I get more traffic from Twitter than LinkedIn), so my own website looks nice in a Twitter card and people come to virtual real estate that I own.
If you want to get visible on LinkedIn but don't want to publish articles, share ones that others have written, or create thoughtful posts.
There's one more reason to create a presence on LinkedIn (and other social media) for PhDs. If you hate networking or reaching out to people (as some people have indicated to me that they do), creating an identity as a thought leader on LinkedIn brings people to you.
Case in point, since starting Roostervane, I haven't had to reach out to people. I have lots of interesting people reaching out to me, and my network is growing every day.
8. Build your network
Growing a network should be a major goal for anyone who uses LinkedIn.
If you're new to the platform, start building it. Some people start by importing their email contacts. Some add aunts, uncles, cousins, and high-school friends. You can add old employers (hopefully you left on good terms) and coworkers. If you want to you can add your fellow students or perhaps even your supervisor (although be careful with this…you want to create a fresh and new identity that's hireable and some supervisors will push back).
The message that I started this guide with–the one that got me my first job–was not a request for a job. It was just a LinkedIn reach-out for a coffee that turned into so much more. You never know what can happen on this platform; that's the beauty of it.
Conclusion
So that's my guide to LinkedIn for PhDs. But really, it applies to most college graduates! So if you happen to be teaching a class, it's relevant here too!
Let me know if I forgot anything in the comments below or find me on LinkedIn.
You can see my LinkedIn profile here.
LinkedIn also has a course platform, LinkedIn Learning, which has a ton of good resources for building your career! Check it out here…
Read my story about leaving academia in Doctoring: Building a Life With a PhD–Available on Amazon.
Psst… Did you know Roostervane has a YouTube channel? Here's a video I made with some quick networking tips. Don't forget to subscribe!
Read More About Making Your LinkedIn Shine
I hate my job! Here's what to do!
Best excuse to quit a job without notice