Updated February 3, 2023
What if I told you it's not that hard to start a business with no money? Would you think I was scamming you?
I remember some of the old-timers in my hometown saying, "it takes money to make money." Maybe that's true in the stock market, but it's definitely not true in business.
How do I know?
Well, you're looking at the business I created with almost no money. I got this website up and running, and it's led to both passive income and active income opportunities of ALL KINDS. And I started it on a Sunday afternoon while my kids were hanging out reading books. It changed my life. I make money blogging from ads and affiliates. And I earn from consulting too!
There are all sorts of businesses on this list you could try, from side hustles to potentially multi-billion dollar companies.
That's right, some of the biggest companies in the world were started with little to no money.
Why can't the next great company be the one you start?
This post will tell you how to start a business with no money in 2023 and give you 26 business ideas to get you going!
This post may contain links to affiliate products, which–if you choose to purchase–pay us a commission at no extra cost to you. This helps to support our work. We only promote products we've used and love.
Principles of businesses you can start with no money
1. Stop overthinking business
I want to start with this. You're probably overthinking business.
I know this because for years I over-thought business. I was from a working-class family. We didn't talk or think about entrepreneurship. I even had a bunch of money blocks around entrepreneurship, that I've written about in other posts.
I thought that starting a business meant sitting around a boardroom with people in suits or asking investors for money.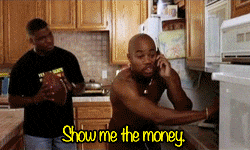 Bullshit.
Starting a business is elegantly simple. You need to sell something. Then you need to sell it again. Keep going, and you've got a business.
Take out your lawnmower and see if someone will pay you ten bucks to mow their lawn. Do that 10 times and you have a lawn mowing business.
Chances are, you are overthinking business. Get people to pay you for something. That's it.
2. Take stock of what you have to offer
"I don't have anything to offer!"
Again, I call bullshit. If you have a small level of ability, time, or intelligence, you have something that can be sold. Or you can learn high-income skills.
The problem is not that you don't have anything to offer. The problem is you don't know what you have, you don't know who wants it, and you don't know what it's worth.
These are all real problems, but they get a little less scary when you recognize that you definitely have something to offer! We'll talk about this more below.
3. Look at your network
It's hard to understand this when you are starting in business. To be honest, I learn it more every year.
Every business is based on relationships. It might be relationships with you and your customers if you are selling something. It might be relationships with your fans if you are doing some sort of influencer marketing. It might be relationships with business owners if you are doing consulting, or starting something B2B.
Most of my job and consulting offers, including the ones that led to my business, came through my network. Here are some of the messages that have led to job offers.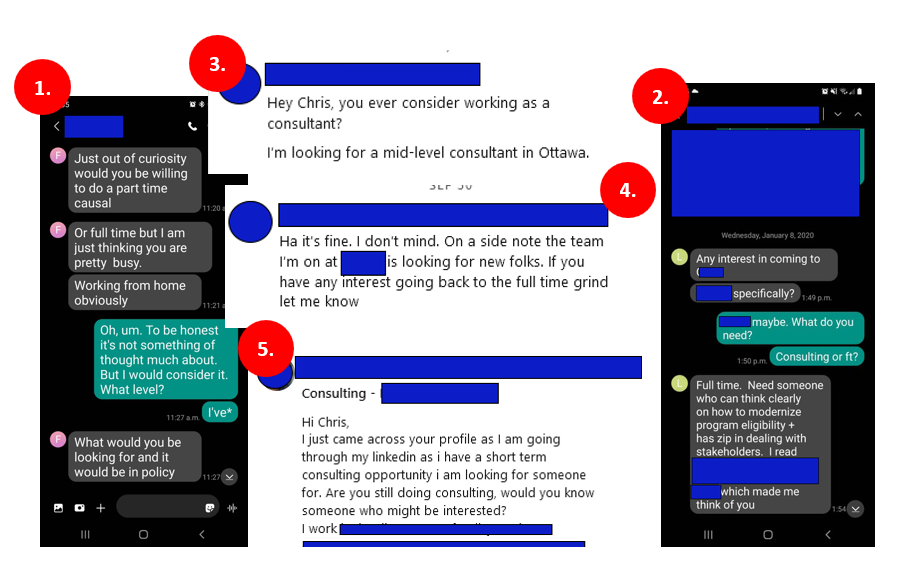 You need to look at the relationships you already have. Try to figure out which of them could be valuable for a business. Let's say you know a professor who taught a seminar you were in, who really loved your stuff. Could you ask them if they know anybody hiring a consultant? Or ask them for introductions in industry? If your neighbor owns a local car dealership, could you ask them who does their digital marketing?
These are the sorts of questions and relationships businesses are based on. The bigger your network, the more opportunities.
4. Sell something first
Do you know what most people do when they want to start a business? They go out and buy stationery, register a business name, hire a graphic designer to make a logo, and just generally waste a bunch of time to make them feel like their business at the real thing.
Remember what I said above? At its core, business is just selling something. Since you want to start a business with no money, maybe you wouldn't waste a bunch of cash upfront.
But you might still waste a lot of time, Googling every right business model, second-guessing every decision you make.
Stop Googling. Don't wait. All you really need to do is start. And start by selling something. If you can get people to buy something, you got a business.
5. Evolve
Don't do this too quickly, but don't be afraid to change your business model as you go. If you realize that there's a lucrative opportunity that you are not currently chasing that would easily give you way more revenue than you are getting right now, there's nothing wrong with taking a pivot.
Evolving is part of every business growth. Did you know that the online retail giant Shopify started as an online snowboard store?
Checklist to start a business with no money
Check your area's business rules to make sure you'll align with tax requirements. Most jurisdictions let you earn a certain amount of money before making you charge and pay taxes, but it's on you to check this out! A quick google should help: "Tax requirements for starting a business in YOUR STATE."
Figure out where you're going to keep the money that comes in. Some of these are cash businesses, but if you're paid in check you'll at least need a bank account.
Sign up for a Freshbooks account to give you some bookkeeping and invoicing possibilities!
Make sure there are no insurance requirements or other rules you're violating.
Don't be scared! I know saying these things out loud sounds intimidating, but they don't have to be. A quick visit to a local small business center could get you up and running!
26 Businesses you can start with no money
1. Tutoring
Tutoring is the perfect example of putting your knowledge to work in a one-on-one setting. The great news, even if you don't have total Mastery of something, you can probably still tutor. Even if you only have grade 10 biology, you could probably tutor a grade 8.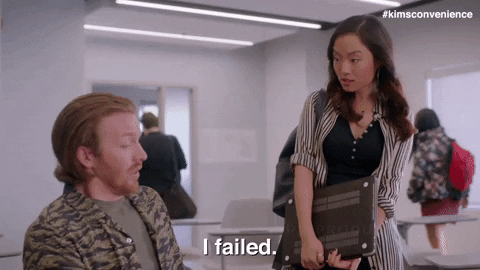 There are a bunch of online platforms devoted to tutoring, or you could get your name out there using local services like Facebook Marketplace.
2. Consulting
I talk a lot about Consulting on the blog, and it really is the ultimate business you can start with no money. You can start with nothing and build it to a million dollars a year. I'm not kidding!
Consulting is basically lending your knowledge to a company. You might be an expert in taxes or social marketing, grant writing, or gen Z trends. It's the ultimate business.
The only challenge with consulting is that it's not scalable. But otherwise, it's a fantastic way to start a business.
In this video, I talked about how and why I landed my first $40,000 consulting client.
Read more about consulting:7 Easy Steps To Launch Your Consulting Business This Week
3. Freelance Writing
If you would have told me a decade ago that freelance writers would be able to make $300k a year, I would have told you to stop smoking stuff.
But, surprise surprise, writing is turning out to be a ridiculously lucrative career choice.
Everybody thinks they can write. Not everybody can write stuff that people actually want to read.
I'll get into some of the specific options below, but if you want to start a freelance writing business there's never been a better time. You can create a profile on Upwork to share your skills with potential employers.
And if you need to brush up on copywriting chops, there's some great courses on Skillshare:
Read more: How to Become a Freelance Writer – 7 Steps + Examples
4. Flipping Furniture
I have put this example in a lot of these lists because it's something I secretly love to do. A lot of my work is online, and sometimes it feels like you could just attach a microchip to my head or plug me into the Matrix and I'd never have to leave my chair.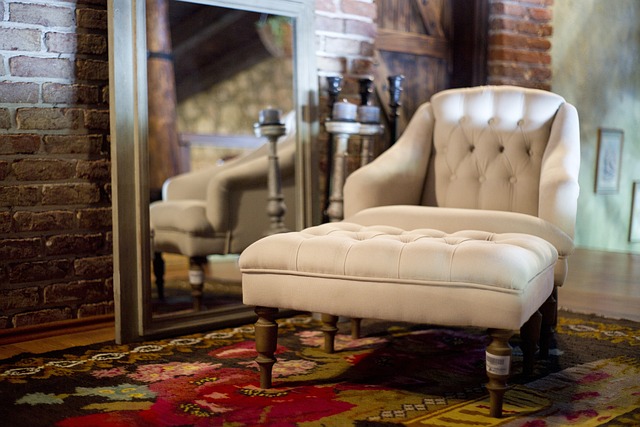 Maybe that's one reason why it's great to have an excuse to work with my hands.
If you know how to flip furniture, taking things, making them look beautiful, and reselling them, you've got a great business. People will pay for high-end furniture, and they don't make furniture like they used to.
And heck, you might be able to find your product at the curb — grab old furniture, refinish it, and sell it on Facebook marketplace!
Read: 15 Best Hobbies That Make Money for 2023
5. YouTuber
It feels partially irresponsible of me to tell you to start a business as a YouTuber. YouTube is littered with broken dreams, just like Hollywood was 20 years ago.
But if you're willing to be really serious, lean into a niche, and figure out better ways to monetize than adsense, you can start doing some business on YouTube.
I'll give a shout-out to Sunny Lenarduzzi here. She does some amazing stuff with YouTube entrepreneurship. You should definitely check out her Channel.
6. Coaching
Coaching is a seriously big business right now. If you have the knowledge and ability to help somebody transform their life in some way, launch their career, grow their influence, etc., you might be able to start a coaching business.
There are tons of different kinds of coaching:
life coaches
relationship coaches
fitness coaches
family coaches
business coaches
career coaches
And god knows what else. See if you can create a great offer that people are willing to pay for! And if you need a great platform to run a coaching business, try Mighty Networks. I'll talk more about it below.
7. Influencer
I feel weird writing this too, but there's still money in being an influencer. Again, not everybody can be an influencer. There are some broken dreams. But if you are genuinely good at creating content, if you can actually build a following, you might be able to build a business as an influencer.
Influencers often monetize their work through sponsorships and affiliate marketing, and more and more companies are turning to micro-influencers to find targeted ways to reach their niche.
Influenster is a good place to start.
8. Digital Marketing
Digital marketing is a big bucket, and again, I've taken some of the subjects individually below. But basically, digital marketing is something that every company needs. They all need digital customers.
So when it comes to digital marketing for local businesses, you might need to be a Jack or Jill of all trades, doing a mixture of Facebook ads, website stuff, SEO, Etc. There I still so many people who don't know the basics of digital marketing, so if you have some of these skill sets in your toolbox you're in a great position to start a business with no money.
Even if you don't know much, you can learn all you need to. Try this course on Skillshare!
Digital Marketing Strategy: Profitable Sales Funnel Mastery
9. Social media advertising
Social media advertising is one of the subsets of digital marketing. I know we talked about digital marketing above. But you can run a full business on one type of digital marketing. Social media advertising would be a pretty darn good place to start. Especially Facebook ads.
It's not that hard to learn how to run great Facebook ads, yet so few companies take advantage of it. You could start a profitable side hustle just by running Facebook ads, and your clients will see immediate results from them.
Here's another cool Skillshare course on Facebook ads!
Facebook Ads and Instagram Ads: Create and Scale Successful Campaigns
10. Content Writing
We talked about freelance writing above, but content writing is one specific type of writing that companies need.
When a company has a website, it may just have basic pages.
But if the company can have a blog, they can get Google traffic to their site organically. Since it's expensive to pay for digital marketing leads, any organic traffic a company can get is a huge deal.
So companies will hire content writers who can write awesome blog posts or web pages that also fit with SEO. This means they'll get found in Google. Content writing is an amazing business to start with no money, all you need is your laptop.
Content writing will probably change in the coming years with ai writing like chatGPT. But for now, it's still a great option. I have a guide to becoming a freelance writer here.
11. SEO Consulting
This is related to content writing, but SEO is the more technical side of how Google finds and ranks pages. If a businesses page shows up first when someone Googles something locally, that business makes more money. That means that SEO consulting is big business right now, and you can learn it yourself.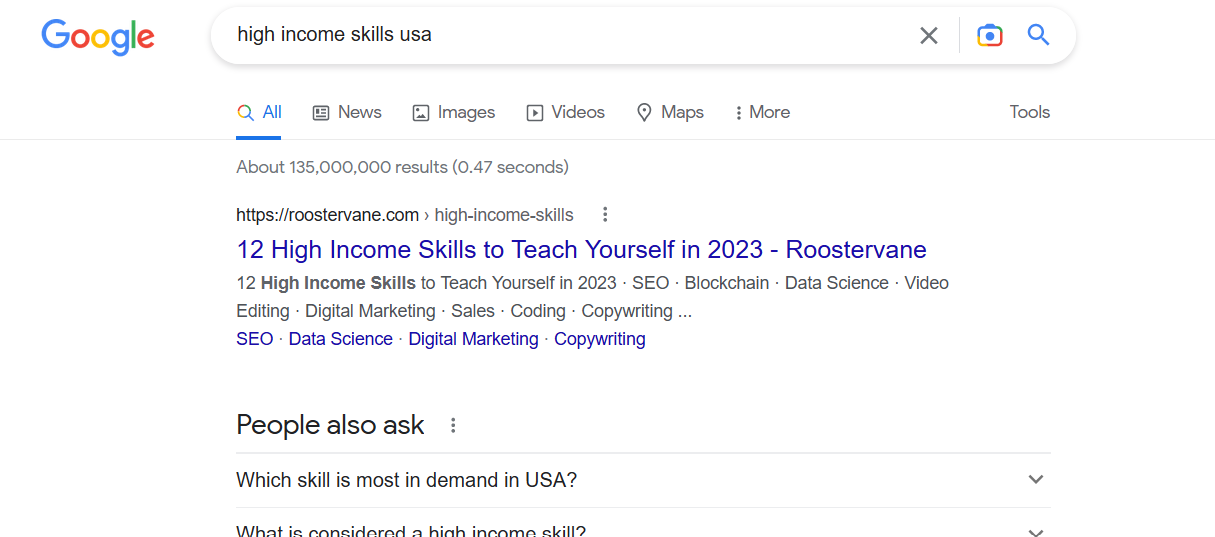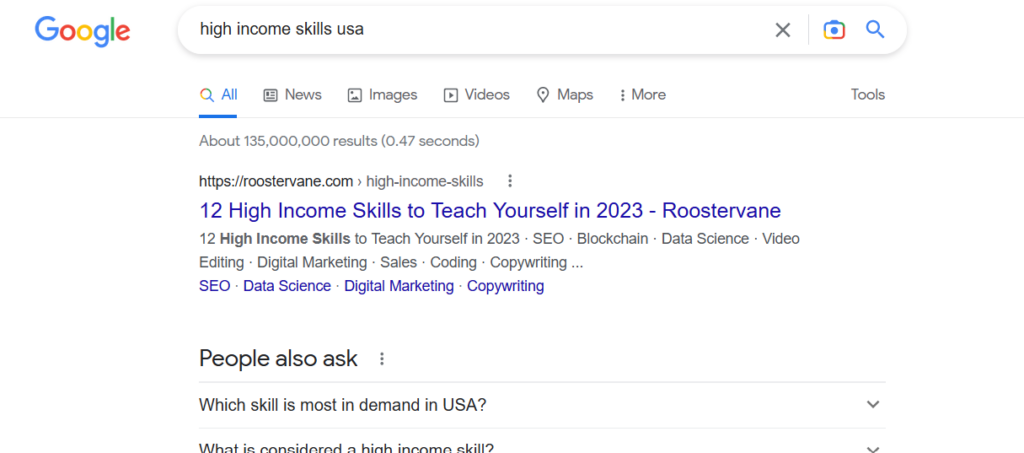 Seriously, Skillshare has a course where you can learn SEO from one of the masters in the game– Rand Fishkin. Check it out here.
And if you want a great tool to learn to run an SEO business, start with SEM Rush.
12. Copywriting
Copywriting is probably content writing's weird cousin, but dang it's sexy.
Copywriting is the art of writing to sell. It's really hard. I'm not good at it. Just because you can write content doesn't mean you can write copy.
Once upon a time, copywriting was done things like flyers and billboards. Now it's mostly done on sales pages online. In either case, if you can become a copywriter you can earn bank.
13. Video Editing
Video editing is not hard to do. Although it helps to have a bit of a creative,, it's safe to say that just about everybody can learn how to do video editing.
I made this video about how to make videos on your phone.
14. Graphic Design
I think graphic design is probably one of the absolute best businesses you can start with no money. With simply a laptop and a design programs like Illustrator, you can create brand logos that can be worth a lot of money. I mean, you might have to start by designing a logo for your cousin's band.
But there are very few businesses you can start with no money but have as much potential as graphic design does.
My spouse is a graphic designer. She taught herself, and she is awesome. You can see her work here, and she recommended this course for designers who want to start learning.
Read: 11 of the Best Skillshare Classes to Upskill and Unlock Your Potential
15. Coding
Much like graphic design, coding gives you the power to create something from almost nothing, and to transform it into incredible wealth. When Kevin Systrom saw that his girlfriend's photos sucked, he saw it as an opportunity to code a filter app that fixed bad photos. It was called Burbn.
Today you know it as Instagram.
If you know how to code, you can create a multibillion dollar business with no money. Others do freelance coding and developing for companies, or else create white label apps that they can sell online. What's really cool about coding is that you can actually learn it for free. That makes it an amazing skill if you're looking to start a business with no money.
16. Data Analysis
The analysis, interpretation, and visualization of data is an enormously valuable skill to have right now. We are generating more data than ever before, every day on the internet companies collect more data than they did in the entire 1990s. If you know how to do anything with data, you can put your skills on Upwork and get hired as a data analyst freelance.
We love Datacamp, which is an awesome online learning spot for all things data science. And they have a ton of free courses too.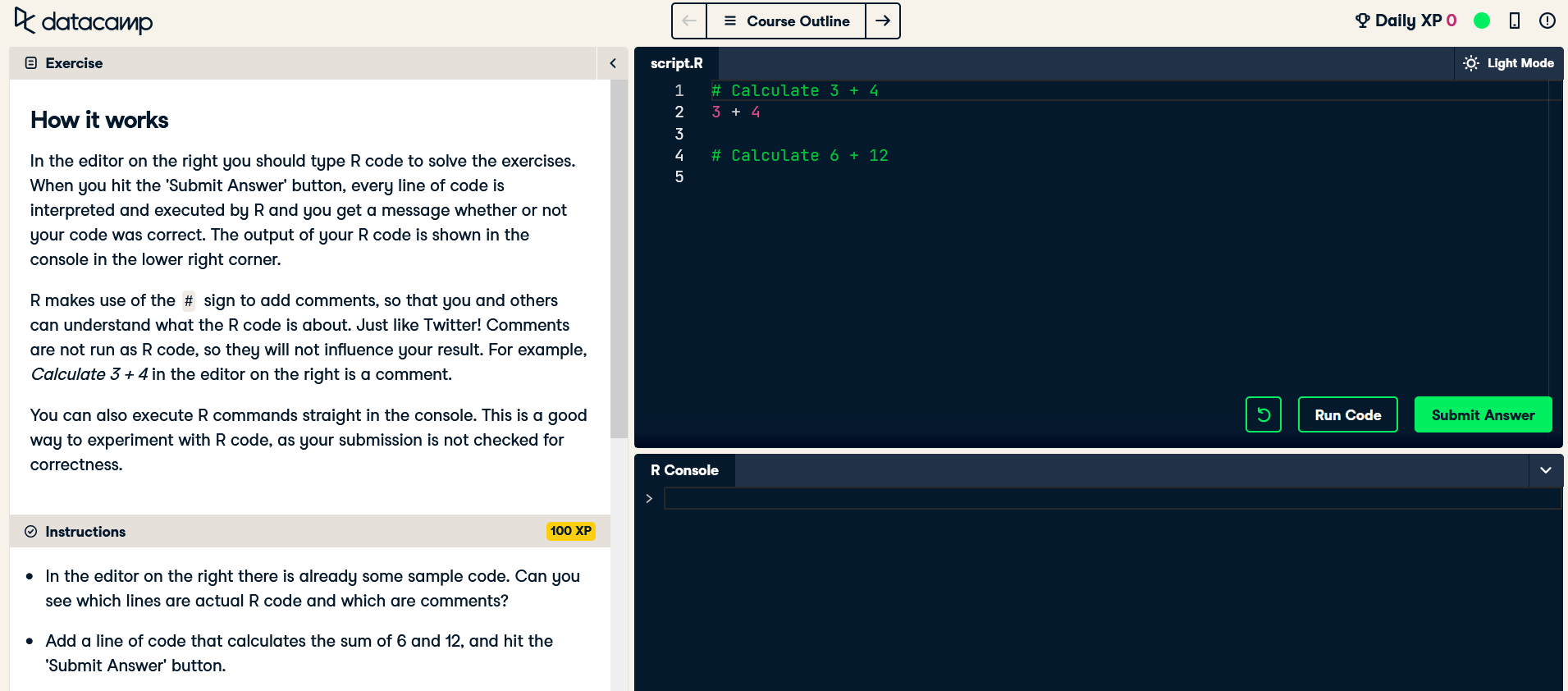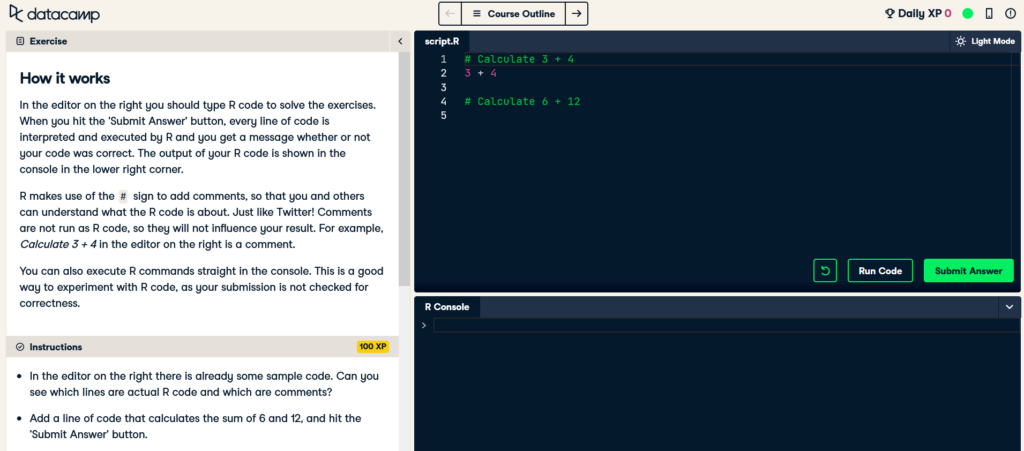 17. Photographer
For those of you who have a creative eye, you might be well suited to being a photographer. Photographers come in all shapes and sizes, but one common business model is the freelance photographer who does pictures of either wedding or families. Trust me, parents are willing to spend a lot of cash on pretty pictures of their kids.
If you have some gear and a good eye, photography is a great business to start with no money.
18. Landscaper
Coming into some business models that rely on sweat, you can often get started with a landscaping business with next to no money. Unlike other construction businesses, where you might need expensive tools or certifications, Landscaping is pretty easy to access.
Using your two hands, and materials that your customers probably already have like lawnmowers or shovels, you can create some pretty amazing stuff. And if there are any materials you need, like flagstone, flowers, grass seed, just make sure your customers do the purchasing and you do the installing. It's an easy business model that you don't have to invest anything in.
Just sweat equity
19. Painter
If you love to paint, and I'm talking about rooms here, not watercolors, you could start a painting business. Painting is something that almost every host needs, and it's also something that almost every homeowner hates doing.
If you don't mind getting your hands a little dirty, I mean painted, you could start a painting business. Again, get the customer to buy the paint up front, and charge by the hour or by the job for your labor.
20. Author
I published an e-book a few years ago. It was because I had something to say, not because I thought it was going to make me a million dollars. And it hasn't.
But it has sort of bumped along in the background and consistently made me money every month. And there are authors who devote themselves to building a business around their writing.
In some cases, this is done by publishing them consistently on Amazon. Over the course of a few years, Mark Dawson made a multimillion-dollar business out of doing this.
But there are other ways that authors get paid: appearances, events, consulting. If you could launch a book and use it to build a career as a thought leader, you're also making it as an author.
So yes, being an author is a business you can start with no money.
21. Course Instructor
Becoming a course instructor in the ridiculously popular businesses you can start with no money. The field is pretty saturated, but if you have something to teach it's worth a shot. Pick a really clear value proposition for your course, and make sure you know your stuff, create the sexiest title you can think of, and try launching it!
I created a course a while back, and it was a lot of fun. I eventually killed it — but enjoyed it.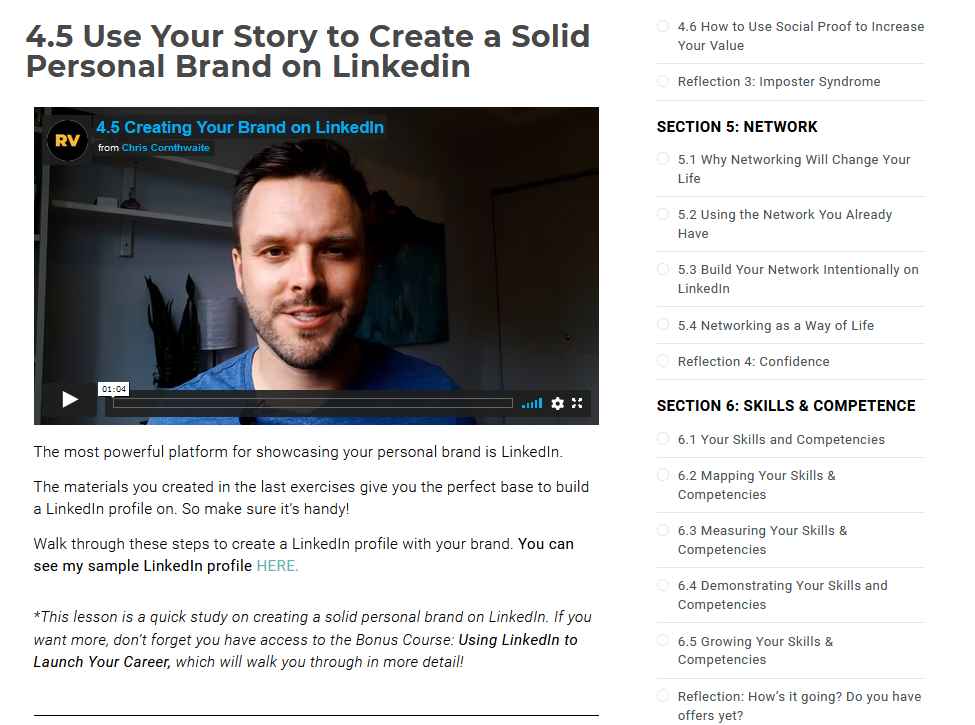 If you want to start with absolutely no money, you'll need to pick a platform like Udemy or Skillshare that lets you create completely for free and keep some of the profit. If you want to invest a bit more, you could use a platform like Teachable that lets you host a great course and also gives you the option to have an affiliate program.
But I gotta shout out here to my favorite course platform, Mighty Networks. I'll talk about it more below!
22. Launch a community
I really believe that there's a space for communities right now. People are looking for connection, and are often willing to pay to join a dedicated community. The community could be for the purpose of learning something or just hanging out.
If you are willing to take the initiative to host it and invite the members, you might have a great little businesses you can start with no money.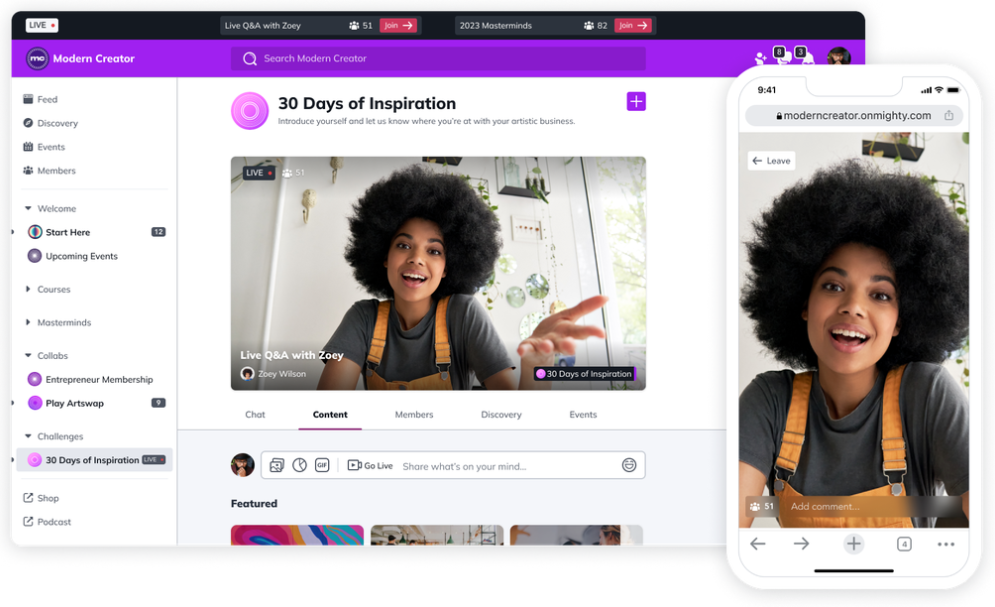 I started my community on Mighty Networks. It really is the best, since it lets you do courses, communities, events, and more — you can try it free for 14 days!
23. Blogging
Yeah, blogging is still a good idea. How do I know? Because I'm a blogger, and it consistently earns me income! Some of this income comes from affiliate partner sales. Some of it has come from consulting, speaking, and freelancing opportunities that came about because of my brand.
I don't make a ton in passive income, but I make some. Here are my affiliate payouts for last month from Impact — one of the affiliate platforms I use.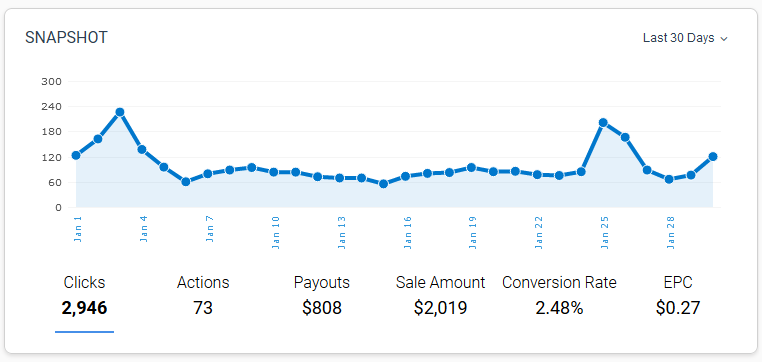 But when you factor in consulting with companies, it's safe to say that this year I have earned most of my money from things related to this blog.
I hesitated to put this on this list because it takes a bit of money to become a blogger. But honestly, it's a few dollars a month and if you play your cards right you can build an amazing and $$$ business–so it's gotta be here.
Check out the host I used to start Roostervane!
24. Dropshipping
Dropshipping was a huge fad a few years back. Although it's less of a fad now, it's probably more possible than ever because a whole bunch of companies have popped up to support it.
You can easily browse online marketplaces and choose products, and when you sell them from your site somebody else does all the shipping and fulfillment. It's pretty awesome and you get the profits!
There are different ways to start, but creating a Shopify store is a pretty solid approach!
25. T-shirt Creation
It's a great time to be a t-shirt creator! If you have either a recognizable brand, funny slogans, or a clever design, you don't even need to hold the T-Shirt in your hands. There are companies who will take the order, print the shirt, and sell them to your customer–paying you your profit. That's pretty cool.
26. Selling Art
Last but not least for my artist friends out there, creating beautiful art and selling it is a business you can start with no money. Try Etsy.
Read: How to Start a Business Online in 2023 + 16 Cool Ideas
BONUS – Strategies to start a business with no money
Ok here's a bonus. If you read through this, I promise it will give you a framework for starting a business with no money.
The reason most people think you need money to start a business is that most people think about business as requiring a ton of upfront cost. For example, if you were starting a restaurant, you would need to invest tens of thousands of dollars in space and equipment before you ever had your first customer.
If you were starting a clothing line, you would probably need to put a ton of money into inventory before making your first sale.
There are self-published authors who still have their garage full of boxes of their own books they paid to publish and couldn't sell.
The great news is that these are not the only types of businesses that exist. In fact, businesses that require a ton of money upfront are some of the riskiest. Starting a business with no money is actually super possible, and it gets easier by the day as technology opens up new opportunities.
So before we get to the actual examples, here are some of the strategies for how to start a business with no money.
1. Monetizing knowledge
One of the first and probably most lucrative things you can monetize is your knowledge. This could be advanced knowledge of particle physics, organizational development, working out effectively, or scrapbooking.
Honestly, the sky is the limit, but the stuff you know that other people don't know is one of the most valuable things you have. This is where you get into consulting territory, and it can be lucrative.
You also don't have to know everything to monetize your knowledge. You have to know more than the person you are helping. If you know how to use Facebook ads relatively well, and a local business owner doesn't know how to use them at all, they will still hire you to do digital marketing… You don't have to be Gary Vee.
Monetizing knowledge is changing in the internet age. It used to be that if you were a teacher, you could teach one class at a time.
Now, if you have something to teach, you can turn your knowledge into a digital course that can exist forever online and make you a crap ton of money. This means the knowledge economy is alive and well, and it's a great place to start when you are thinking about starting a business with no money.
2. Monetizing your skills
If you're really good at something, you can probably monetize it. I won't say too much about this, because you probably already know it. If you can fix cars or paint landscapes or make muffins, you probably guessed that that's a skill that can be monetized.
3. Monetizing your time
The third way you can think about starting a business with no money is to monetize your time. This is usually less lucrative than your knowledge or skills.
When you sell your time, you don't get the premium of scarcity. You are just competing against anyone else who has time to offer.
When you do tasks that somebody else could do, but doesn't want to take the time to do, you will often be paid less for it. But still, there's no shame in that!
And it's not a rule that you'll be paid less. A lot of people have built valuable businesses monetizing their time. For example, cleaning houses can be a super lucrative business! Being a Mechanical Turk probably isn't.
4. Monetizing your sweat
Can you do hard physical labor? Are you not afraid to get active? Obviously, there can be time and knowledge involved here too, but some jobs require monetizing your sweat. The classic example here is mowing lawns or delivering newspapers.
5. Monetizing your audience
This last one is for the digital age. Monetizing your audience used to be for a select few people, but in the creator economy, it's more possible than ever. Lots of people are making money from social media following, email lists, blogs, and other forms of influence that have given them a platform and people who are willing to take their advice on buying trends.
Writing a best-selling book or doing speaking gigs are other ways that you can monetize your audience. If people want to hear what you have to say in one way or another, you can monetize that.
Conclusion
So if you wanted to know how to start a business with no money, I hope this post helped! You know exactly how it could work, plus now you have 26 ideas for what you could start! And there's no reason to be limited to this list. The sky is the limit.
So the only thing you've got to do is to start! You'll figure the rest out as you go. Good luck!
Now Read: 17 Best Hobbies That Make Money