When it comes to working remotely from another country, I guess I've done it twice.
In 2015, I took my first long stay trip abroad. I landed in Frankfurt, Germany, destined for a month of hopping around Europe followed by a long stay in Berlin.
I had been living in Toronto. One of the most expensive places to live in Canada. And my wife and I took a look at the numbers and realized that we could probably travel abroad and actually save money.
So we did. Oh, and did I mention we had two kids in tow?
The experience was so great that, a few years later, we did it again. We lived in Athens, Greece for 9 months. This time with three kids in tow.
Both times, I worked while I lived abroad. I was doing my Ph.D., so I spent a lot of time researching and writing, as well as attending seminars at the university I was visiting.
In this post, I want to talk to you potential digital nomads out there. If you're thinking of working from another country, I want to share some of the lessons that I learned. I hope they help you if you're thinking about taking the plunge!
1. Unscheduled remote jobs are the best
The great thing about working from abroad for me was that I wasn't on the clock. I still worked my ass off, but I wasn't on anyone else's schedule.
I could do my work when I needed to.
Along the way, I met digital nomads who were working for American companies. Remote work was still in its infancy, but they could log on and work a 9:00 to 5:00 job from abroad. Usually, it ended up being something like 4:00 to 11:00 at night.
While there are ways to make this work, it can be challenging. If you are thinking about working from abroad, I recommend trying to get yourself remote work that lets you be flexible on schedule. Minimum meetings.
I do work right now is also conducive to this. I'm a consultant, I do work on my own schedule. Any sort of freelance work would be similar — e.g. writing or being a VA.
You can still make it work. But trust me, having a job where you set your own schedule will make your life abroad a heck of a lot more easy and enjoyable.
If you want to learn more about consulting, I explain in this video how I got into it:
2. Stay a while
I know some digital nomads who hop from country to country. And there's definitely something to be said for this. Always in a new spot. New adventures.
But there are also downsides.
Here are some of the downsides of moving around too much.
You don't really get to appreciate a place.
You end up spending too much money on travel and accommodation.
It's harder to be productive if you can't get into a work routine.
When I'm planning a trip to work abroad, it's easy to let the dream expand. "We could go to Portugal, then Spain, then Germany, then Thailand, then 2 weeks in Japan!"
When you can't decide where to go, the temptation is to try to go everywhere.
But there are several advantages to staying in the same place for longer.
You often save money renting by the month instead of by the night.
You can actually see a place. When we lived in Athens, we learned to appreciate a bunch of nooks and crannies around the city and surrounding region that tourists never find.
You can make friends. Loneliness is one of the hardest parts about being a digital nomad. Staying in one place gives you a better chance of meeting friends – either locals or other nomads – which will make your life a lot better.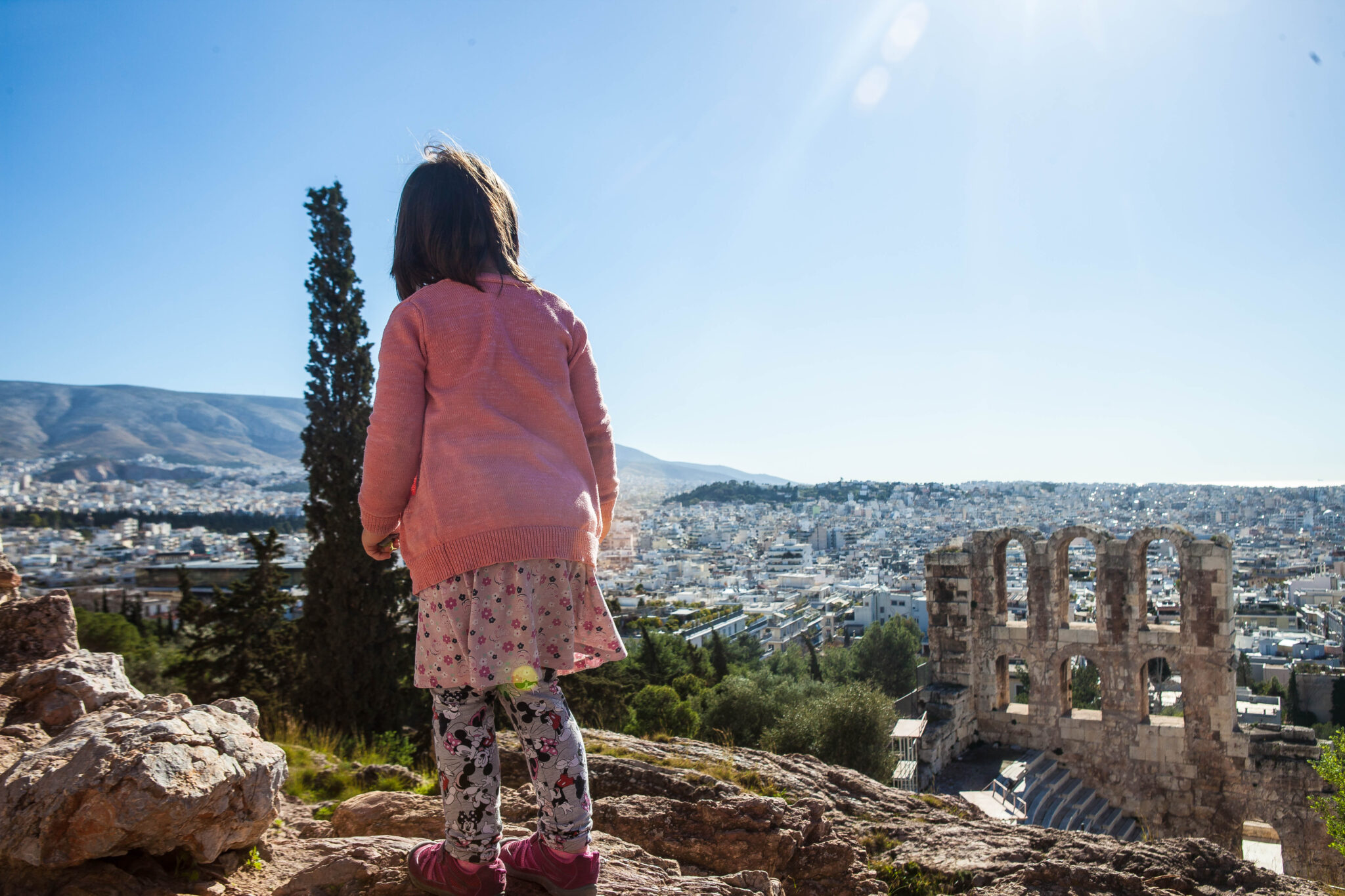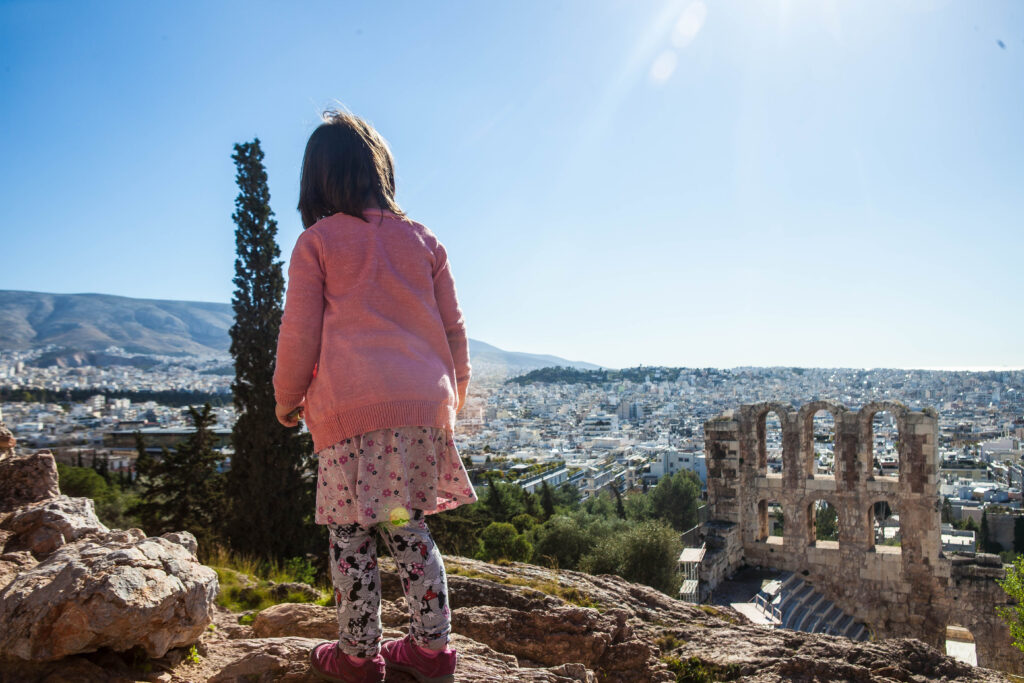 3. Spend on equipment
After weeks of huddling over my laptop screen, I finally stopped at a local electronics store and bought two things: a monitor and a keyboard.
The monitor saved my eyes. And when I cloned my display from the laptop, it gave me two monitors to work on. This made me way more effective. The keyboard saved my wrists from carpal tunnel.
All told, this stuff cost me about $150. But I stayed in the same place for 9 months. And I just donated it to a non-profit at the end. It was worth it.
4. Get into a work schedule
When you live abroad, it can be easy to do either nothing or everything.
Some people feel like they should be working all the time, and don't get up to smell the roses. Some people get distracted by they're surroundings and find it hard to work.
My solution was to come up with a work schedule. I would wake up in the morning and work from about 6:00 to 10:00 while my kids read books, colored, watched cartoons, and ate breakfast.
I would then take them down to the park for a couple of hours OR take them to the beach. Usually on Thursdays, I would take them somewhere educational like the Acropolis or a museum. Yep, we would often jump on the Metro and spend a few hours exploring the hills of the Acropolis. Talk about ultimate homeschooling.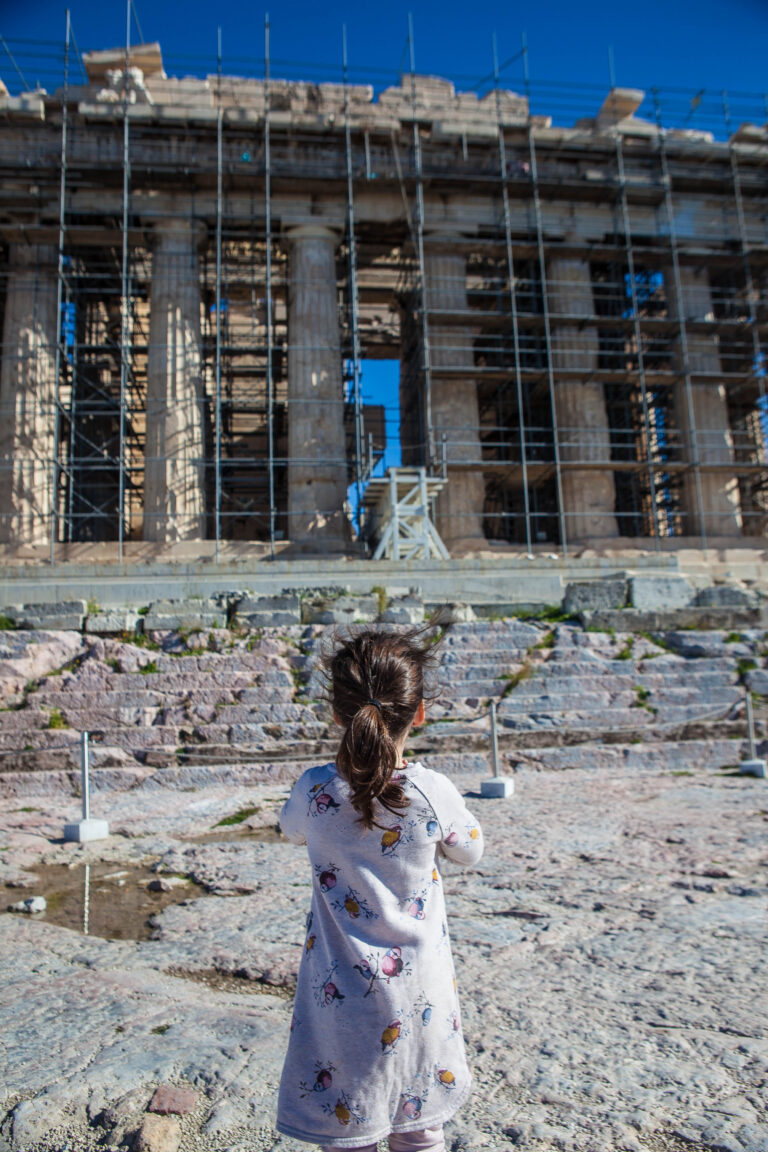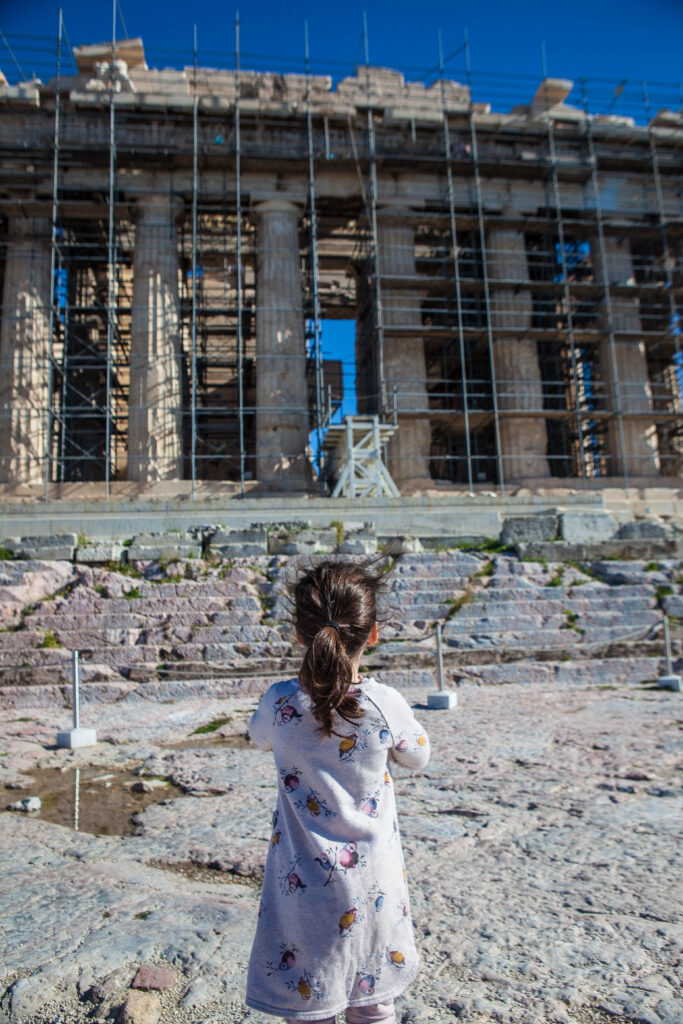 Anyway, I'd come home and work from about 3:00 to 10:00 at night with a break for supper and bedtime. I got used to the schedule. It let me have fun with my kids and make sure my work got done.
And they still talk about our adventures.
5. Take vacations
It's easy to feel like working remotely is one big vacation. But you will find that you get into a routine, much like you do anywhere else you live. Especially if you take my advice and stay in one place for a longer period of time.
The routine is important. But so are many vacations.
Find ways to get out and explore your surroundings. If you can afford to, this might mean taking a trip for a few days. We lived in Athens we flew up to Germany to see some Christmas markets – one of our favorite traditions when we lived there.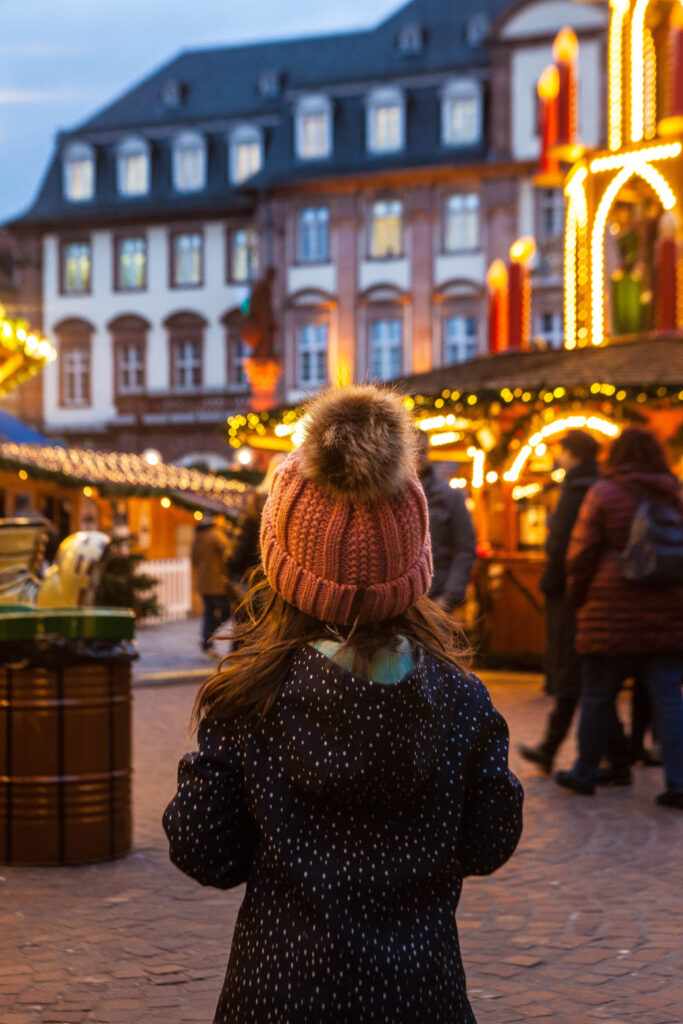 But often, we kept our trips pretty simple. Renting a car and driving to the nearby city of Nafplio (go here if you're ever in Athens).
When we lived in Berlin, the German train system was so good we could easily zip to another city for the morning.
These types of adventures from our home base were super affordable and memorable.
6. Watch your spending
It was way cheaper to live in Greece than in Canada.
But remember that Christmas trip I just talked about? It ended up costing about $5,000.
We made great memories. But we realized pretty quickly how stupid it was to spend that much.
Everything felt so cheap. Flights in Europe were $30 from city to city. Airbnbs were cheap. But it added up.
From our experience, spending got out of control when we traveled around. So we put ourselves on a realistic budget and stuck to it. And we found fun ways to take trips without it costing an arm and a leg–like our day trips.
FAQ's about working from abroad:
Will working from abroad save money? A. Probably as long as you don't spend it all on extra vacations. Look on sites like Numbeo to find out the cost of living where you are going.
Will the internet work? I mostly spent my time in Europe, and the internet was almost always fine. But you can check your destination's average internet speed here.
How did you find houses when working abroad? We usually just booked on Airbnb. This has its ups and downs, including the strain that Airbnb rentals are putting on local housing markets. But it meant that we could show up, have everything we need, and leave at the end.
What about schools, daycare, etc? Our kids were pretty small, so we opted out of school – although they technically could have gone. If you are enrolling your kids in an international school so they can learn in English, count on paying a lot for it. Otherwise, choose an English destination or be willing to let your kids be in school or daycare in the language of your host country.
What about visas? I always got student and researcher visas, which were nice and simple. Most places let you stay for a while on a tourist visa, but a lot of countries now have Digital Nomad visas too. You can read more about visas here.
Ready to start working from abroad?
If you've always dreamed of working from abroad, I hope this article helps you make it a reality. It can be a bit of a challenge, but with remote work being everywhere there's probably never been a better time.
And I definitely never regretted it!
Now Read: 5 Secrets to Thrive in Remote Work