Updated Jan. 12, 2023
So you're asking, "Is Skillshare worth it?" Let me answer with a story.
This year marked a major shift in my career. I had pretty much topped out and what I could earn with my university degrees. I was working as a policy analyst, and I hit $100,000 a year. It was great. But I started to wonder how to make more.
The answer was surprising. I had to stop using the things I learned in university, and use much more valuable skills that I had taught myself. And do you know where I turned to learn them? Skillshare
I decided to add some posts about how I feel about Skillshare to the blog. Because it's a really amazing platform and I wish more people knew about it. So in this post, I'm going to talk about 7 reasons why Skillshare is worth it.
And you can try it for yourself for free too:
Try Skillshare for free for 7 days
This post may contain links to affiliate products, which–if you choose to purchase–pay us a commission at no extra cost to you. This helps to support our work. We only promote products we've used and love.
1. The instructors are awesome
I often tell the story of when I wanted to start learning SEO, and I took a course from Ran Fishkin– who started Moz and is an SEO legend. My wife learned graphic design on Skillshare (and is now a pro graphic designer I might add), and she learned from top designers. You won't beat the quality of instruction there! Gary Vaynerchuk even teaches two courses–and one of them is about wine! (the other is about social media strategy). Oh, and Lilly Singh teaches video creation.
The only real alternative is Masterclass, which is also 100% amazing! But it's a different set of teachers. In both cases, let's say that it's awesome to learn from the people who actually do the stuff, and that's what Skillshare lets you do. That's why I find it a great place to learn high-income skills.
2. An engaged community
Skillshare has a really great community function that comes with the courses. This means that people can share their projects, and you can see projects from other people who took the course you are going to take. It's really great way to feel like you're not learning by yourself. I also think it's cool when you're taking a course, to see what other people have done with the knowledge they got from that course.
So it's NOT a community like you would get if you built a course on something like Mighty Networks. But it does give you a chance to engage with like-minded students.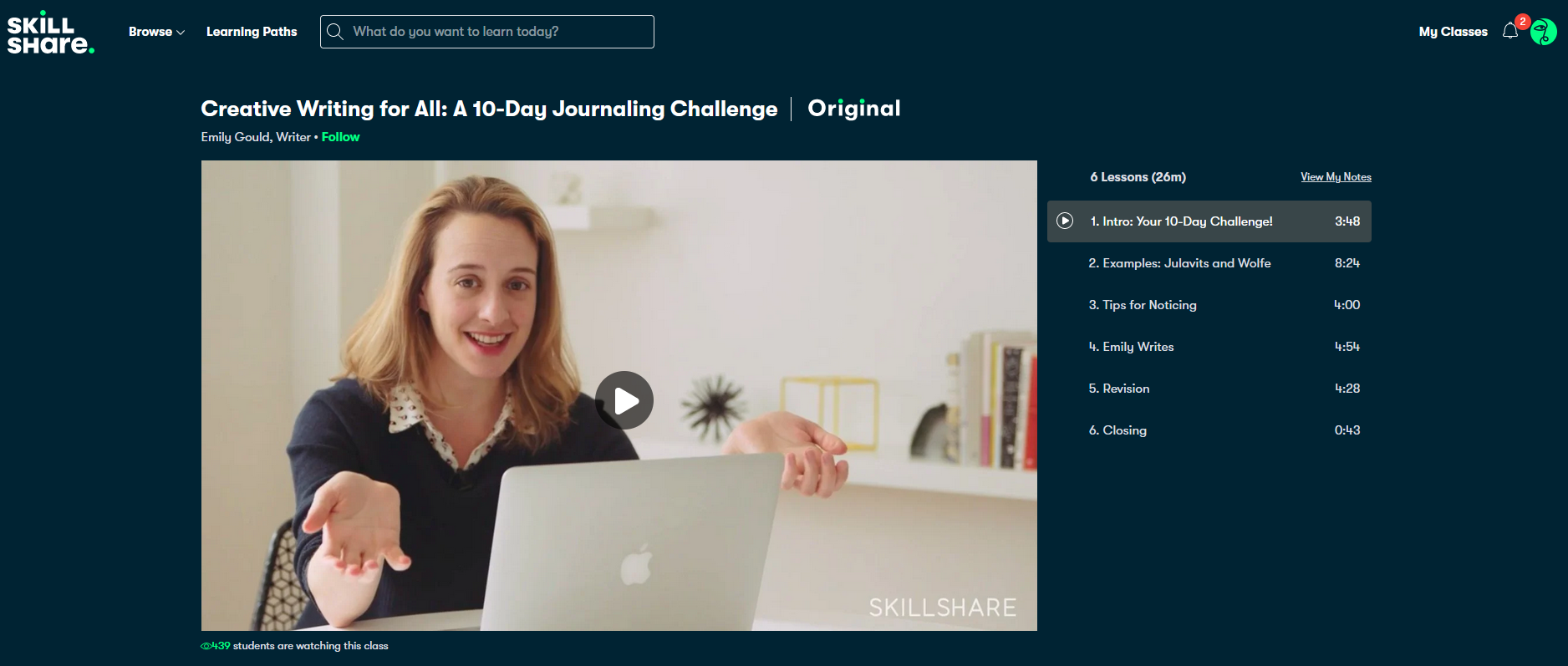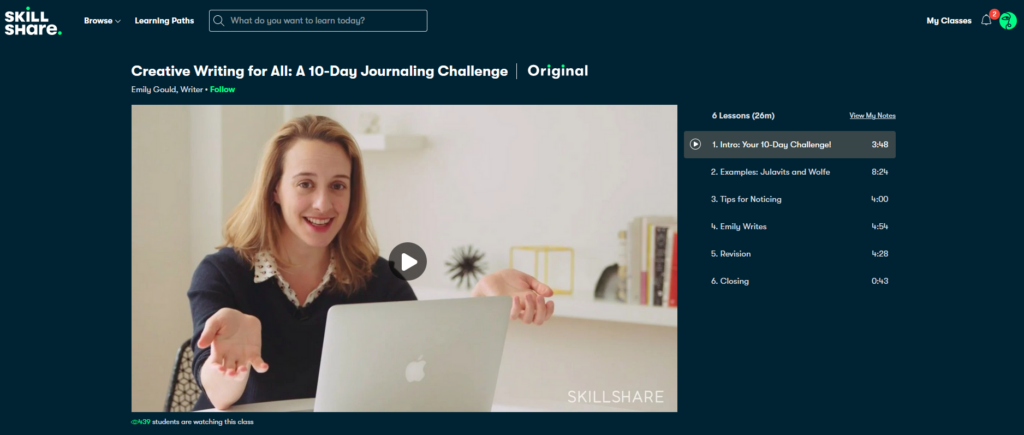 3. The platform is fantastic to use
The platform library is totally searchable and has different filters. I mean, really, this is pretty straightforward, so I won't bore you with it. But it's solid.
Skillshare offers a ton of different platforms for learning including mobile apps, desktop software, video tutorials, and even live streaming events. This means that no matter where you are or what device you use, you'll be able to get all your education done.
4. A ton of classes
If you want to find classes on anything, whether it's baking, photography, guitar lessons, or how to code, you'll be able to find it. There are currently over 30,000 classes and 12 million students taking courses across the site.
5. It's well-priced
My wife and I have had a shared Skillshare membership ever since she started her graphic design journey. I think we paid $99/year for our first sign-up, and we've always got more value back from it than what it costs us. I've done courses in Facebook ads and digital marketing recently, and even a few in copywriting. She's always doing design courses.
(psst– I don't think they'll care, but please don't tell Skillshare we share an account 😉
6. You get a free trial
The fact that you can try Skillshare for one week (or one month if there's a promotion) is awesome. It lets you figure out if it's the right choice for you.
TRY IT NOW – IT'S FREE TO TRY!
7. You get super usable knowledge
Unlike a traditional degree, there's a good chance that the stuff you learn on Skillshare will translate into real-world income. You are learning awesome skills from industry leaders who earned their living off of those skills. That's pretty solid.
8. You build real projects
I feel like we've been dancing around this a bit already, but let me just say that one of the great things about Skillshare is that you actually build real stuff with it. Stuff you can show employers and get a job. Stuff you can show clients and get hired as a consultant.  Stuff to help you with building a portfolio to work as a freelancer.
It's real stuff and you can use it!
Conclusion
So there you have it. If you're wondering, "Is skillshare worth it," these 8 reasons will hopefully help to answer your questions! Don't forget to check out our Skillshare review post. 
And be sure to try it out for free!

Now Read: 11 of the Best Skillshare Classes