This post may contain links to affiliate products, which–if you choose to purchase–pay us a commission at no extra cost to you. This helps to support our work. We only promote products we've used and love.
I've been a Skillshare member for about 5 years now. If I'm being really honest, it wasn't my idea. It was my wife's. She was training to be a graphic designer and she realized that some of the top designers had Skillshare courses.
She took them all.
And since she had a membership, I sat down one day to see what the fuss was about. And I found out. It's honestly such a good platform. I started out with digital marketing courses, everything from copywriting to Facebook ads. And I used a lot of what I learned to build this site.
I liked Skillshare so much that a few years ago I started promoting it on Roostervane. My work now, I kid you not, from my passive to active income has nothing to do with university (other than the writing skills I picked up), and uses everything I learned on Skillshare.
But I've never actually reviewed it for my blog. So in this post, I'm going to give you a Skillshare review! I hope it helps if you're trying to decide if it's right for you.
In addition to this post, don't forget you can always sign up for a free trial and check it out for yourself. I'll make a few course recommendations below!
Try Skillshare for free for 7 days!
What is Skillshare?
Skillshare is an online learning community with over 12 million members and around 30,000 classes taught by the world's best instructors. You can learn just about any skill you'd want to, from art to business, cooking to programming, and much more. With over 30 new courses added every day, there's going to be something for everyone.
How Skillshare works
Skillshare is a membership course site, meaning that you pay a flat membership fee and get access to thousands of courses. With this comes all the beauties of a course library: tons of options, searchability, etc. You can choose from hundreds of course titles to try, leave reviews, and share your projects with instructors and fellow students for feedback.
Try Skillshare for free for 7 days
Skillshare Pros
1. Engaged Community
The Skillshare community is filled with people who want to share their knowledge and help others succeed.
The cool thing about it is that the courses are built to help students engage with each other. There are slight differences in this, since instructors get to decide how to do it, but many instructors include project component where they will look at class projects or get feedback, or students can check on each other's projects. It's a really neat feature, and in my honest opinion, it helps you learn.
2. Awesome Platform
Skillshare provides a unique experience for students looking to learn new things. It delivers courses in a bunch of cool ways, including live video lessons, text-based tutorials, and even interactive quizzes.
Students can choose what they want to learn based on their interests or skill level. The platform is honestly sleek, easy to use, and really beautiful. I love it.
3. Taught By Amazing Instructors
Skillshare offers some of the most talented teachers in the industry. All of the instructors are professional artists, musicians, designers, and more.
I often tell the story of when I wanted to start learning SEO, and I took a course from Rand Fishkin— who started Moz and is an SEO legend. My wife learned graphic design on Skillshare (and is now a pro graphic designer I might add), and she learned from top designers like Aaron Draplin and Jessica Hische. You won't beat the quality of instruction there!
4. The reviews are spot on
One of the downside to having an enormous course library is that not every course is amazing. So if you don't want to waste your time watching a course that isn't great, read the reviews. From my experience, they are right 100% of the time. Courses that are high rated are almost always worth taking. Courses that are low rating usually suck.
Make sure you pay attention to the expertise level of the course too, if it's a course for beginners, the ratings usually write it on how good it is for beginners, not for experts.
5. There are a ton of classes on there
I've been using Skillshare since 2015, and I'm still discovering new classes all the time. There's always something new to learn and explore. If you're interested in any topic, you'll find a class on Skillshare about it. From how to draw your favorite characters to how to make your own makeup look, there's a class for everyone.
6. Affordable
My wife and I have had a shared Skillshare membership ever since she started her graphic design journey. I think we paid $99/year for our first sign-up, and we've always got more value back from it than what it costs us. I've done courses in Facebook ads and digital marketing recently, and even a few in copywriting. She's always doing design courses.
(psst– I don't think they'll care, but please don't tell Skillshare we share an account 😉
7. Perfect for total newbs
The best part of Skillshare is that you don't need any experience to get started. You can learn how to code from scratch or start from nothing and become a competent digitalmarketer.
I think there are a lot of great online courses out there, but for me the proof that Skillshare is great is the fact that skills I learned on on it, from zero, are the same skills I'm now using to consult for tech companies.
8. Fits the real world
I talk a lot about education on this website. It's dedicated to building a career, even with a degree you can't use. I think Skillshare fits with the reality of how the world actually operates. Very few employers care where you went to school or what degree you have. In many cases, a degree is simply used as a cut off to shrink the applicant pool.
But they do care what you can do for them, what problems you can solve.
And this is why skillshare has proved to be more valuable than my 15 years of University combined. Because it taught me things I could actually use.
9. Builds your portfolio
Okay, I'm almost done raving about Skillshare. But the final thing I should say is that when you take the courses, many of them will give you real world outputs that you can put in a portfolio. To show a boss or potential client that you can actually do the work. This is super valuable, so keep all your projects.
If you wanted to, you could build a website with Squarespace or even Bluehost + WordPress to share your creations with future employers or clients.
Click here to try building a Squarespace site.
Top Skillshare cons
1. Some crappy instructors
While Skillshare has a great selection of high-quality instructors, there are definitely some bad ones out there too. It's important to do your research before signing up for a course. Make sure the instructor has good reviews and ratings. Don't just take someone's word for it. Ask around and read through the comments. Also, if you notice that people keep posting negative reviews about an instructor, chances are their course sucks.
Obviously, I don't care when I hit a bad course, because I pay the membership always so I just jump to the next one. In a way, I think this is actually a plug for a membership site like Skillshare. Because if you bought an individual course and hated it, you would have to try to get your money back. In this case, you just jump to the next course.
Some people might get a bit annoyed if they signed up specifically for a course and don't like it. But even then, you can try it for a week. So who cares if there are crappy instructors on there? There are also world-class instructors you won't find anywhere else.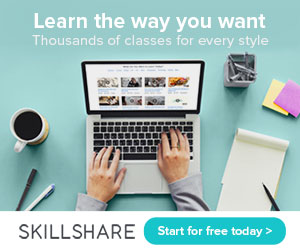 2. Better in certain topics
When we started using Skillshare, it was for the design courses. You can find courses in almost anything, but it was really started as a place for creatives, and that's still where it shines. I've tried taking a few business courses on Skillshare, and they were okay, but not amazing. So I think it's an important to do a bit of searching to make sure Skillshare is strong in the types of courses you want.
3. Certificates are useless
This isn't so much a knock on Skillshare, because I think most online course certificates are useless.
Employers don't usually care if you took an online course, unlike a college or university degree. However, they do care a lot about what you learned in the course, and how well you apply it. So I would forget about printing out a course certificate, and instead build a portfolio to show what you can actually do with it.
So is skillshare worth it?
God yes. 100%. I will make at least $150k this year with the stuff I learned on Skillshare . You can read more in my full review: Is Skillshare worth it?
Try Skillshare for free for 7 days
Now Read: 11 High Income Skills You Can Teach Yourself in 2022
Read More: