Skillshare and LinkedIn Learning are both great online learning platforms that offer a bunch of courses to help people learn new skills and advance their careers. They both have their own unique features and advantages.
I've used them both quite a bit. I've told the story in other posts about how I got my start in SEO on Skillshare and my wife trained as a graphic designer. I've used LinkedIn Learning too — but not quite as much. Probably because I'm more of a creative — which Skillshare is better for.
And this is the main difference between Skillshare and LinkedIn Learning. It's the type of course you're looking for.
Skillshare is known for its creative courses like graphic design, photography, and illustration, while LinkedIn Learning is more focused on business and technology courses like project management, data science, and programming.
But both platforms offer courses in a bunch of different subjects, so you can pick the one you want.
The other MAJOR different is that Skillshare lets anyone be an instructor while LinkedIn hand picks their teachers. This means Skillshare has some really amazing courses, but also some bad ones. LinkedIn is more consistent in quality. Of course, both have reviews.
If you're choosing between Skillshare vs. LinkedIn Learning, this post will break down the pros and cons of each to help you figure it out!
Some of these are affiliate links to products we've used and love. Thanks for supporting Roostervane! 
You can get a free trial to both Skillshare and LinkedIn–so make sure to try them out for yourself as you read this post! You can find the Skillshare free trial here and the LinkedIn Learning free trial here!
Skillshare vs LinkedIn Learning: Overview
When it comes to online learning platforms, Skillshare and LinkedIn Learning are two of the most popular options available. Here's a quick overview of each one.
What is Skillshare?
Skillshare is an online learning platform that focuses on creative courses, such as design, photography, and writing. The platform offers over 30,000 classes and is known for its project-based approach to learning.
This means that learners have the opportunity to work on real-world projects and receive feedback from instructors and fellow learners.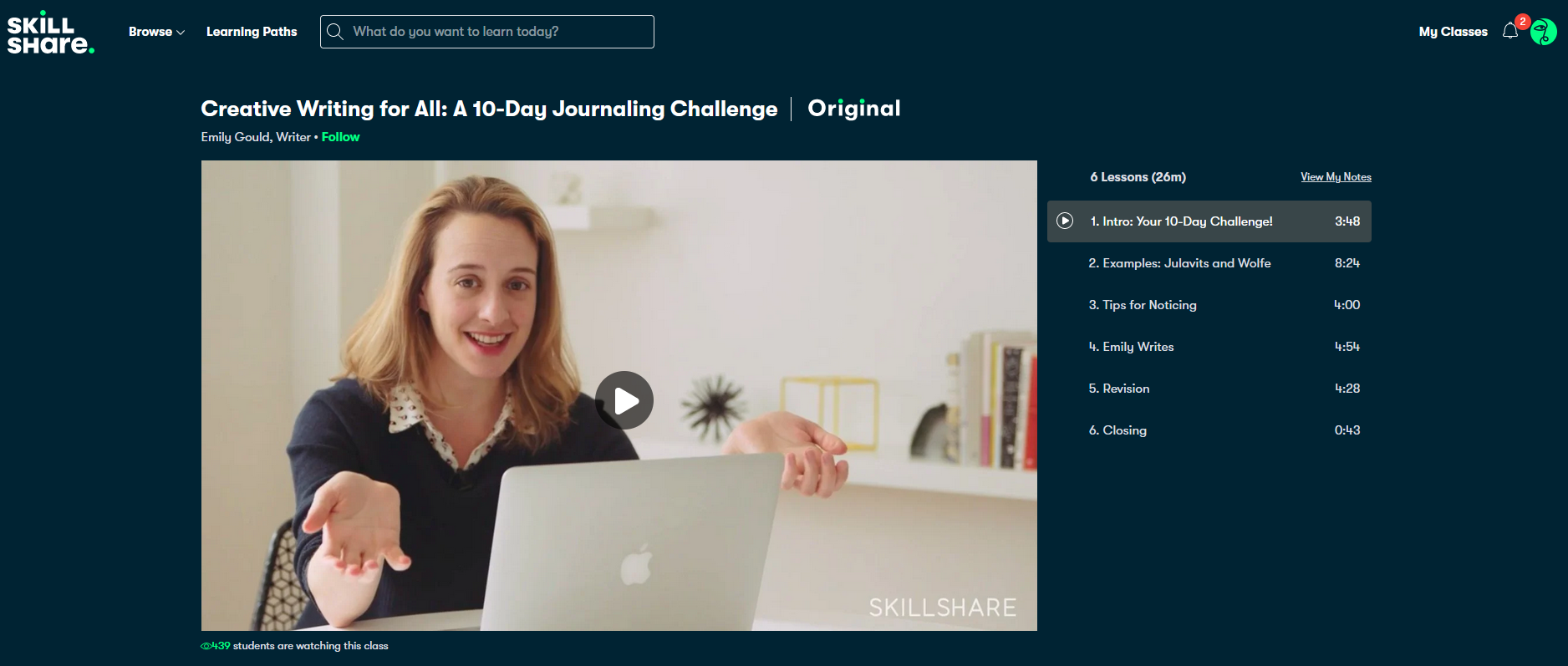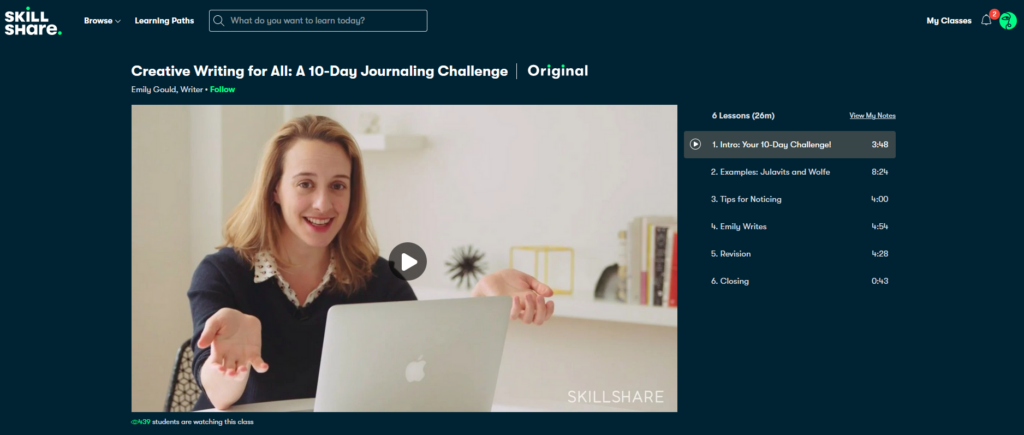 Skillshare has a subscription-based model, letting you choose either a monthly or yearly payment – The price fluctuates a bit, but it's anywhere from $99-$150 depending on when you sign up and special offers.
Skillshare also has a lot of special offers including sales and longer free trials, so it's worth watching for these. You always get at least a 7-day free trial.
Start your Skillshare free trial!
What is LinkedIn Learning?
LinkedIn Learning, formerly known as Lynda.com, is an online learning platform that focuses on professional development courses, such as business, technology, and leadership. It offers over 16,000 courses and has a reputation for high-quality content and expert instructors.


Like Skillshare, LinkedIn Learning uses a subscription-based model, with a monthly or annual fee that provides unlimited access to all courses. Also (and probably the best part), the platform is integrated with LinkedIn. So you can add completed courses to your LinkedIn profile or showcase your skills to potential employers. PLUS it just makes it really easy to access and log in.
Start your LinkedIn Learning free trial
Key Differences
Skillshare is more for creatives. LinkedIn has more professional and career skills.
LinkedIn is probably more expensive (if you pay by the year).
Skillshare does feedback better since you can share your projects and get feedback from the instructor. LinkedIn Learning doesn't, but does give you a badge for your profile.
Course Offerings
When it comes to course offerings, both Skillshare and LinkedIn Learning have a lot to offer. But like I said in the intro, the right choice for you will depend on what you need to learn.
Skillshare
Skillshare is BOSS when it comes to creative courses, like photography, graphic design, video making, and writing. If you want to learn creative skills, I wouldn't even LOOK at LinkedIn Learning. RUN don't walk to Skillshare.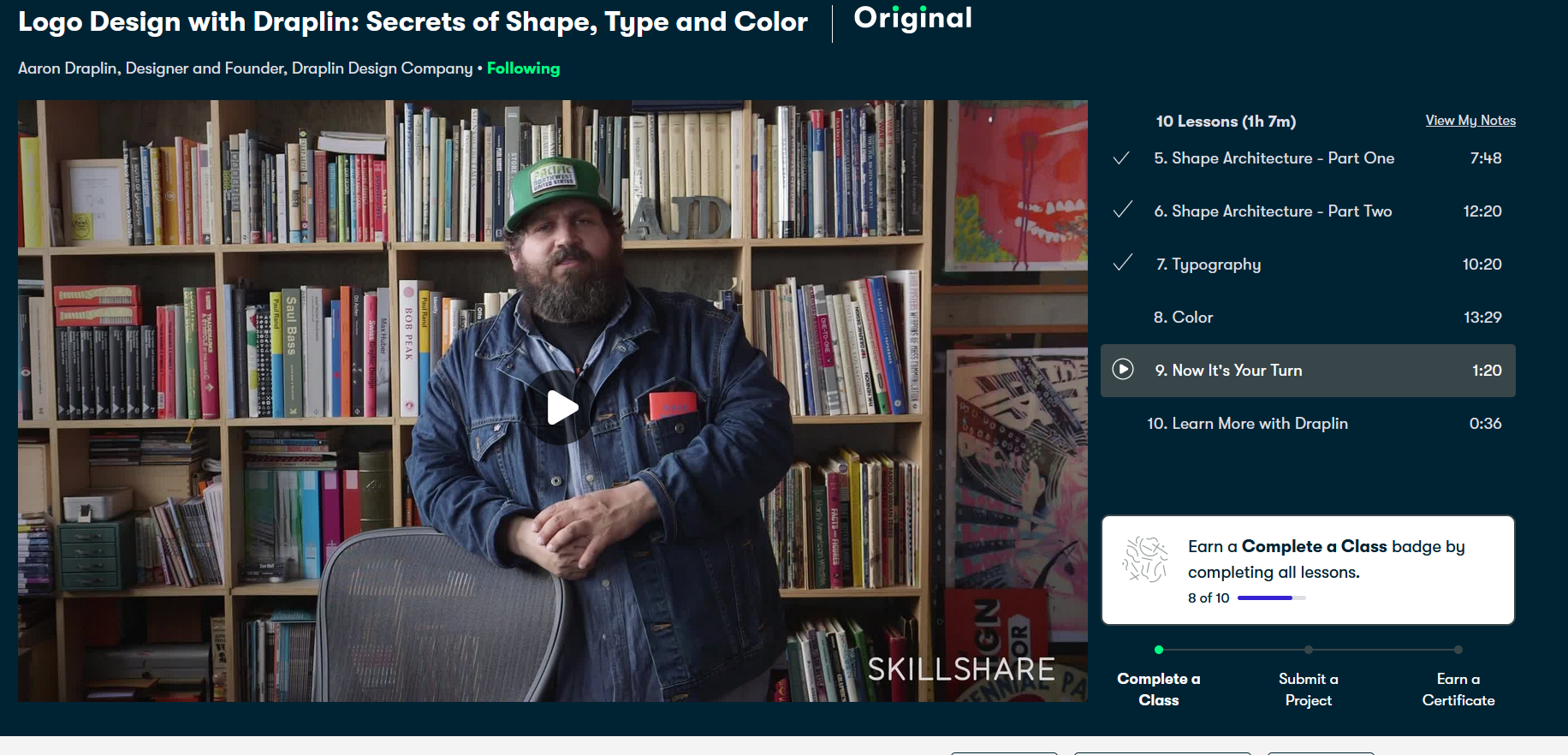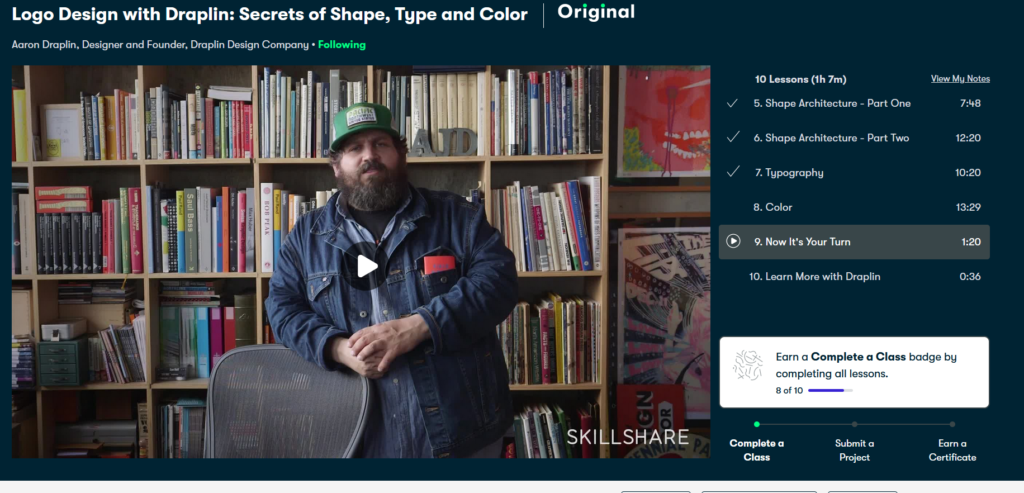 When my wife was learning graphic design, she took courses from Aaron Draplin, one of the best designers in the world. When I was learning SEO, I started with a course by Rand Fishkin, the founder of Moz. Lilly Singh. Gary Vee. These are just a few of the amazing instructors on Skillshare.
Skillshare has courses on a bunch of other stuff: business, personal finance, etc., but in my experience, these aren't usually as good as the creative courses.
If you're looking at TEACHING a course, Skillshare is a possibility. Unlike LinkedIn Learning, you don't need permission from anyone — you can create your course. It comes with a marketplace of learners and Skillshare gives you a portion of their profits (relative to the amount of time people spend watching your course).
LinkedIn Learning
LinkedIn Learning, on the other hand, has more courses in business, technology, and professional fields. If you know LinkedIn's reputation, that's probably not a surprise. It has courses to help you excel in your career.
This does include creative courses too, but IMHO Skillshare still wins here. But if you want to learn skills like leadership, sales, project management, etc., from some of the best teachers in the world, LinkedIn Learning is a great place to go.
You get to learn from industry experts and professionals, the people who are doing this work every day or consulting with companies.
Here are some of the courses I like on LinkedIn Learning — teaching some high-paying skills that many of us need:
Comparison: Course offerings
| Platform | Strengths | Weaknesses |
| --- | --- | --- |
| Skillshare | AMAZING for creatives, taught by industry leaders. | Courses in non-creative fields aren't usually as strong. |
| LinkedIn Learning | AWESOME for skills you need in a modern workplace. | Not as many creative courses. |
TLDR; If you're creative, choose Skillshare. If you want professional skills, pick LinkedIn Learning. 😊
Pricing
When it comes to choosing Skillshare vs LinkedIn Learning, you might think the price would be an important thing to consider. But I'm going to argue there's not much difference. LinkedIn Learning is a bit more expensive, but both platforms have monthly payment options.
If you REALLY needed one course from LinkedIn Learning, you might as well just pay for a month and take it. It would be stupid to try to save a few bucks on a platform that doesn't have the right courses.
Skillshare
Skillshare used to offer a free option, but it doesn't anymore. As of writing this, a Skillshare membership costs $19.99 per month, or $99 per year, and includes access to over 30,000 courses, offline viewing, and the ability to download course materials.
One thing to keep in mind is that Skillshare offers a 7-day free trial for new users. This allows you to test out the platform and see if it's a good fit for them before committing to a paid subscription.
LinkedIn Learning
LinkedIn Learning offers monthly and yearly subscriptions too. The monthly subscription currently costs $29.99 per month, while the yearly subscription costs $299.99.
LinkedIn Learning comes with LinkedIn Premium, and there's a one-month free trial too. I actually think LinkedIn Premium has some other cool features that are worth considering, including job recommendations, finding out if you have the right skills, and messaging recruiters.
I wrote a full post on this here: Is LinkedIn Premium Worth It for Job Seekers? 8 Features Ranked
Overall, Skillshare is slightly cheaper. But the price difference is so negligible, I'd pick the one that fits you best course-wise.
User Experience
When it comes to user experience, both Skillshare and LinkedIn Learning offer pretty similar interfaces that are easy to navigate. These are typical course platforms. You watch the videos. Nuff said. But here's a breakdown.
Skillshare
Skillshare's interface is simple and intuitive. The homepage displays a bunch of categories that users can browse through, like design, business, and photography. You can also search for specific courses using the search bar. I happen to think the search function is a bit better on Skillshare since it will show you highly-rated courses and courses recommended by Skillshare.
Once a course is selected, users are taken to a page that displays information about the course, including the instructor, course length, and number of students enrolled. Of course, you also get the ALL IMPORTANT review section here. Read it before you start.
Like I said above, Skillshare is better when it comes to sharing projects with your instructor and fellow students.
LinkedIn Learning
LinkedIn Learning's interface is also user-friendly and easy to navigate. The homepage shows personalized course recommendations based on your job title and industry (fill in your LinkedIn Profile). You can also search for specific courses using the search bar.
Once you choose one, you get info about the course, instructor, and number of students.
LinkedIn Learning gives you a certificate when you complete a course — which I happen to think probably doesn't count for much in most cases.
BUT one neat thing is that LinkedIn Learning will suggest "Learning Journeys" — they put packages of courses together if you're trying to move into an industry… which is really neat!
Both platforms have good apps.
Skillshare vs LinkedIn Learning: Pros and Cons
Skillshare
Pros
Project-based classes that allow you to apply what you learn in a practical way
Low-cost subscription with unlimited access to all courses
A large community of learners and teachers to connect with
Amazing creative courses with awesome teachers
Cons
Quality of courses can vary widely since anyone can become a teacher
Not as many professional development courses compared to LinkedIn Learning
LinkedIn Learning
LinkedIn Learning is an online learning platform that is strongest in professional development and career advancement topics. Here are some pros and cons of using LinkedIn Learning:
Pros
High-quality courses taught by industry experts and professionals
Super strong in professional development and career advancement topics
Structured learning paths and certifications (maybe)
Integration with LinkedIn's Premium
Cons
Slightly higher cost (but probably not a dealbreaker)
Less focus on creative courses
Conclusion
Both of these platforms are fantastic, and both let you try them free. Neither will break the bank either — and if you're just looking for one or two courses, you could always start with paying by the month.
And ultimately, in the battle of LinkedIn Learning vs Skillshare, it will depend on what you need!
Now Read: 12 High-Income Skills to Teach Yourself