If you're looking for an online learning platform that's worth joining for upskilling and learning new things, you've definitely come across Coursera and Udemy.
We're living in a time when you can often teach yourself in-demand skills, and online course marketplaces are the place to do it. In other posts, I've talked about Skillshare, LinkedIn and Masterclass. Each platform has its own ups and downs and is fit for a different audience.
So let's compare Coursera vs Udemy. Depending on what you're looking for, each could be a fit for you.
Coursera vs Udemy: What are they?
Coursera
Coursera is a learning platform and course marketplace, that works pretty much like any other. But what makes it unique is the fact that it hosts courses from universities and colleges, as well as from leading companies. No, wait. It's unique because they only let people affiliated with these types of institutions teach courses.
Plus, a bunch of the courses on Coursera also come with a rubber stamp by an accreditation body, meaning they can lead to professional certifications.
I think–right from the outset–this is the value-offer of Coursera that almost nobody else does. There are a lot of online courses, but not many come with recognizable credentials attached. Coursera offers 4,300 courses, 320+ guided projects, 440+ specializations, 30+ certificates, and 20 online degrees. Degrees!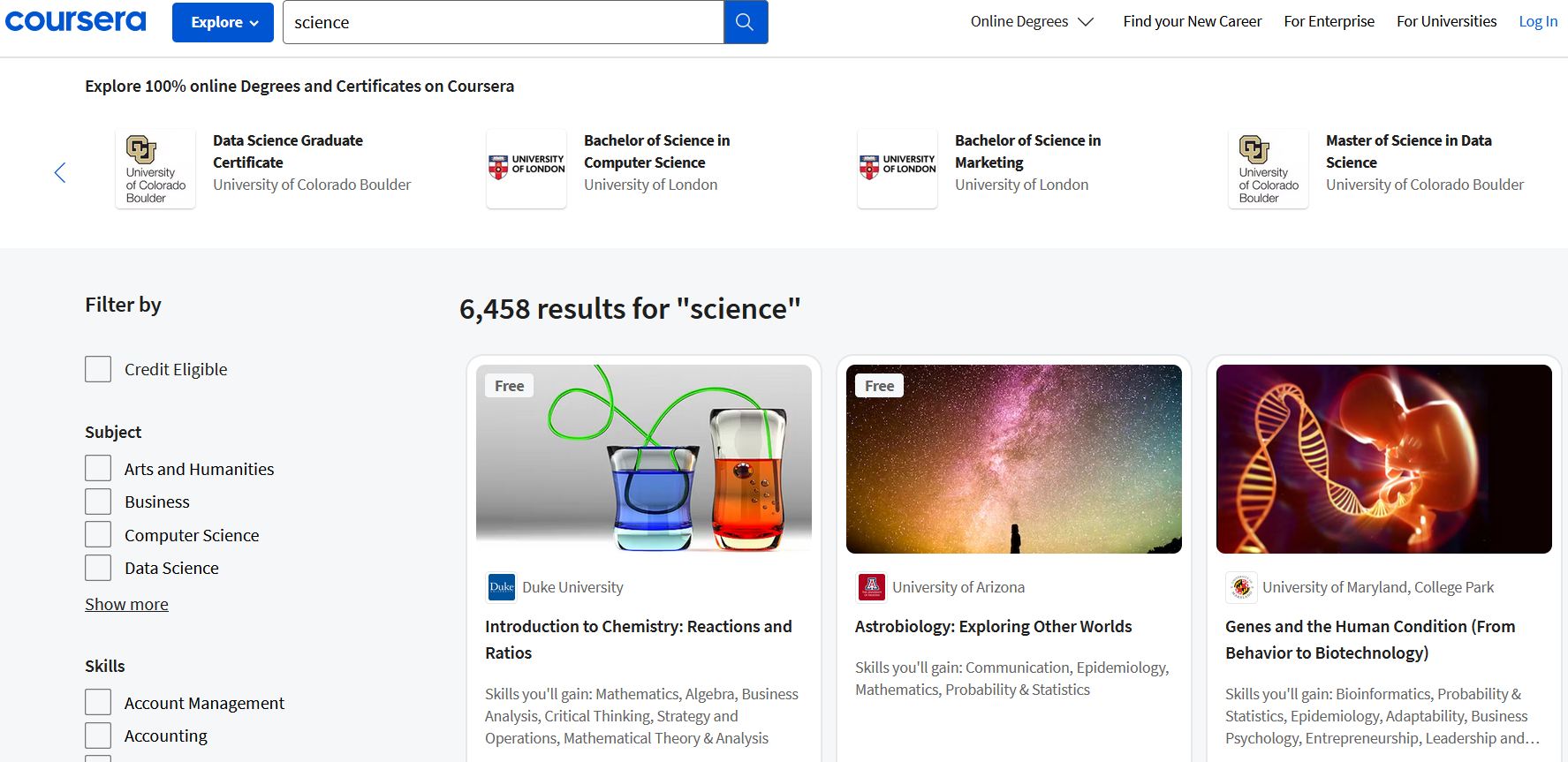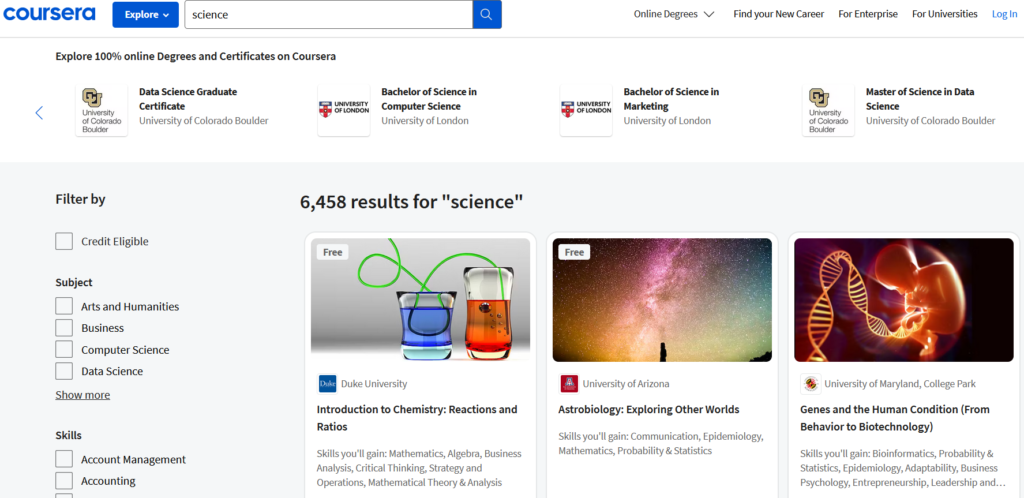 Yup, you can get a college degree on Coursera.
Coursera has courses on a lot of different topics: things like tech, arts and humanities, health, personal development, and more. The courses are generally good, and taught by people with a lot of expertise.
Coursera courses can range from free to thousands, depending. But CourseraPlus give you access to a lot for a fixed price — although without the credentials.
Udemy
Udemy has a lot of the same things going for it. It has a large course library, taught by a lot of good teachers. Udemy doesn't have the same range of accredited courses that Coursera has, but there are good instructors — most of them practitioners.
Anyone can create a course on Udemy. That could be seen as a downside, but there is something to be said for getting a course from someone with a passion for it and lots of practical experience in a subject. So I wouldn't rule Udemy out.
On Udemy, teachers can create and set the prices for their own courses. And you get reviews to see how good they are. In general, I think Udemy is strongest in skills like data science, coding, and other hard tech skills.
For creative skills, I'd probably choose Skillshare instead.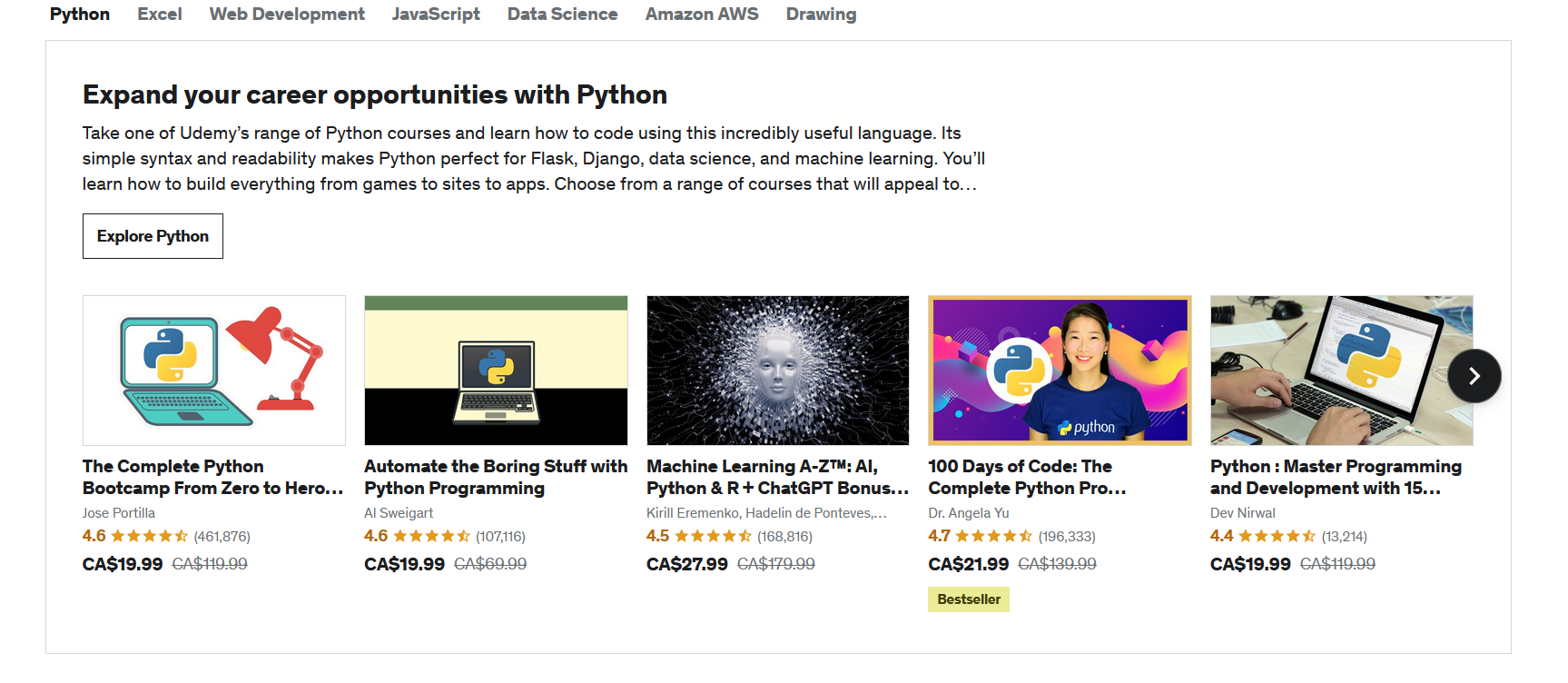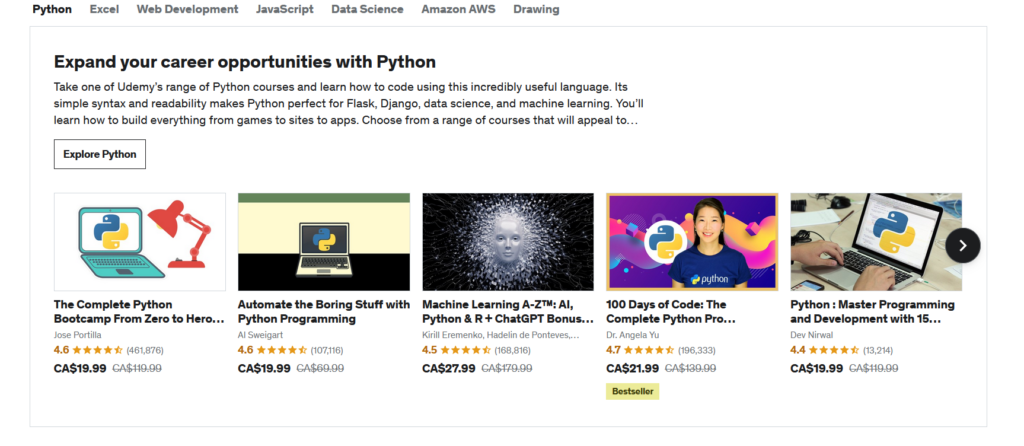 Differences
Okay, so let's get this clear upfront. When comparing Udemy vs Coursera, we can really quickly compare the differences between these two platforms (although I'll break these down below).
Coursera has amazing platforms by accredited institutions and recognizable companies. You can get credentials from them, but many of the credentialled courses cost more (although some are free).
Udemy has courses taught by anyone, but many are solid — especially since lots of practitioners teach on Udemy. You can check the reviews before you buy.
Both charge per course–usually. BUT Udemy's courses are capped at $299, while Coursera's can get into the thousands. Do note that both platforms have quite a few free courses.
Coursera vs Udemy: Course Quality
I want to dive in and break down the course quality a bit more for Coursera vs Udemy, because I do think they're both worth talking about.
Instructors
Coursera has a lot of great instructors to begin with, simply because of their policy of who's allowed to teach. But they also boast award winning profs at top schools, noble lauriates, and some really impressive people.
They release a "best of" instructor list for different categories, which give you some of the best of the best.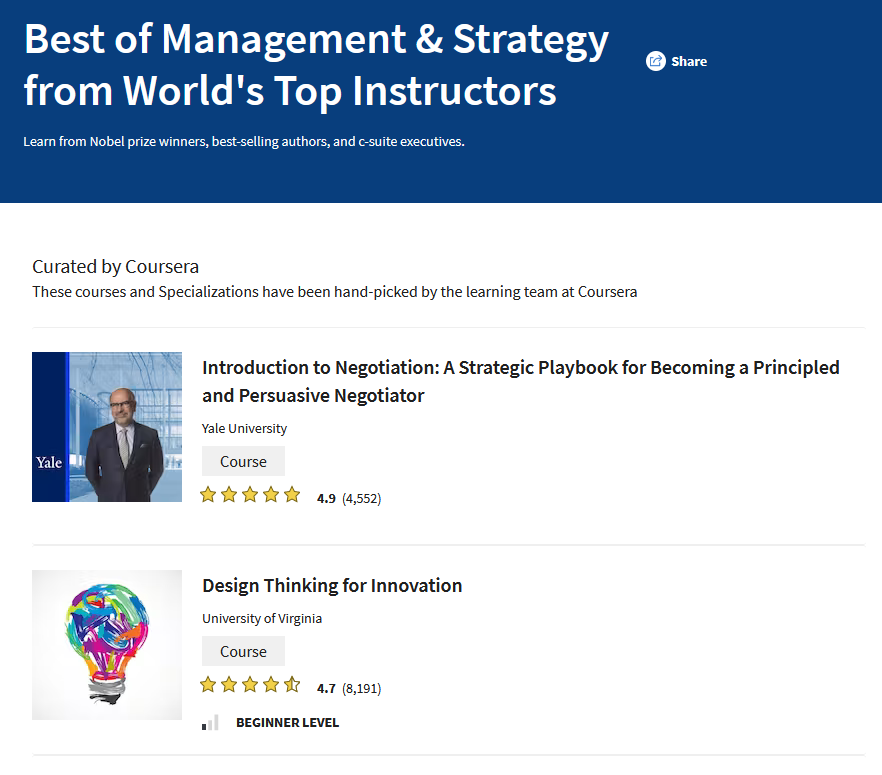 Udemy has a lot of lower quality instructors because of their policy of letting anyone teach, but it doesn't mean there aren't some amazing instructors on there. I found a helpful list here from Career Karma of some of the top ones.
And you can always watch the reviews and rating system to make sure you're getting a course that's solid.
User Experience
When it comes to the User Experience, I honestly think there's not much of a difference. Both sites are well-designed and great to use. Both come with apps for every device, so you don't need to fire up your computer to learn. Both have rating systems.
Coursera vs Udemy: Content Quality
So honestly, the quality of both platforms is pretty good. Udemy has more courses at the lower end of the spectrum, but it equally has a lot of great courses.
This is to be expected from an open course marketplace. No surprise.
The biggest point of quality probably isn't the delivery of the content, but the evaluation. If your course is leading to college degrees or career certificates, no surprise, there needs to be good-quality evaluation.
I happen to think this is probably not a bad thing–pushing you to show up and do the work. And the evaluation keeps you accountable.
But if you want no pressure, just an opportunity to go at your own pace without anyone knowing the difference, Udemy is the better option.
Again, it probably depends on your learning styles and goals.
We should note that if it's Data Science or Coding courses you're after, both of these platforms are pretty great. BUT DataCamp might be a better option than both, with a membership-based fee for learning a ton of different courses and skills.
DataCamp even has a bunch of AI courses, keeping up with the times. If you need some inspiration for which tech courses to learn, watch this video:
Coursera vs Udemy: Pricing
When it comes to pricing, Coursera and Udemy have different models. Coursera offers a subscription-based service, while Udemy makes you pay per course.
Again, which model is right for you depends on what you want. If you just want one course, Udemy might be a good choice. Pay for it and move on. If you want to learn a bunch of stuff, it will get expensive quickly.
Coursera does have a subscription option: CourseraPlus. They advertise it as giving you 7,000+ courses. So while it's not everything on there, it is a lot. It costs $59/month. you also get a 7-day trial, and unlimited access to the certificates and specializations that come with it.
Udemy courses range from free to $199, which feels like an arbitrary. But since prices are chosen by creators, them's the breaks. Last year, Udemy also announced that it was rolling out a sort of subscription plan, with bundled courses coming as part of a package. This isn't available for all users yet, though.
One thing to note is that Udemy courses typically offer lifetime access once purchased, while Coursera courses have a set duration. This means that users can revisit Udemy courses as many times as they want, while Coursera courses expire.
Both platforms have some free content. Udemy has more, with 650 free courses. But Coursera arguably has better ones, with free courses from organizations like Google and Facebook.
This is Google's Data Analytics Professional Certificate!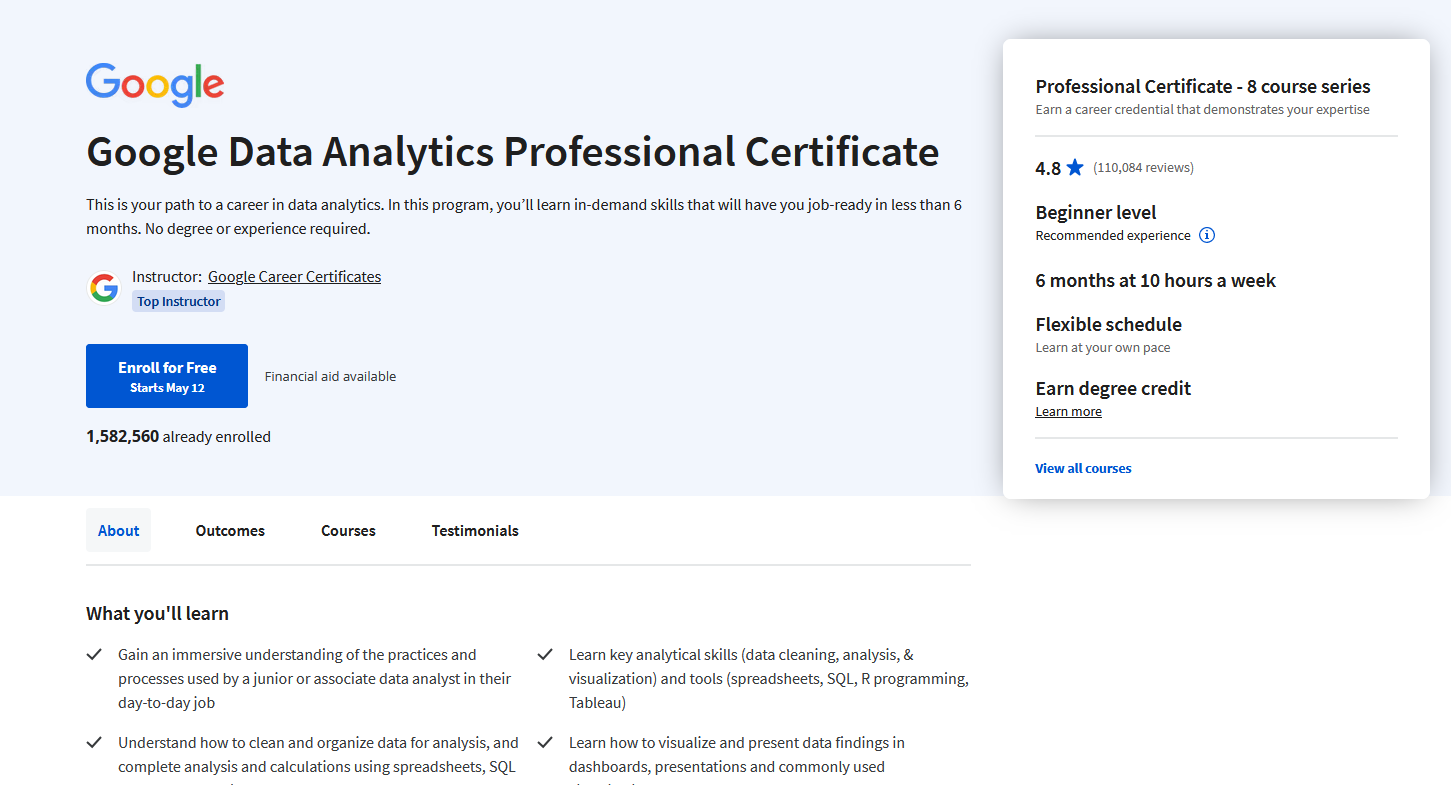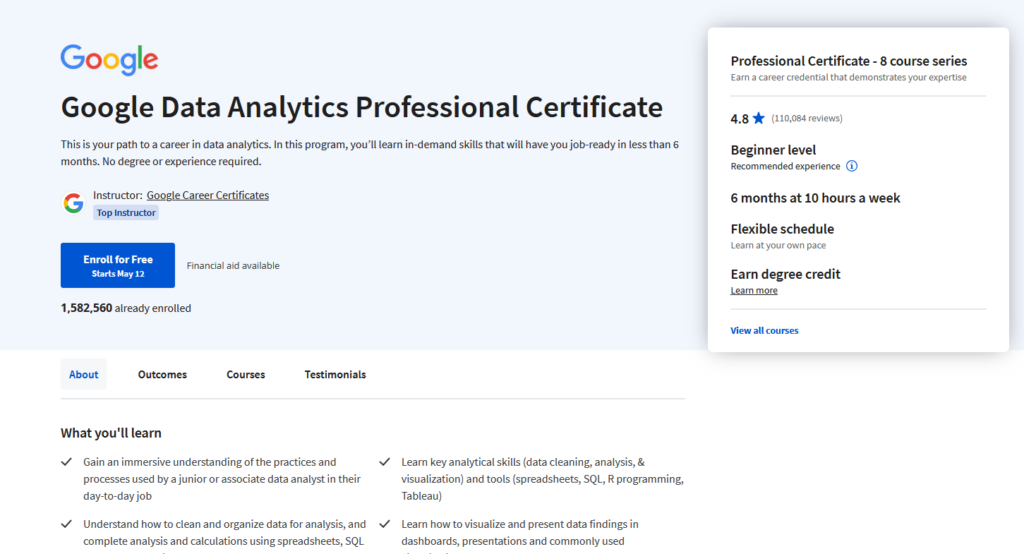 Conclusion
So if you've broken down all the comparisons above, it's probably going to come down to a couple specific questions:
Do you need a degree or accreditation? (Pick Coursera)
Are you looking for one course? (Pick either)
Are you looking for a membership (Pick Coursera or an alternative like LinkedIn Learning)
Are you on a budget? (Pick the one that fits it)
Do you need accountability (Pick Coursera)
Are you looking for a course from a specific creator? Go where they are!
I hope this discussion of Coursera vs Udemy was helpful to you. Happy learning!
Now Read: Skillshare vs LinkedIn Learning: My TOP Pick